UCLA gymnastics fails to advance to nationals, placing 3rd at NCAA regional finals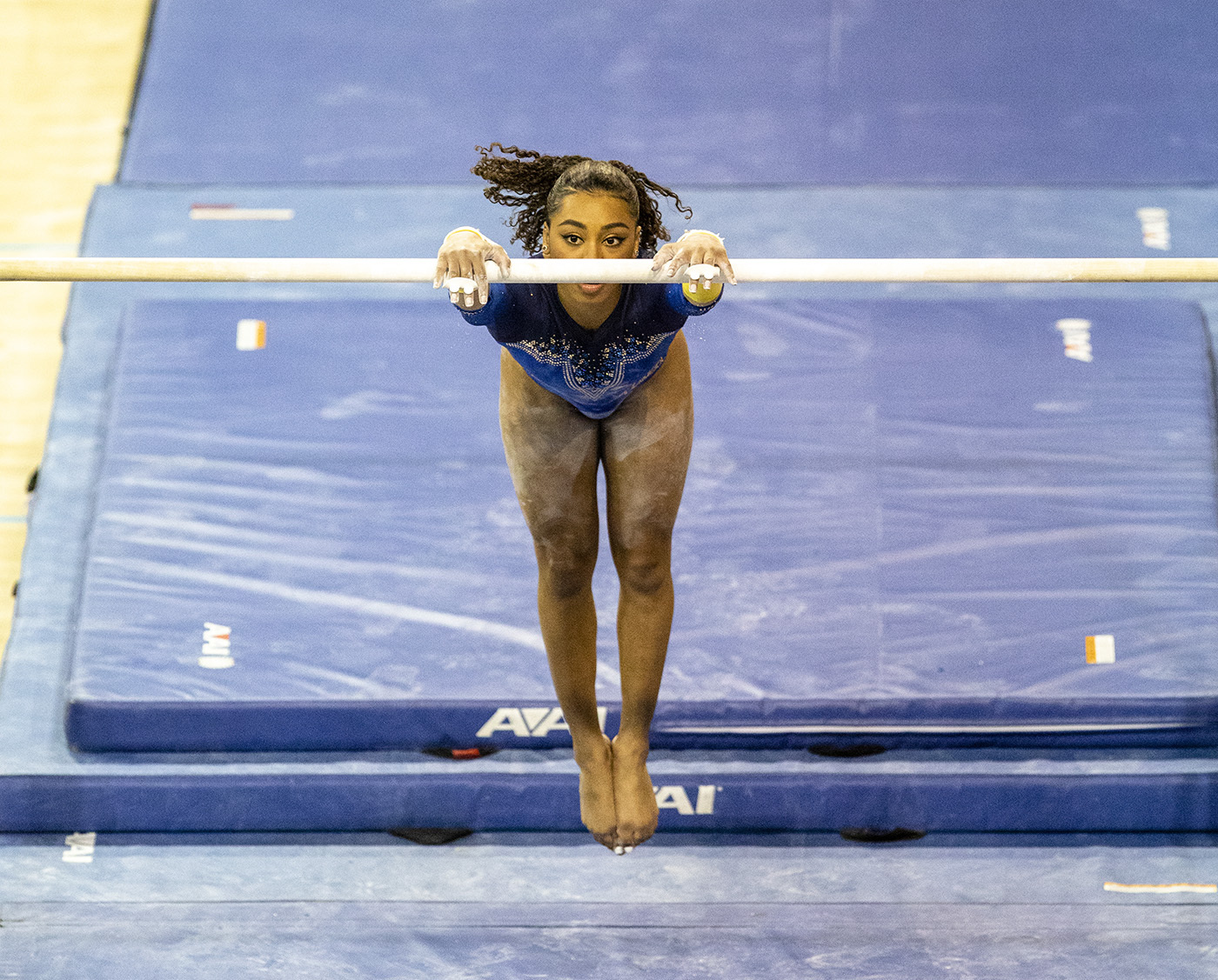 Leading No. 13 UCLA gymnastics on bars, junior Margzetta Frazier tied her season-high for the fifth time, recording a 9.950. (Elise Tsai/Daily Bruin staff)
Gymnastics
---
| | |
| --- | --- |
| No. 4 Michigan | 198.100 |
| No. 5 California | 197.750 |
| No. 13 UCLA | 197.275 |
| No. 27 Ohio State | 195.625 |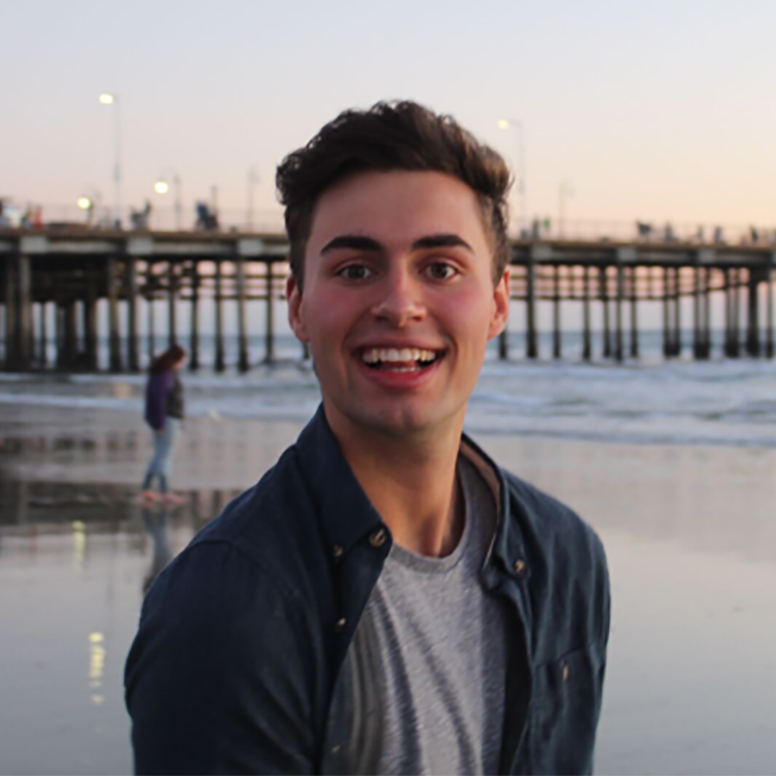 Correction: The original version of this article incorrectly stated UCLA gymnastics scored a 197.250. In fact, the team scored a 197.275.
This post was last updated April 6 at 6:56 p.m.
The Bruins missed nationals for the first time since 2006 despite a season high.
No. 13 UCLA gymnastics' (6-2, 4-2 Pac-12) season came to an end Saturday as the team secured third place at the Morgantown NCAA regional finals with a 197.275, finishing behind No. 5 California (7-1, 6-1) which scored a 197.750 and No. 4 Michigan (20-2, 7-1 Big Ten) registering a 198.100.
A neck-and-neck race for second place with the Golden Bears set the Bruins up for a final showdown on beam, UCLA's worst event.
Coach Chris Waller changed the Bruins' beam lineup following Friday's 49.175, removing junior Samantha Sakti – who had fallen in four of her 10 routines – and inserting senior Nia Dennis in the rotation's second lineup position.
UCLA managed to avoid counting a fall despite senior Kendal Poston losing her balance in the leadoff spot, as Dennis and senior Nicki Shapiro both hit in potentially their final routines as Bruins. Junior Norah Flatley and freshman Chae Campbell both added 9.900s, part of a 39.575 in the all-around for Campbell.
"I think the team did great," Waller said. "Beam is really a great event for us, and they finished out really strong. We had our highest season total with legit tight scoring. It was a strong finish for us."
The team's 49.125 beam effort wasn't enough however, as Cal secured its spot at nationals with a 49.500 on floor to increase its lead over UCLA. Waller said the Bears have proved to be a formidable opponent in the Bruins' three meets this season.
"Cal is a legit program," Waller said. "They've broken so many records this year in terms of their program. It's exciting to see, and I love the fact that they're doing better."
Waller added that he was impressed with his team peaking in its most important meet.
"In terms of their attitude and what it looks like to be a champion team, this team got to that pinnacle," Waller said.
The Bruins kicked off the regional final meet on floor led by Dennis and a 9.925 in her last floor routine. The team finished with a 49.425 on the event as junior Margzetta Frazier and Campbell each chipped in 9.900s.
With the Bears' top-ranked bar unit only registering its sixth-best bars score of the season, the rebounds by Frazier and Dennis – who both stepped out of bounds Friday night – helped UCLA tie Cal for second with 49.425 through one rotation and Michigan leading by 0.100.
The Wolverines pulled away after a 49.725 bar rotation and the Bears jumped ahead by 0.100 in the battle for second, scoring a 49.450 on beam with the Bruins going 49.350 on vault. Senior Pauline Tratz scored a 9.825 in perhaps her last UCLA routine, while Campbell anchored the rotation with a 9.925.
A 49.375 on bars for the Bruins kept them in the running, as the Pac-12 bars champion Frazier stuck her landing for her fifth 9.950 in her last six meets, but the Bears answered as Kyana George won the floor title with a 9.950 en route to a 49.500 for Cal.
Waller said he was proud of the way his team carried its energy through the meet.
"We talked these past few days about just bringing the energy, fight and support for each other, no matter what," Waller said. "No matter how many twists and turns, how many bumps in the road, we made sure everyone was committed to bringing energy and confidence for the next person up. We left the arena doing that. That happened the whole day."
Edgar is currently a Sports reporter on the gymnastics beat. He was previously a contributor on the men's tennis beat.
Edgar is currently a Sports reporter on the gymnastics beat. He was previously a contributor on the men's tennis beat.