Beach volleyball looks to defend winning streak at home against LSU, Florida State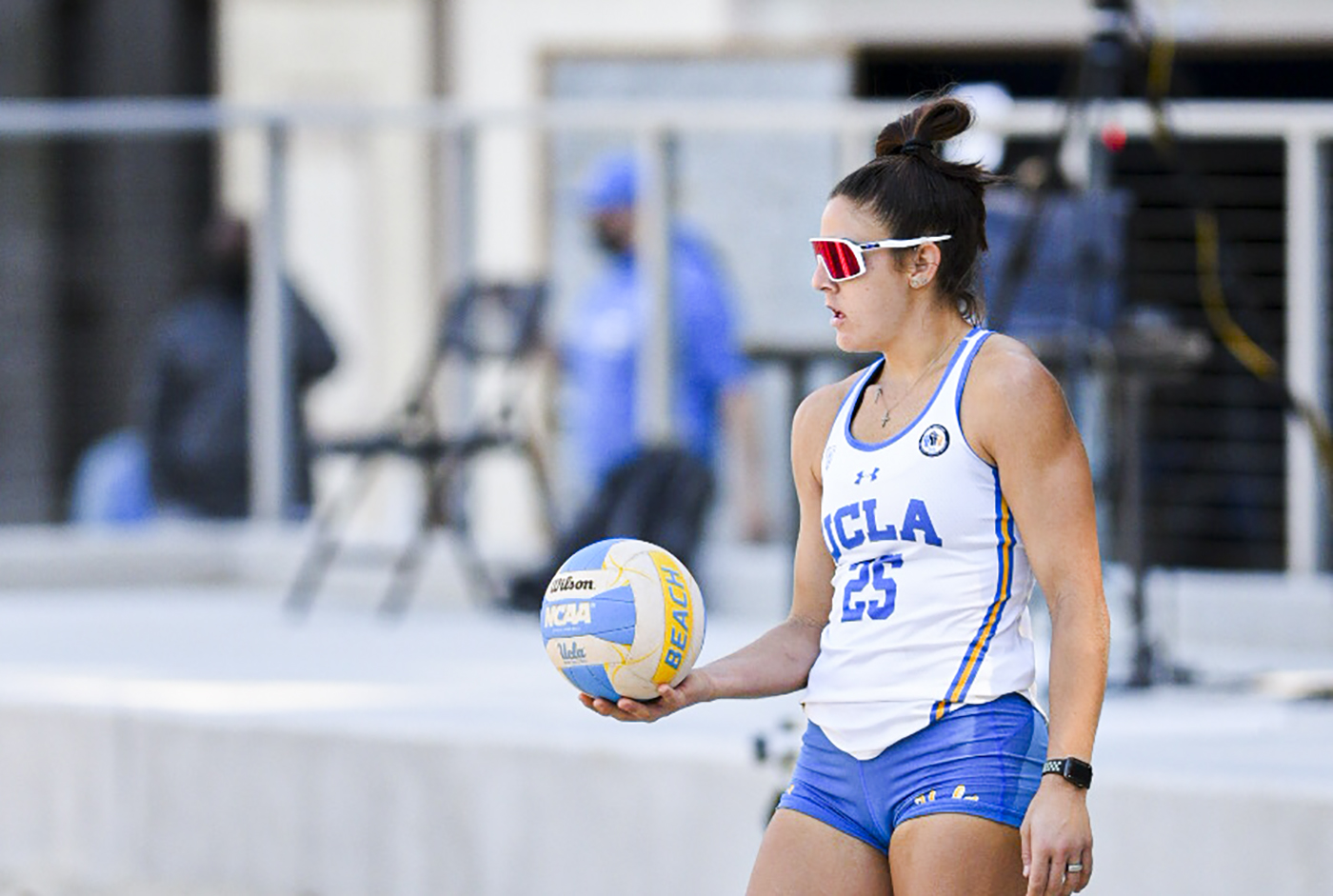 Ahead of matchups against two of the top teams in the country, freshman Lexy Denaburg and her partner graduate student Savvy Simo will take the first court for No. 4 UCLA beach volleyball. (Ella Barnes/Daily Bruin)
Beach Volleyball
---
No. 3 LSU
Saturday, 10 a.m.
Mapes Beach
UCLA Stream
---
No. 2 FSU
Sunday, 10 a.m.
Mapes Beach
UCLA Stream
The Bruins' unbeaten record at home is on the line against top-three competition.
No. 4 UCLA beach volleyball (11-1, 6-0 Pac 12) has an unbeaten record at home dating back to 2016 ahead of two matches Saturday against No. 3 LSU (16-2, 4-1 CCSA), followed by a doubleheader Sunday against No. 2 Florida State (21-0, 13-0 CCSA).
The Bruins will enter the homestand on an eight-match winning streak following a trio of sweeps at the Pac-12 South tournament. The last five matches have seen UCLA solidify its starting lineup and have its longest stretch away from Mapes Beach this season.
Nearing the halfway point of the season, coach Stein Metzger said the team has gotten past its early season jitters and found its sweet spot.
"From top to bottom, everybody has raised their level," Metzger said. "We're in a good space as a team and the timing is right because we're about to take on a couple of really good teams."
Both the Tigers and Seminoles have been ranked within the top four the entire season, with LSU having its only two losses come against FSU.
In UCLA's first matchup with LSU, each school's winningest pairing is set to face off on court one. For the Bruins, freshman Lexy Denaburg and graduate student Savvy Simo have only dropped one match. On the other side of the net for the Tigers, the top court pairing of Taryn Kloth and Kristen Nuss is undefeated for the season.
Denaburg and Simo are a new pairing this year, and Denaburg credited their relationship on and off the court for their success.
"We're always thinking of ways to get better and have a lot of communication," Denaburg said. "If there's ever any problems we go right to each other and talk it through."
Denaburg added that in preparation for the matches on Saturday and Sunday, the team will be watching plenty of film and using its scouting reports to work on things during practice.
In their second matchup of the weekend, the Bruins will take on the Seminoles, who have the potential to extend their undefeated season. FSU has been nearly perfect on courts three and five, with these pairings having a combined record of 41 wins and one loss.
The Bruins' pairings on courts three and five have won their last five matches, which feature sophomore Lindsey Sparks and freshman Devon Newberry and redshirt freshman Jaden Whitmarsh and freshman Rileigh Powers, respectively.
Powers played only one match with Whitmarsh last season but spoke highly about how their partnership has progressed. She also added how the team as a whole has been preparing all season for these upcoming matches.
"We've worked really hard this whole season and I think we're going to do great," Powers said. "We just have to trust we've been doing everything in practice that we can and show it in the games."
Both LSU and UCLA are coming into their matchup with an eight-match win streak on the line, and the Bruins have not lost at home since 2015.
Whichever streak gets broken, the first match against LSU starts Saturday at 10 a.m., followed by the second at 1:30 p.m. The doubleheader with FSU will begin Sunday at 10 a.m., with the second match coming at 1:30 p.m.
Diamantopoulos is currently a Sports contributor on the men's tennis beat. He was previously a contributor on the beach volleyball beat.
Diamantopoulos is currently a Sports contributor on the men's tennis beat. He was previously a contributor on the beach volleyball beat.