UCLA dining hall reopenings met with excitement, safety concerns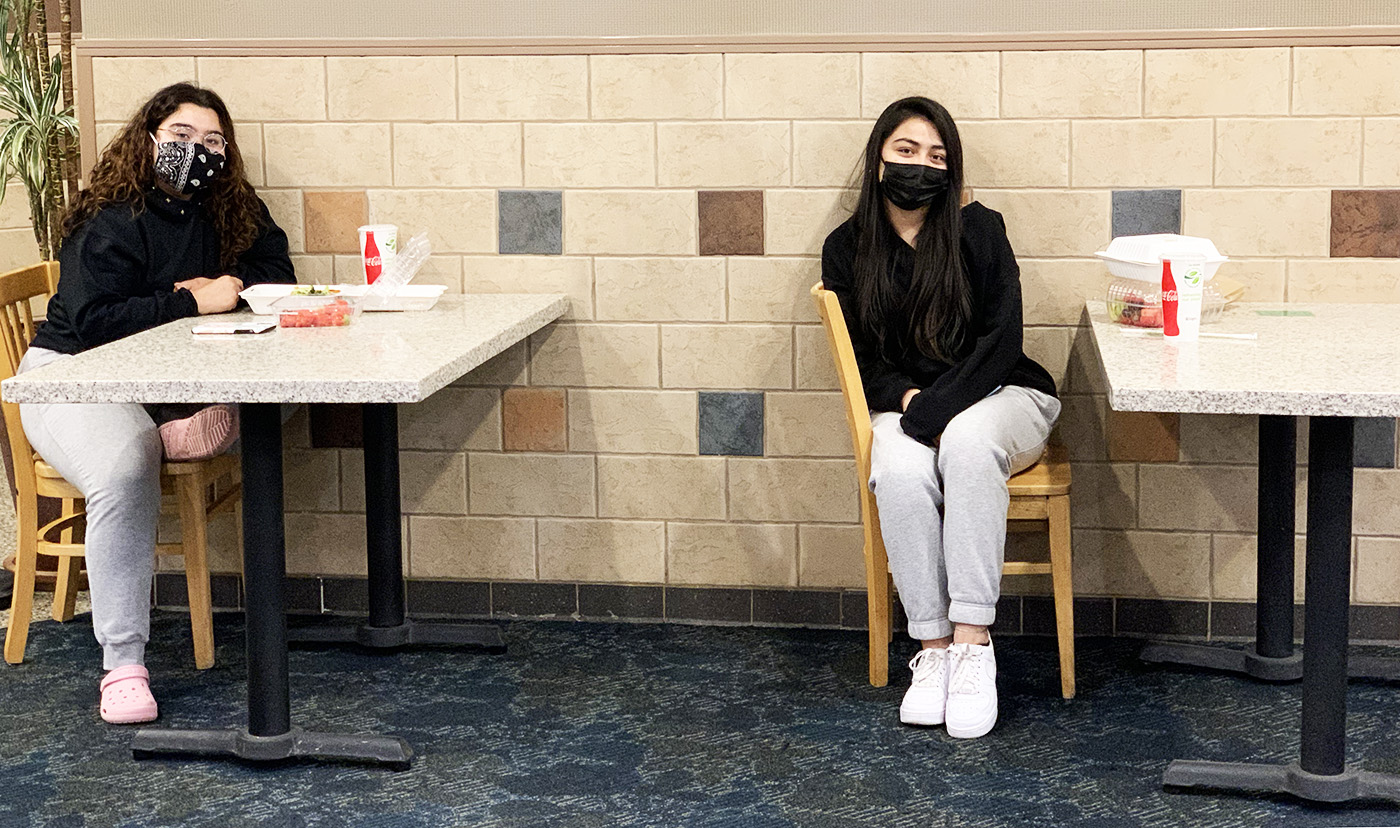 Aimee Benitez (left) grabbed dinner with Gabriela Lopez (Right) at De Neve Residential Restaurant on Wednesday, the first day the dining hall and Bruin Café opened for limited indoor dining in more than a year. (Constanza Montemayor/Daily Bruin)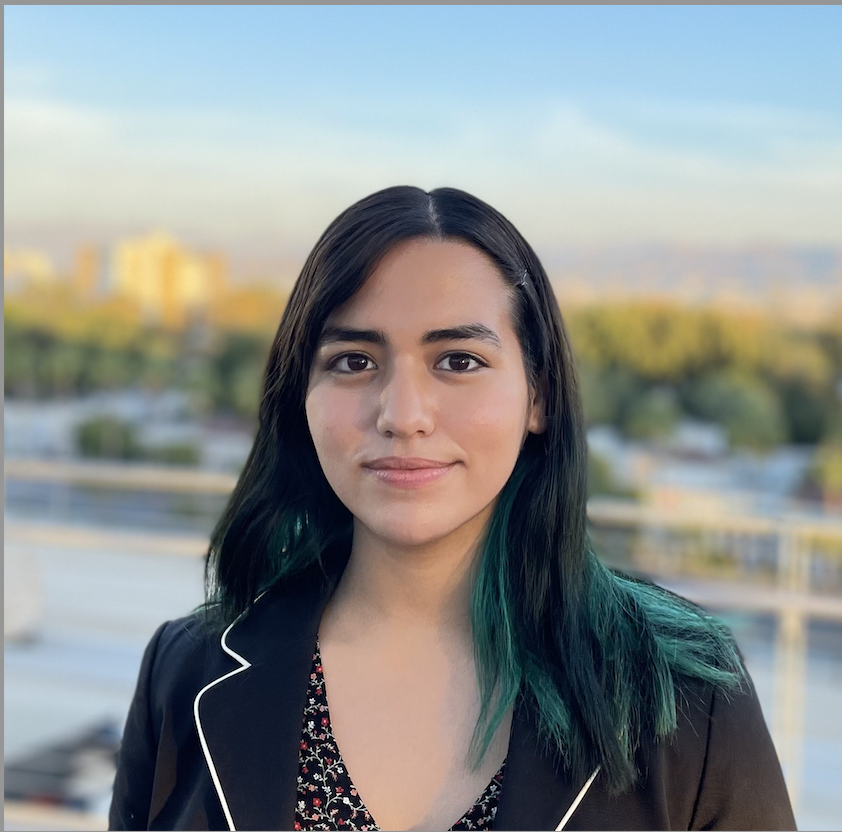 This post was updated April 4 at 4:18 p.m.
For the first time in more than a year, UCLA students have been able to return to the tables at some residential dining halls.
De Neve Residential Restaurant and Bruin Café reopened indoor dining at limited capacity for the UCLA community Wednesday. Spaced six feet apart with single-occupancy tables, Bruins at De Neve conversed over their food in the shared space, which for some, was a first.
Around 20 Bruins sat at the tables in De Neve dining hall during dinner. None seemed to make use of Bruin Café's new capacity, but some students outside the restaurant said they were simply unaware that there was limited indoor seating available.
Some students felt happy and more connected to the university after eating in a dining hall for the first time.
"We transferred last year," said Brian Vasquez, a third-year history transfer student who ate at De Neve with his spouse Doyeon Kim-Vasquez, a third-year biochemistry transfer student. "It feels real now. It's been our dream for so long, and now we're here. We're eating the food or studying in the libraries. It just feels real now."
Gabriela Lopez, a first-year communication and political science student, expressed a similar thought while eating dinner at De Neve at a table six feet from her friend.
She is grateful for the staff's efforts and excited to have a meal with her classmates since she had not had the chance to sit down to eat in a UCLA dining hall before, she said. Even with social distancing, she looks forward to the experience again in the future.
Even so, some students and dining hall workers expressed concerns about safety. Many students have yet to be fully vaccinated, and the university still maintains mostly remote operations.
Los Angeles County will move into the orange tier – the second least severe tier – of California's reopening guidelines Monday after moving into the red tier in March. As of March 24, more than 3.7 million doses of COVID-19 vaccines have been administered in the county, according to the Los Angeles County Department of Public Health.
Marlen Calderón, a Bruin Café employee, said the reopening felt too early and caused the workers unnecessary stress. Workers had to keep the chairs and tables eight feet apart in the same places and constantly keep them clean, she said.
Bruin Café had seats for around 10 people at a time. At both De Neve and Bruin Café, students had to leave once they finished their meals.
"I honestly feel like it's pretty ridiculous to have indoor dining because we have very limited seating," Calderón said. "They literally just pretty much sit down, start eating, finish eating and get up."
Limited indoor dining doesn't make sense because there is plenty more seating outdoors and the weather is usually nice, she added.
Belginy Peña, a Bruin Café employee, also felt the reopening was unnecessary.
"I feel like before they even let them in, they should be vaccinated already," Peña said. "It doesn't feel as safe as before."
Melissa Gonzalez, a first-year environmental science student, said she would not eat indoors until she received her second dose of a COVID-19 vaccine. But she still said she felt indoor dining was feasible with safety restrictions.
"The virus is still out there," Gonzalez said. "We're not really 100% vaccinated. You don't know who has it, who doesn't have it."
Other workers felt hopeful for what they said felt like a step toward a return to normalcy.
COVID-19 procedures still remain in place, so the new dining protocols do not feel very dangerous, said Derrick Whitney, a Bruin Café employee. He felt unaffected by the change at Bruin Café because the virus is still a present danger anywhere else, he added.
Lidia Urrutia, a Bruin Bowl employee who was hospitalized with COVID-19 over the summer, felt it was time to start opening facilities. She enjoyed seeing students livening up the dining hall again, she said while eating dinner at one of the De Neve tables.
"I like when I see their happy faces," Urrutia said. "I feel so happy when I see the tables. They start opening, with distance, but I think this is nice because maybe we can come back soon to normal."
Montemayor is currently the 2020-2021 features and student life editor. She was previously a News reporter, Photo contributor for the news beat and Arts contributor. She is also a second-year global studies student at UCLA.
Montemayor is currently the 2020-2021 features and student life editor. She was previously a News reporter, Photo contributor for the news beat and Arts contributor. She is also a second-year global studies student at UCLA.