Opinion: Chris Weiland's delayed dismissal counters UCLA's dedication to equity, inclusion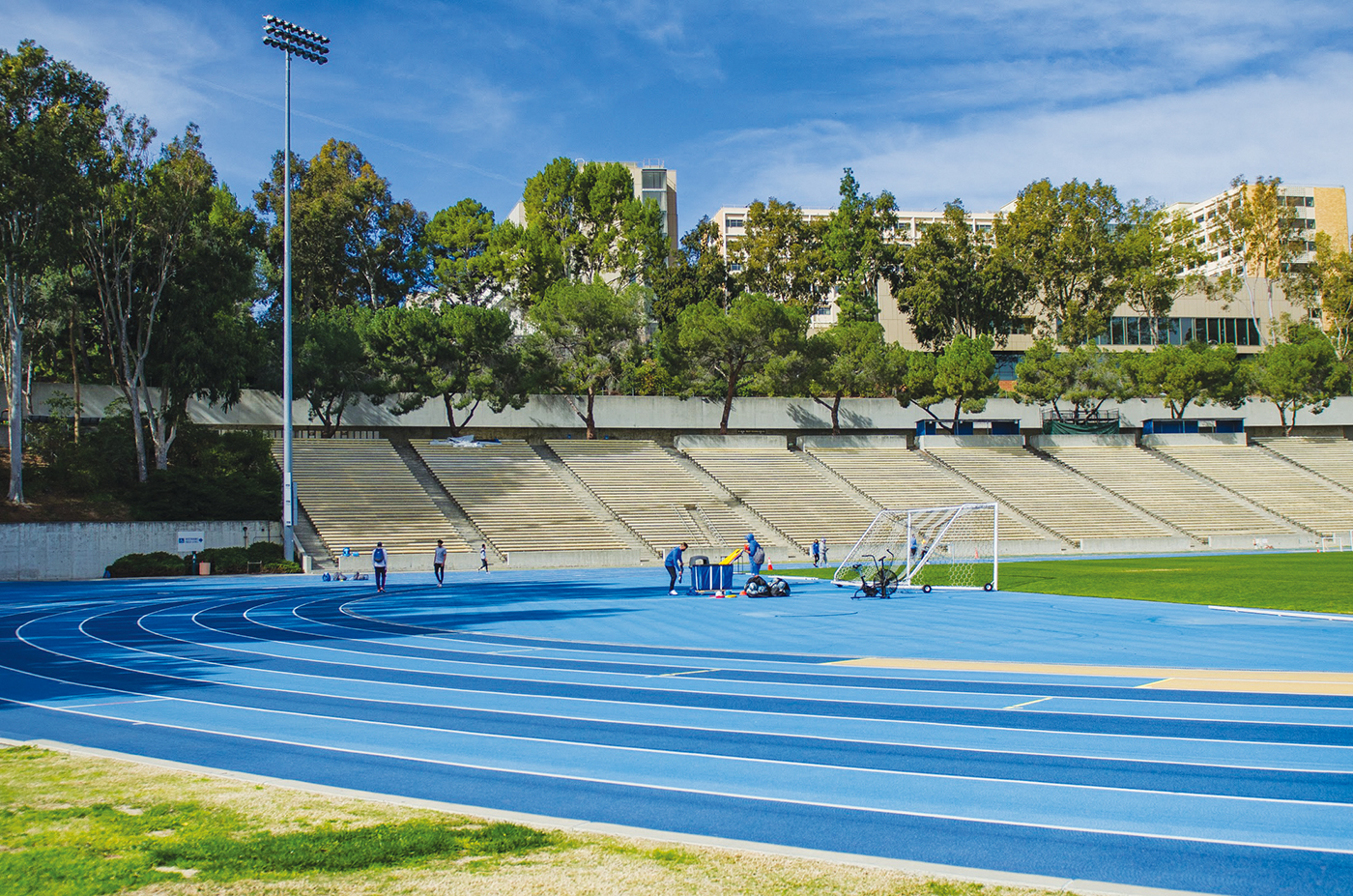 Chris Weiland's reinstatement after his bigoted remarks was a sign that UCLA is not the beacon of inclusivity it claims to be, and moving forward the university needs to do better to earn its students' trust. (Kanishka Mehra/Photo editor)
This post was updated April 4 at 5:38 p.m.
Tolerance and inclusivity are standards that every university should be proud to uphold.
Unless, of course, it's UCLA.
On Feb. 22, UCLA Athletics dismissed former cross country and track student-athlete Chris Weiland after the now-deleted Instagram account @ucla_is_racist uploaded a video and screenshots of text messages of Weiland using racist and homophobic language.
UCLA track and field/cross country coach Avery Anderson said in a statement he had suspended Weiland when he initially learned of his actions but reinstated the student-athlete in January.
Disturbed by this decision, the Black Student-Athlete Alliance, an organization at UCLA devoted to creating a safe space for Black student-athletes, posted a statement denouncing the department's minimal action toward disciplining Weiland. Since then, the post has received more than 2,900 likes, with commenters tagging the UCLA Athletics Instagram page and calling on the department to act on the issue.
Although Weiland was soon permanently dismissed, it shouldn't be the student body's responsibility to ensure the university holds those who espouse hate speech accountable for their actions. UCLA Athletics' original decision to reinstate Weiland represents a blatant disregard for the principles of equity and inclusion the university claims to uphold.
UCLA Athletics – and UCLA in general – must continue to listen to students when they express discomfort and work toward building an environment that is more welcoming for students of all backgrounds.
"I'm certainly not surprised that something like this would happen," said Andrea Robinson, a second-year economics student and the co-marketing director of the Black Business Students Association. "The biggest issue that I think everyone had is that he was reinstated."
The athletic department's decision to welcome Weiland back to the team conveyed a heavy message to student-athletes, especially those who belong to marginalized communities: It cares more about keeping athletes than dismissing them for mistakes when the mistakes are not public knowledge.
"The harm that the Black community and the queer community face will never go away – it's going to be ingrained in your mind," Robinson said. "We need to start teaching the weight of these words, … and we need to start holding students accountable for that."
However, students don't have much power in holding their peers accountable through disciplinary action – the administration does.
UCLA Assistant Athletics Director Liza David said in an emailed statement the department maintains a consistent commitment toward inclusion by having coaches participate in anti-racism workshops and an equity, diversity and inclusion committee meets monthly.
These workshops mean nothing when coaches don't actively apply what they learn to real-life situations.
If UCLA can preach about diversity and open-mindedness, university officials should have no trouble disciplining those who create unwelcoming environments for minority students.
"You can't be tolerable to people who don't value your life," Robinson said.
Last year, the University of California system admitted its most diverse first-year class ever. UCLA itself also set a record with a 48% increase in Black applicants and a 33% increase in Latino applicants.
With different ethnicities showing an increased interest in applying to the university, it's imperative that UCLA takes a hard stance against racism and other forms of bigotry.
That's only the beginning, though. First-year pre-public affairs student Selena Vazquez said with the increase in Latino applicants, UCLA must also pay attention to students' retention and graduation rates. Because if there's anything this incident teaches Bruins, it's that the university's current environment and campus culture are not supportive of minority students.
UCLA can – and must – change that.
For more than 25 years, the UCLA LGBTQ Campus Resource Center has served the UCLA community through counseling sessions and even allyship training. In addition to confirmed plans for building a Black Resource Center, UCLA can continue to establish resource centers that can help minority students feel safer on campus.
While these resources are certainly helpful, they will not stop acts of discrimination. This is where punitive action – something that was clearly lacking in Weiland's case – is important. Moving forward, UCLA will have to build the trust students have in the university as an equitable institution.
For nonminority students, suspension or expulsion may sound like too harsh of a punishment for saying these slurs, especially for a young college student. But for minorities, discrimination is a reality they cannot escape.
"I have instances like that; every single friend of mine who's Black has instances like that; every single friend of mine who's a part of the queer community has instances where we remember this harm and harassment that was against us, and then these people get to walk away and (apologize)," Robinson said.
UCLA understands the harm that marginalized communities endure. Chancellor Gene Block and Vice Chancellor Anna Spain Bradley recently released a statement condemning the attacks against six Asian women in Atlanta and recognizing the urgency of tackling discrimination.
Now, administrators need to make it even more clear that they support the lives of all members of the community and strive to create a more inclusive environment.
Only then can UCLA righteously say it upholds the values that it proudly parades.