UCLA women's golf finishes in season-low 11th place at Ping/ASU Invitational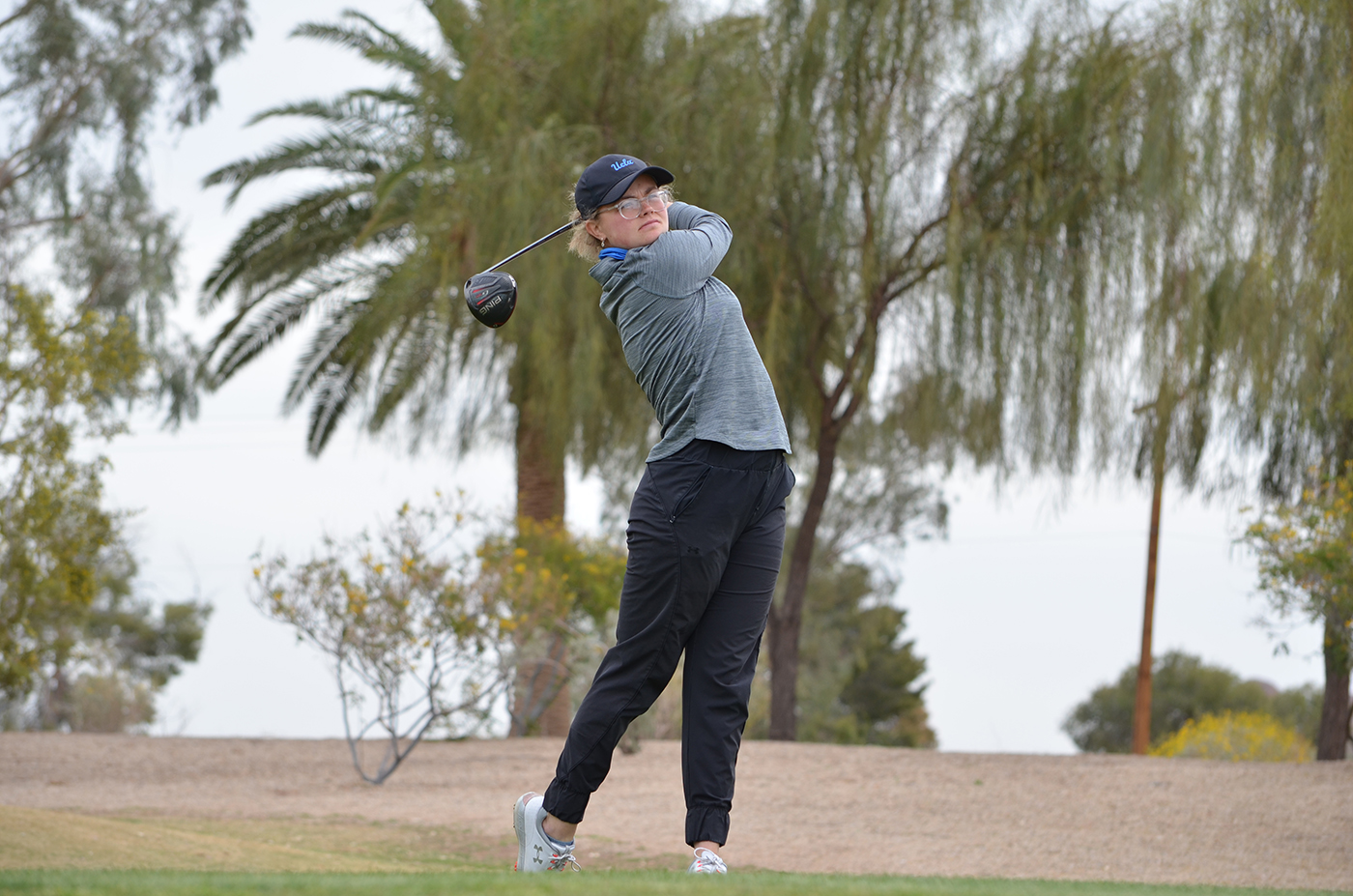 Sophomore Annabel Wilson was the lone Bruin under par at the Ping/ASU Invitational over the weekend as UCLA women's golf finished in 11th place in the 15-team field. (Courtesy of UCLA Athletics)
The Bruins hit a new low Sunday.
UCLA women's golf shot an 18-over 882 at the Ping/ASU Invitational and finished in 11th place. The Bruins were 20 shots back of Pac-12 rivals Arizona State and Oregon at the top of the leaderboard, marking their worst finish of the season and worst placement since 2019.
Coach Carrie Forsyth said she was dissatisfied with her team's performance and knows the Bruins need to turn their season around in order to move up in the rankings for the end-of-the-year tournaments.
"I was disappointed by our overall results," Forsyth said. "We didn't really beat some teams that were ranked behind us, and at this point we need to start beating some teams that are ranked ahead of us."
The six-time Pac-10/12 Conference Coach of the Year said even though her team did not play how she expected it to, she was proud of sophomore Annabel Wilson, who finished in a tie for second place.
Wilson carded a 4-under 212, which is the first time in her collegiate career that she has finished under par. The Northern Ireland native shot a 2-under 70 on the first and third days of the tournament, and an even-par 72 on day two.
"I am really happy (with) how I played this week – it is my best finish so far (in my collegiate career), so I am super delighted about that," Wilson said. "It was nice to be consistently at the top of the leaderboard all week."
Wilson said she dedicated a lot of her practice time over the past few months to working on her short game whenever she could. The sophomore said she was delighted to see all of her hard work reward her with her first career top-two finish.
Forsyth applauded Wilson's ability to recognize the weakness in her game and work tirelessly to improve upon it.
"Recruiting Annabel, she was kind of a raw talent," Forsyth said. "She had a really great golf swing and a lot of really good things about her game. She's got power, but her short game was definitely her biggest weakness. She has really redirected her practice time towards spending a lot more time around the green and it's going to pay off – and it paid off this weekend."
The rest of the starting lineup did not shoot as low as Wilson. Sophomore Emilie Paltrinieri started the third day in a tie for fourth place, but after shooting a 4-over 76 in her final round, she finished in a tie for 17th place with a 1-over 217.
Sophomore Emma Spitz saw her streak of four straight top-four finishes to start the season come to an end when she finished in a tie for 46th after carding an 8-over 224. Sophomore Yuki Yoshihara carded a 13-over 229 and junior Phoebe Yue rounded out the starting lineup in a tie for last place, 14 strokes behind Yoshihara.
Forsyth said the team has faced adversity this season, including missing three players all year and various other challenges that COVID-19 has presented. She said the Bruins will continue to work hard each and every day at practice as their season winds down.
"I think we are making it work, and I think (the team) is doing a great job in terms of its effort and its focus," Forsyth said. "Dealing with all the COVID-19 stuff they have had to go through, I am really proud of them."
Fenn is currently a Sports reporter on the women's soccer beat. He was previously a contributor on the beach volleyball and men's and women's golf beats.
Fenn is currently a Sports reporter on the women's soccer beat. He was previously a contributor on the beach volleyball and men's and women's golf beats.