No. 23 men's tennis sees return of junior Govind Nanda in win against Stanford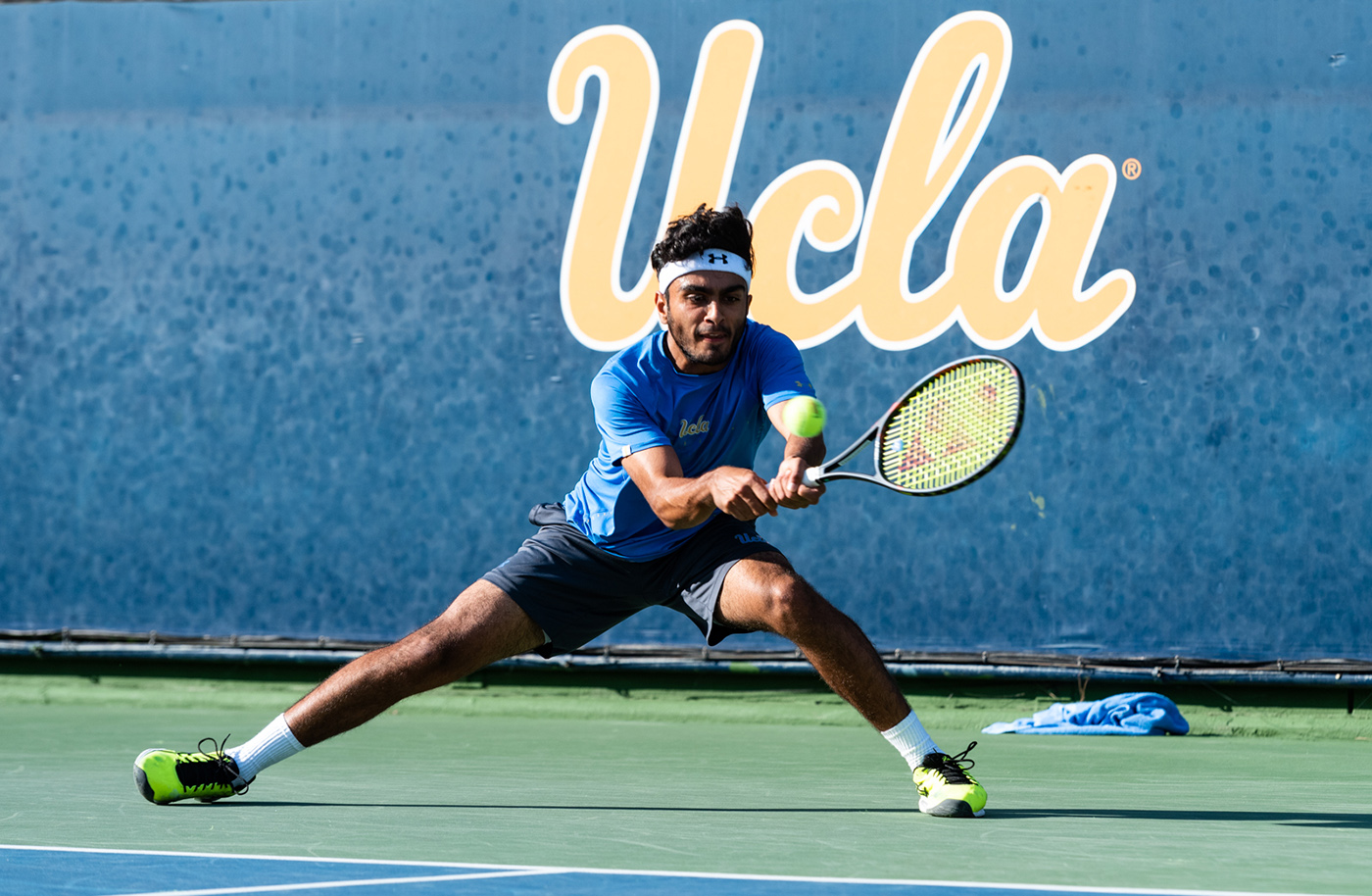 Despite losing his doubles match, junior Govind Nanda came from behind in his singles match – winning 4-6, 6-2, 6-2 – to help No. 23 come back from an early deficit and defeat Stanford on Monday. (Daily Bruin file photo)
In his first match back, Govind Nanda helped complete a comeback victory.
No. 23 UCLA men's tennis (6-2, 1-0 Pac-12) won 4-3 at home over Stanford (2-1) on Monday. After the team fell behind early, the junior helped the team avenge last season's loss by winning the final match and giving the Bruins the decisive fourth point.
The win Monday marked Nanda's season debut with the team after missing the first half of the season.
"Basically, I wasn't planning on returning this season," Nanda said. "I was originally planning on going pro and going that route, but there are not that many tournaments going on within the States, so I decided to come back and play for the team and have some fun."
Nanda opened up his singles season against a familiar opponent, Alexandre Rotsaert. Nanda – who defeated Rotsaert last time they faced off – again beat the top-ranked Cardinal to earn the deciding fourth point for the Bruins, coming back after dropping the first set 6-4 before winning the next two 6-2.
Nanda's return to play started with a doubles loss on court two. Sophomore Drew Baird and Nanda were defeated by the Cardinal's Arthur Fery and Rotsaert 6-4.
Seniors Keegan Smith and Bryce Pereira played in a tiebreaker point in their doubles match against Stanford's Tristan Boyer and Axel Geller that ended in a 7-6(3) loss for the Bruins.
Despite being one game ahead, the duo of juniors Roscoe Bellamy and Mathew Tsolakyan allowed the Cardinal's Neel Rajesh and Timothy Sah to come back and earn the deciding doubles point victory, 7-5, giving Stanford an early 1-0 lead.
Coach Billy Martin said this was a critical match for UCLA, as it could affect its ITA ranking and NCAA tournament future.
"I was very nervous … because I felt how important this match was to us and to our season right now," Martin said. "I felt like if we didn't win this match at home it could send us down a not-so-good direction."
In their February 2020 matchup, Smith was defeated by Geller in a three-set match. On Monday, Smith got his revenge, defeating Geller in straight sets 6-1, 7-5.
Tsolakyan earned the first point for the Bruins, winning his singles match against Aryan Chaudhary 6-3, 6-2. The win marked Tsolakyan's 12th consecutive singles match without a loss, a trend that goes back to the 2020 season.
Redshirt senior Ben Goldberg lost in straight sets to Boyer in back-to-back 6-2 sets. Graduate transfer Sam Feit earned a win on the Bruins' back court, defeating Sah 6-4, 7-5.
"Matt came through – some other guys on the top courts had some big wins," Feit said. "(Stanford has) some good young guys, but I think we just took it to them, especially in the singles."
With the final two singles matches going into third sets, multiple Bruins were cheering on their teammates. Nanda said the energy from the rest of the team cheering him on in his third set is what makes collegiate tennis unique.
"College tennis, in general, is a different feeling on court than normal tournaments," Nanda said. "Hearing them makes it fun for sure, very fun to play and play for them. Bunch of great guys."
Despite the support, Baird was defeated by Fery 2-6, 6-3, 6-2. With the loss on court three, the Bruins were tied 3-3 with their last singles match going down to its third set.
The match would be decided by Nanda's comeback victory on court two, allowing UCLA to celebrate a win against Stanford.
"I knew when Govind Nanda joined our team it was going to be a difference-maker, and, sure enough, today when it counted, last set, both teams looking on – he was able to step up and answer the call," Martin said. "All in all, (I) thought it was a great team win, and everyone contributed in their own way."
UCLA will next face UC Irvine at home Tuesday at 11 a.m.
Chesney is currently a Sports contributor on the men's tennis beat.
Chesney is currently a Sports contributor on the men's tennis beat.