Men's golf prepares for Duck Invitational, looks to continue previous success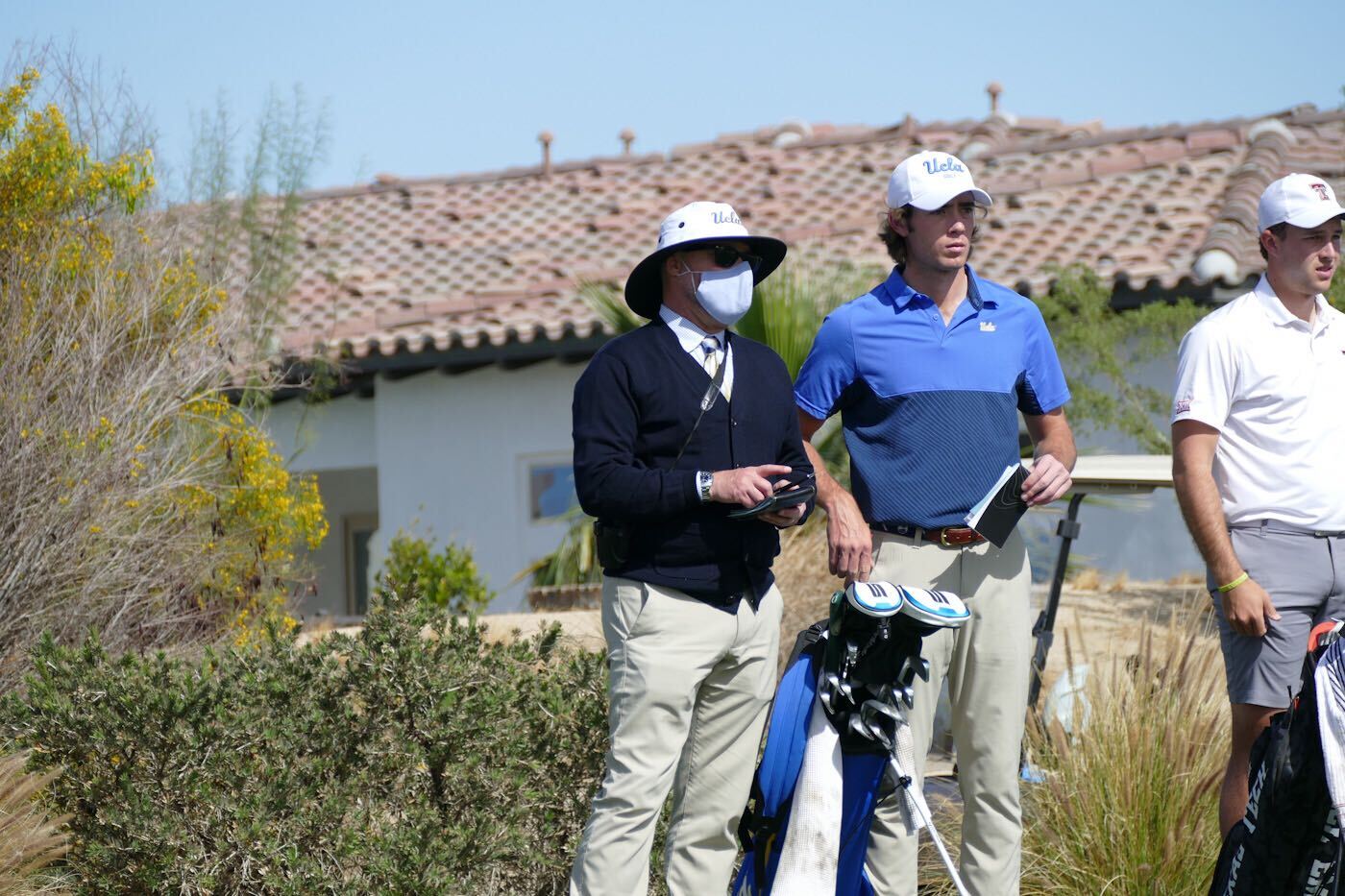 UCLA men's golf – led by 14-year veteran Derek Freeman – is heading north for the Duck Invitational starting Monday. (Courtesy of UCLA Athletics)
For the first time this season, the Bruins are coming off a win.
After posting a 4-over 868 at the Lamkin San Diego Classic last week, UCLA men's golf secured first place in both the team and individual categories. Coach Derek Freeman said his team looks to replicate its success in Eugene at the Duck Invitational on Monday.
"Any time you can win an event as a team and have an individual winner, it's great," Freeman said. "And it's a really difficult thing to do to win in this sport, and so by us being able to showcase our talent and really develop into the team we think we are, we needed to have some success. We're really looking forward to going up to Eugene and competing, and giving ourselves a chance to win another event."
Senior Devon Bling not only led the Bruins in scoring last week in San Diego, but he also led the field, posting a 4-under 212 over the three-day stretch. He was rewarded with his third individual title of his collegiate career and first of the season.
One of only two starters who has played at Eugene Country Club before, Bling will also be starting in the Duck Invitational. Senior Eddy Lai, whose first start of the season was at the Lamkin, is also familiar with the course, according to Freeman.
Rounding out UCLA's lineup are sophomore Mason Greene, junior Bryan Wiyang Teoh and freshman Dylan Vizanko. Lai, Greene and Teoh finished in the top-25 in San Diego.
The team debuted a new lineup at the Lamkin and found success, but Freeman decided to host a series of qualifiers ahead of the Duck Invitational, taking full advantage of the 12 days between tournaments.
"The good part about having time between tournaments is that you can have some qualifying, you can go through certain situations and really figure out who your best lineup is going to be on a given golf course," Freeman said. "The qualifying was really tight and close so I think these guys will do a great job."
The Bruins will fly early to Eugene to accommodate for a practice round and additional preparation time. Freeman emphasized his veteran players' guidance, and mentorship will be key to ensuring his team is ready to compete.
"Since we've got older guys who have played there, I think it'll really help the younger guys because we discuss before we even get there about the golf course," Freeman said. "We talk about strategy, we talk about what we're trying to do, we talk about hole locations. … That's the good part about being able to travel to a golf course that you know and that you understand."
Following the latest victory, Freeman said he is looking forward to his team's dedication and effort to start yielding more winning results.
"The last week these guys have worked really hard, (and) although they've been in finals and studying, we've had a really good week of work and so that's been exciting," Freeman said.
UCLA will tee off at 8:30 a.m. Monday in Eugene.