UCLA women's basketball prepares to face Wyoming in 1st round of NCAA tournament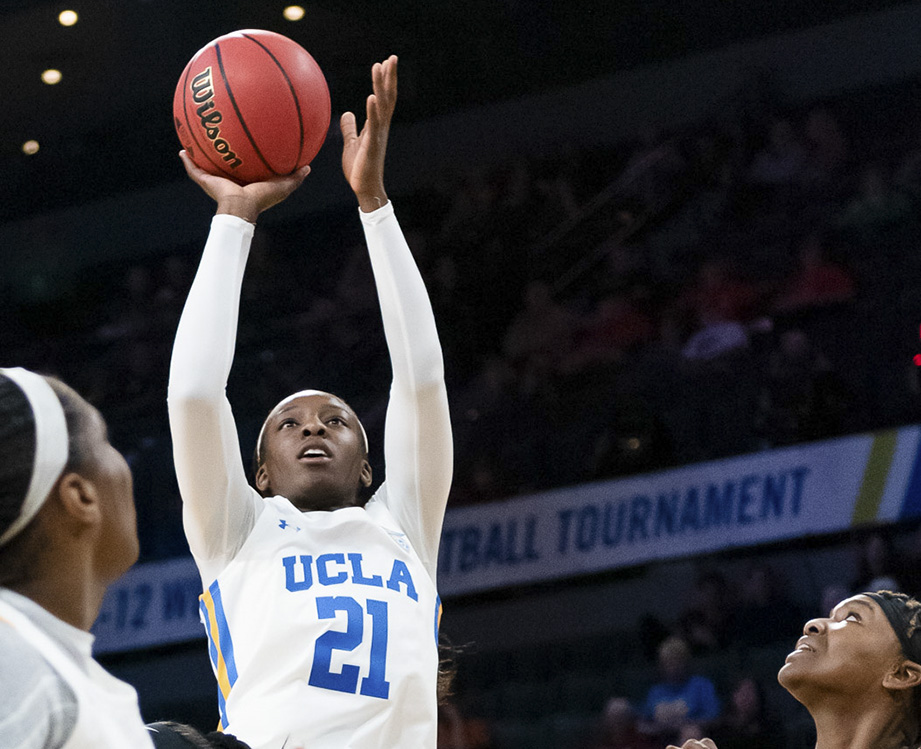 Senior forward Michaela Onyenwere has played in two NCAA tournaments, averaging 12.1 points per game in seven career March Madness appearances. (Lauren Man/Assistant Photo editor)
Women's basketball
---
No. 14 seed Wyoming
Monday, 7 p.m.
Frank Erwin Center
ESPN
---
No. 6 seed Texas/No. 11 seed Bradley
Wednesday, TBD
TBD
TBD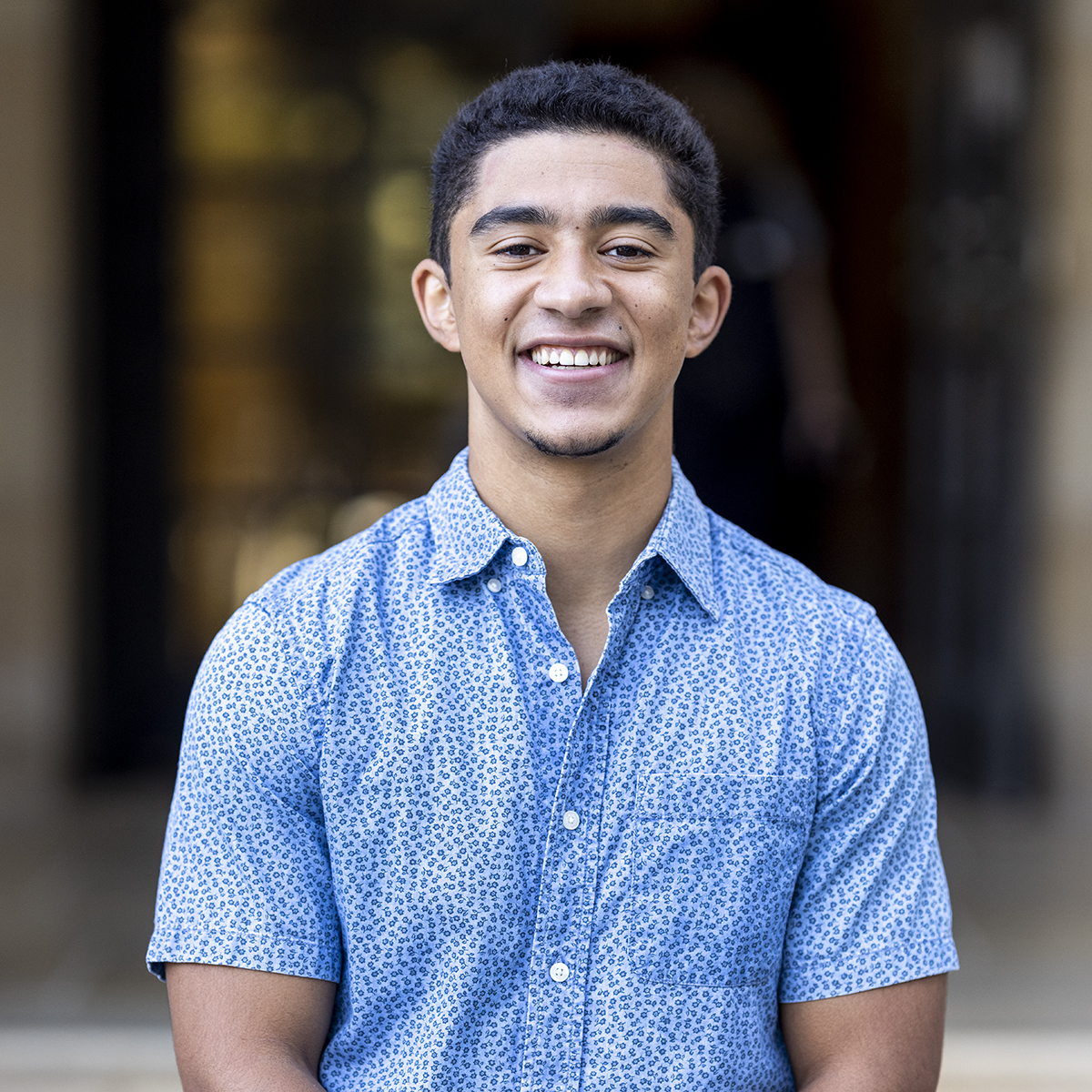 March 21, 2021 11:58 a.m.
After falling short in their Pac-12 championship game, the Bruins begin their March Madness run against a conference champion.
No. 3 seed UCLA women's basketball (16-5, 12-4 Pac-12) will take on No. 14 seed Wyoming (14-9, 8-8 Mountain West) in the first round of the NCAA tournament Monday. The Cowgirls received an automatic bid to the Big Dance after claiming their first-ever Mountain West tournament title despite being a No. 7 seed in their conference tournament. Should the Bruins win, they will face the winner of No. 6 seed Texas (18-9, 11-7 Big 12) and No. 11 seed Bradley (17-11, 10-8 Missouri Valley).
Despite facing an opponent from an unfamiliar conference – the Bruins haven't played a Mountain West team since 2018 – coach Cori Close said her team is comparing Wyoming to Pac-12 opponents in order to prepare.
"Their sort of spread offense and their motion offense – it's sort of like Colorado in this way, it's like Utah in this way," Close said. "They shoot 25 3s a game and I remember we used the correlation with Utah – every time they make 10 3s or more, they win – and so we really tried to limit Utah's touches. We just try to draw those parallels so there's a sense of familiarity."
UCLA's 14-day break before its 2021 NCAA tournament debut comes after a 20-point loss to potentially its final Pac-12 opponent of the year – Stanford. This isn't the first time the team experienced a long break from play after a double-digit loss to the Cardinal.
In their last game of 2020, the blue and gold suffered a 61-49 loss to Stanford on Dec. 21 before a 10-day holiday break. The Bruins went on to win their next five games, including road wins at then-No. 8 Oregon and a revenge win against then-No. 5 Stanford.
Close said her team's experience against the Pac-12's best is valuable heading into the tournament.
"I don't know another conference in the country that is this varied, but also this elite," Close said. "We're going to have to be really locked in mentally to be able to perform at our best (against Wyoming), and I do think that the Pac-12 has allowed us to feel very confident."
After finishing what could be her last stretch against conference opponents, All-Pac-12 senior forward Michaela Onyenwere – a projected lottery pick after this season – said there are multiple forms of motivation heading into potentially her last tournament run.
"A lot of my motivation just comes from being the best I can for my team, especially because this might be my last year," Onyenwere said. "This is for us to go out with a bang and we didn't have this opportunity to compete last year. I'm super excited to go and compete and show people what we've worked for, but also show ourselves and reaffirm ourselves about what kind of team we are. It's going to be a good run."
Differing levels of NCAA tournament experience
Dominique Darius skipped her senior season of high school basketball to join the Bruins in the middle of the season.
Now, after playing double-digit minutes in the last two games of the Pac-12 tournament, the freshman guard is likely to receive playing time in the NCAA tournament.
"It happened so fast," Darius said. "Just getting here was a whole experience and then now a few months later – it's almost four months since I've been here – we're in the NCAA tournament. I'm supposed to be on my couch right now watching this tournament, it's just really cool."
Of the nine Bruins who have played rotation minutes this season, Darius is one of four to have never played a March Madness game. Fellow freshman and forward Emily Bessoir and sophomore guards Charisma Osborne and Camryn Brown represent the other three players who have yet to dance in March.
Onyenwere, who is playing in her third career NCAA tournament, said the Bruins with tournament experience have an opportunity to lead a group with varying levels of experience.
"It's definitely new for some people," Onyenwere said. "As a vet, it is kind of my job and other (tournament vets') jobs to kind of talk through and lead through that kind of experience. But I feel like we've been preparing for this moment for a very long time – we know the severity of what this tournament is and how hard we've worked and how much we've sacrificed to be here."
Despite the difference in tournament experience, Close said her players' leadership has given UCLA success in the tournament in recent years.
"That's been the turning point in our program – we've gone from being an adult-led program, coaches-led program to a player-led program," Close said. "There's only seven programs that have won as many games in the postseason as we have over the last six years, and I believe that started when our players started taking the reins and leading from the locker room."
The Bruins' opportunity to add more postseason wins begins Monday at 7 p.m. from Frank Erwin Center in Austin, Texas.
Carlson is currently a staffer on the women's basketball and softball beats. He was previously a reporter on the men's golf beat.
Carlson is currently a staffer on the women's basketball and softball beats. He was previously a reporter on the men's golf beat.