UCLA men's volleyball splits home-and-home doubleheader against Pepperdine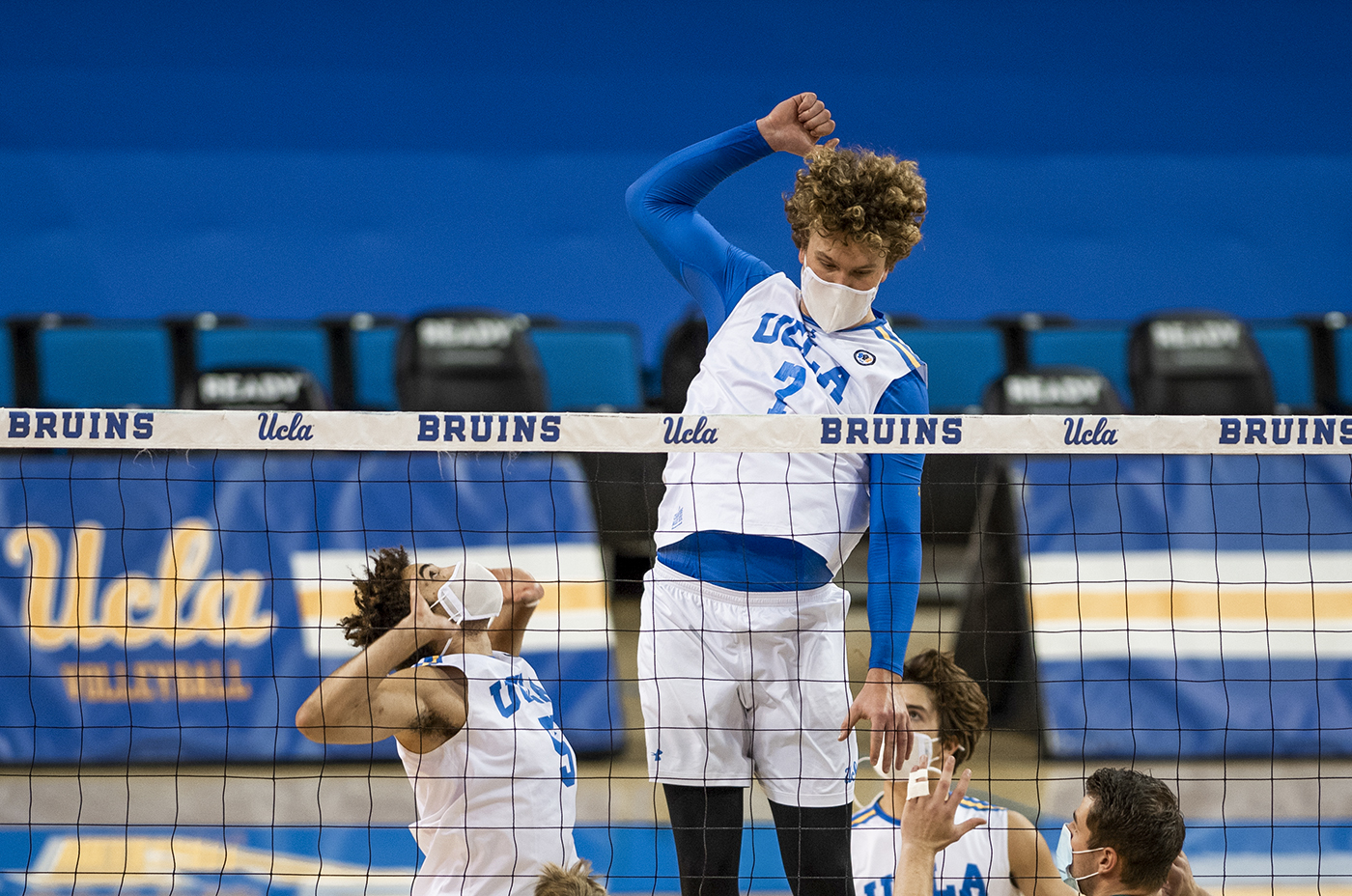 Redshirt junior middle blocker Ian Parish had his most points over a two-match stretch this season, combining for 20 points in No. 8 UCLA men's volleyball's doubleheader against No. 4 Pepperdine. (Anika Chakrabarti/Daily Bruin staff)
Men's volleyball
---
| | |
| --- | --- |
| No. 4 Pepperdine | 2 |
| No. 8 UCLA | 3 |
No. 8 UCLA
1
No. 4 Pepperdine
3
After a home-and-home doubleheader, the Bruins split games against a top-five team.
No. 8 UCLA men's volleyball (9-4) split two matches with No. 4 Pepperdine (8-3), earning a five-set win on Thursday followed by a four-set loss on Saturday.
At Pauley Pavilion on Thursday, the Bruins continued their winning streak and beat the Waves by scores of 23-25, 25-12, 22-25, 25-14 and 15-10 in a five-set match. UCLA capitalized in the serving category, where it had 13 aces compared to Pepperdine's one.
Alongside redshirt freshman middle blocker Merrick McHenry, redshirt junior middle blocker Ian Parish has gained more playing time at the position.
"One thing I noticed was definitely our energy," Parish said. "Coming into the Thursday match we definitely were on a high note and really wanted to put it to them, and we got it done. We are definitely more comfortable serving at our own place. I definitely think that has a huge impact on serving, and I think we served pretty well."
On Saturday, the Bruins traveled to the Firestone Fieldhouse, where the Waves were 3-0 on the year coming into the match. Along with that, UCLA has a record of 3-3 on the road compared to 6-1 at home.
"Pepperdine is a difficult place to play, and they are really comfortable at home, a much different gym than Pauley," said coach John Speraw. "Over the years, I would have to look back, but I'm guessing our record hasn't been great there. I think it's difficult to go on the road."
The blue and gold won the first set 26-24 after hitting .258, compared to Pepperdine's hitting percentage of .053. The Waves then won the next three sets by scores of 25-21, 25-23 and 25-22, winning the match three sets to one. The home side ended the match with 13 errors in sets two through four, compared to the Bruins' 19.
Speraw explained the difficulty of playing the same team twice and how that may have played a factor in the result.
"Saturday, they did a much better job of passing, and they were able to run a little more of a diverse offense as a result," Speraw said. "Then there were some tactical things that were different. As you might expect with a match when you play teams back to back as we are doing this year, there's a lot more of a chess match that goes on."
After this week's games, UCLA is in second place in the Mountain Pacific Sports Federation at 9-4, and Pepperdine is one spot behind in third place at 8-3. The blue and gold will have its next match against Stanford, which is currently seventh in the MPSF at 0-7.
"All of us have been really pleased with the performances and the intensity that these guys have competed at," Speraw said. "They have put themselves in a nice position. We are in the mix at the top of the MPSF, and I don't think that a lot of people would have predicted that. I'm exceptionally optimistic. I think we still have a significant amount of upside."
With a short off period because of finals week, the Bruins will have a nine-day break before continuing their season on March 23 and 24 on the road against the Cardinal.
Darrow is currently a Sports reporter on the men's soccer beat. He was previously a contributor on the women's tennis, men's volleyball and men's soccer beats.
Darrow is currently a Sports reporter on the men's soccer beat. He was previously a contributor on the women's tennis, men's volleyball and men's soccer beats.