UCLA men's tennis kicks off Pac-12 play with victory over Utah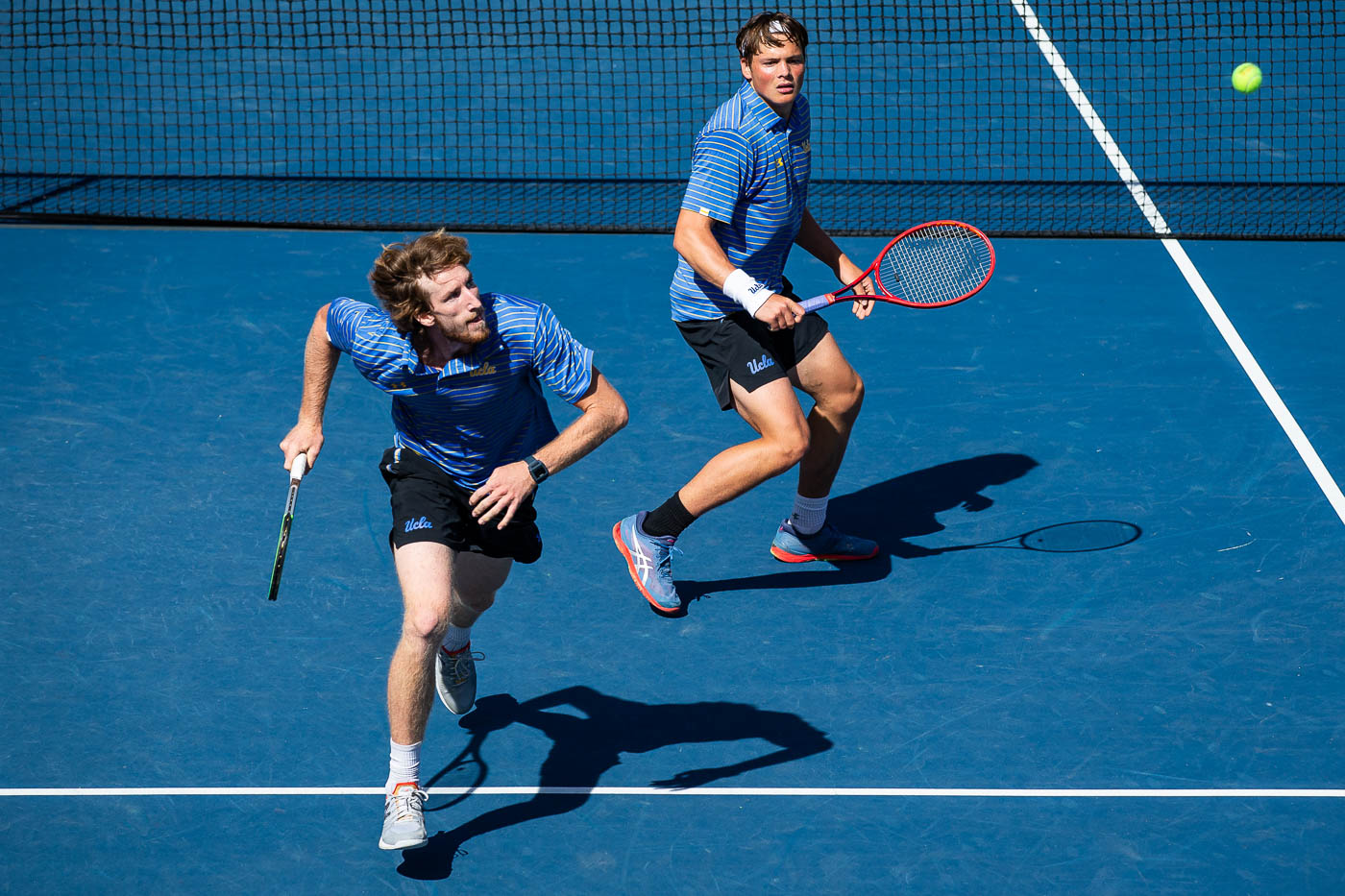 Despite losing his doubles match to start the day, senior Keegan Smith was able to bounce back and pick a straight-set singles win to give his team a point in No. 18 UCLA men's tennis's victory over Utah on Friday. (Andy Bao/Daily Bruin staff)
After a series of rain delays, the Bruins began Pac-12 play with a win.
Despite the postponement of Wednesday's match against Pepperdine because of rain, No. 18 UCLA men's tennis (5-2, 1-0 Pac-12) kicked off the Pac-12 season with a 6-1 win at home over Utah (10-5, 0-1) on Friday.
Utah struck first winning two of the three doubles matches to take the early 1-0 lead.
UCLA senior Keegan Smith and junior Max Wild lost their doubles match to Utah's Slava Shainyan and Francisco Bastias 6-2. The Bruins' tandem of junior Roscoe Bellamy and senior Bryce Pereira were defeated by Geronimo Busleiman and Chris Heck 6-3.
"They came to play," said coach Billy Martin. "Took it to us … especially in that doubles, shocked us a little bit."
Sophomore Drew Baird and fifth-year graduate student Sam Feit were the only players who won their doubles match against the Utes, defeating Bruno Krenn and Luis Flores 6-2.
Midway through the first set of singles play, rain postponed the match. With the Utes leading 1-0, both teams spent more than an hour inside waiting for the courts to dry.
"It's honestly tough, especially in the middle of a match," Smith said. "We stopped right in the middle of the first set in singles so it can be tough sometimes to come back."
Following the rain delay, the Bruins were able to get on the board, as Smith defeated Shainyan on court one by a score of 7-6(5), 6-2. Bellamy – filling in for the injured junior Patrick Zahraj – won in straight sets over Flores 6-3, 6-2.
"In singles, I felt both (junior) Mathew Tsolakyan and (Bellamy) stepped up and did a good job for us down at the bottom of the lineup," Martin said.
On court five, Tsolakyan defeated Heck in straight sets 6-4, 6-2. Tsolakyan's win against Utah on Friday makes him undefeated through 11 dual singles matches, posting a 10-0 record going back to the 2019-2020 season.
"He had a great run at the end of last season, (and) he's doing it again this year," said Martin. "He's certainly getting my confidence, as far as knowing I can send him out there and he's going to be a force for us."
Feit defeated Krenn again in singles play 6-3, 7-6(7) – pushing the Bruins over the four-point threshold needed to win the match. A transfer from Gonzaga, Feit won the first Pac-12 regular-season match of his career.
"This is the highest level there is, and I think we've got a really good team," Feit said. "We can compete with anyone. I'm looking forward to getting more matches in and keeping it going."
Although the Bruins had already clinched the win, matches continued into the night with Baird defeating the Utes' Busleiman 5-7, 6-4, 1-0(14). Redshirt senior Ben Goldberg completed the Bruins' sweep of the singles matches, defeating Bastias 6-1, 2-6, 6-4.
Following the win over Utah, Martin said one of UCLA's top players will return next week.
"Good news is this is our last match without (junior) Govind Nanda – he'll be starting with us after finals when we play Stanford," Martin said. "I anticipate that being a great match, and I'm certainly looking forward to that being a great challenge for us because I know how good they are."
Nanda entered the season ranked No. 22 in singles and No. 13 in doubles with Smith as his partner, but he has not participated in a match this season because he chose to focus on academics and outside tournaments.
UCLA, with Nanda, will face Stanford on March 22.
Chesney is currently a Sports contributor on the men's tennis beat.
Chesney is currently a Sports contributor on the men's tennis beat.