Gymnastics celebrates seniors, beats San Jose State in final regular-season meet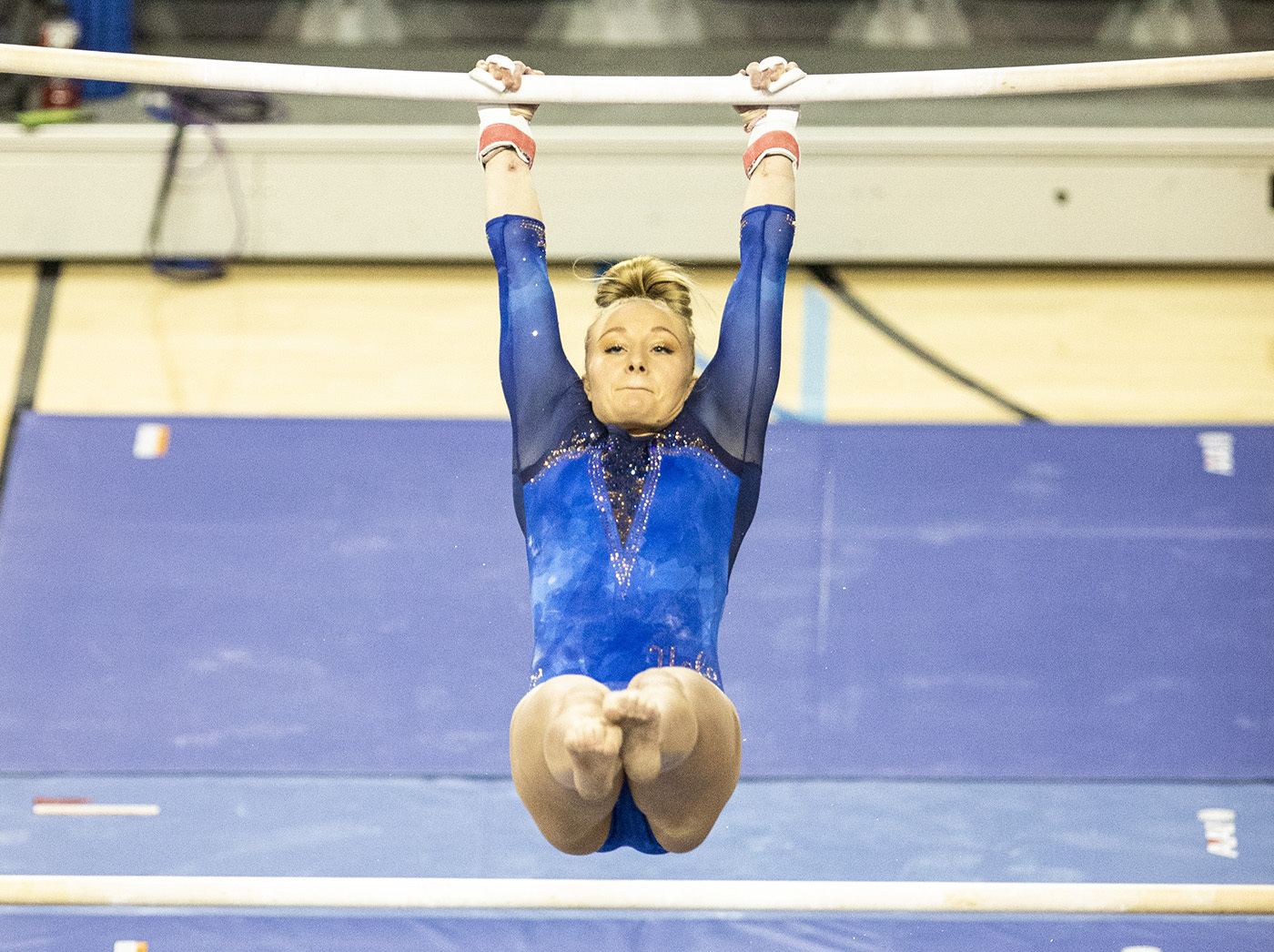 Senior Savannah Kooyman competed for the seventh time this season on the uneven parallel bars in UCLA gymnastics' final home meet of the season at Pauley Pavilion. (Elise Tsai/Daily Bruin staff)
gymnastics
---
| | |
| --- | --- |
| San Jose State | 193.575 |
| No. 14 UCLA | 197.100 |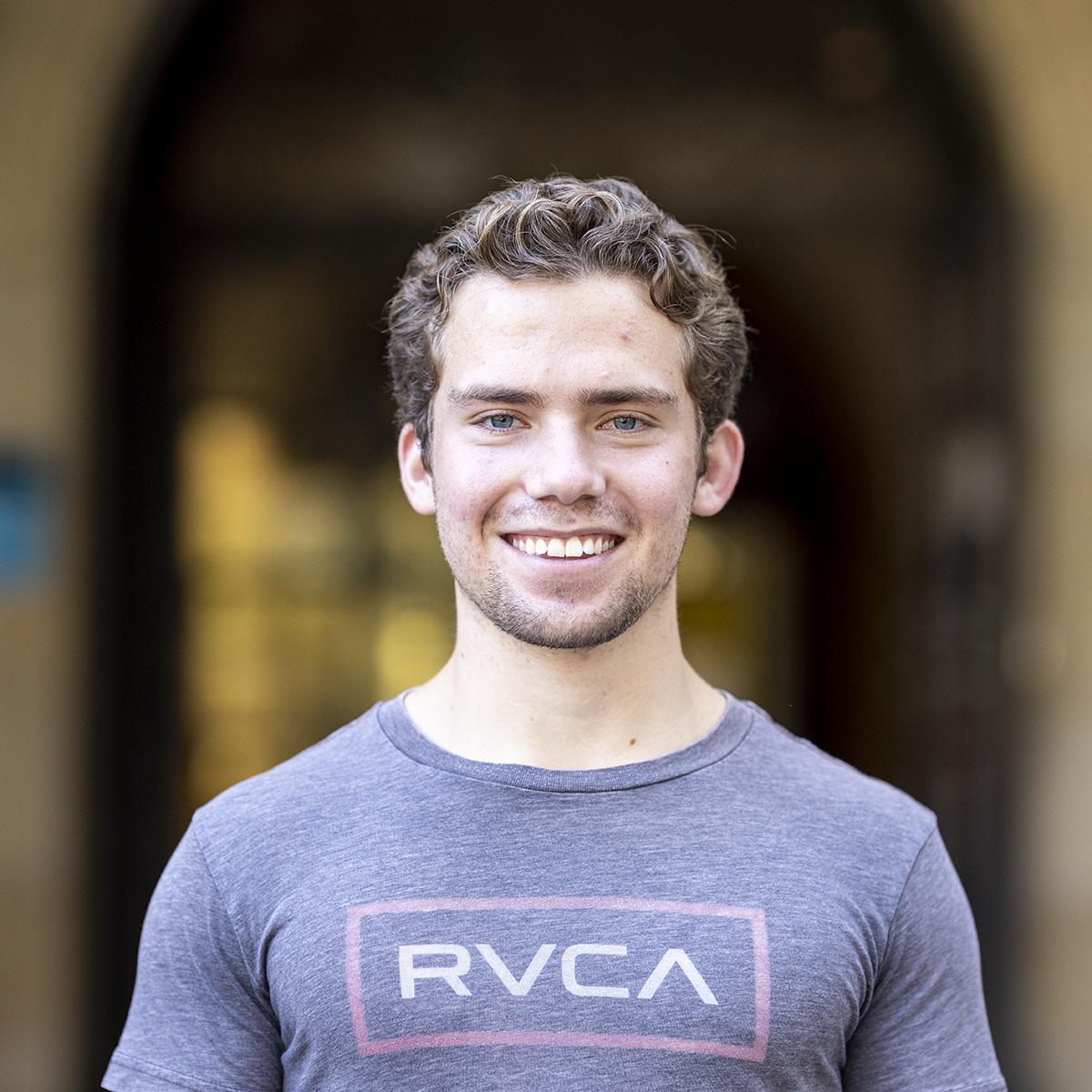 After being stripped of the opportunity to celebrate their seniors a season ago, the Bruins made this year's Senior Day meet one to remember, tying a season-high team score.
No. 14 UCLA gymnastics (6-2, 4-2 Pac-12) completed its regular season on Saturday with a comfortable 197.100-193.575 victory against San Jose State (2-2) at Pauley Pavilion while celebrating Pride and the six members of the 2021 senior class. The win secured the Bruins an unblemished home record this season.
"I think before I leave today, I'm going to lay on the floor just to feel the floor and soak it all in and feel the Pauley magic," said senior Pauline Tratz.
While UCLA recorded a season-best team score, the highlight of the afternoon came post-meet, when the Bruins celebrated their six seniors on the floor of Pauley Pavilion for more than an hour.
"It just felt like what is supposed to happen at UCLA gymnastics," said coach Chris Waller. "You have your last competition of the regular season in Pauley, it's your senior meet, you celebrate them and you do it in the venue that is now part of your soul – where you've got incredible memories and you've been with your best friends for four years. It's just enormously special. I'm so happy that our seniors got to have this experience."
After posting its second best score of the season on vault to open the competition, UCLA jumped out to a 49.325-48.725 advantage, a lead they would never relinquish.
Freshman Chae Campbell said after last week's meet that she wanted to debut her Yurchenko 1.5 vault at some point this season, but she stuck with her Yurchenko full on Saturday, scoring a 9.875 and keeping alive her seven-meet streak of 9.800-plus scores on the event.
Seniors Nia Dennis, Kendal Poston and Tratz led the rotation with three 9.875-plus scores. Dennis' 9.900 won the event, while Poston's vault was a season best for the vault and beam specialist.
"The season-high on the vault was just icing on the cake … I couldn't even contain my joy when I landed," Poston said.
In between vaults for the Bruins, the team turned its attention to the uneven bars, where San Jose State graduate student and former UCLA gymnast Mercedez Sanchez was competing. Waller – who had planned to put Sanchez in the lineup in the Bruins' Senior Day meet last season before it was ultimately canceled – celebrated as Sanchez stuck her dismount.
"Whether she's on a different team or not, to see her actually get to compete in Pauley … it filled my heart, because I can only imagine how she must feel to have checked that off her dream list and her goal list," Waller said.
https://twitter.com/uclagymnastics/status/1370861411144925184?s=20
After scoring a 49.550 and 49.450 in the last two meets, the Bruins regressed below their season average with a 49.100 on bars despite a 9.900 from junior Margzetta Frazier.
But the team rebounded quickly, as Poston led off the beam rotation – where UCLA ranks a team-worst 20th in the nation – with a 9.800 in her final routine in Pauley Pavilion. The rest of the Bruins rallied around the senior, culminating in a 49.175 on the event despite a fall from Dennis for the third consecutive time this season.
"I could not stop just thinking about how grateful I was today," Poston said. "I almost started crying up on the beam, because the love that I feel here is just something that I know I'll never experience again, and it's something so unique and so special."
UCLA finished out the meet on their most consistent event all season with a season-high 49.500 on floor behind a trio of 9.925 scores. After falling on bars and beam earlier in the meet, Dennis recorded her fourth 9.900-plus score on the event and first in more than a month.
"She's taken on a lot by becoming a voice for change with racial justice and an example of Black excellence," Waller said. "There's a lot that goes into that in terms of finding that voice and doing interviews and so forth. So she's had a lot on her plate, and the fact that she just keeps coming back … she stepped up and put the rest behind her. I'm really proud of what she did."
With the 2021 regular season officially in the books, UCLA will head to the Maverik Center in West Valley City, Utah, next weekend to compete in the Pac-12 championships. The last time the Bruins competed in the Maverik Center, at the 2019 Pac-12 championships, the team posted its best score since 2004.
Settleman is currently an assistant Sports editor on the gymnastics, women's soccer, women's golf, women's water polo and men's water polo beats. He was previously a contributor on the gymnastics and women's water polo beats.
Settleman is currently an assistant Sports editor on the gymnastics, women's soccer, women's golf, women's water polo and men's water polo beats. He was previously a contributor on the gymnastics and women's water polo beats.