Returning to Westwood helps alleviate stress for international students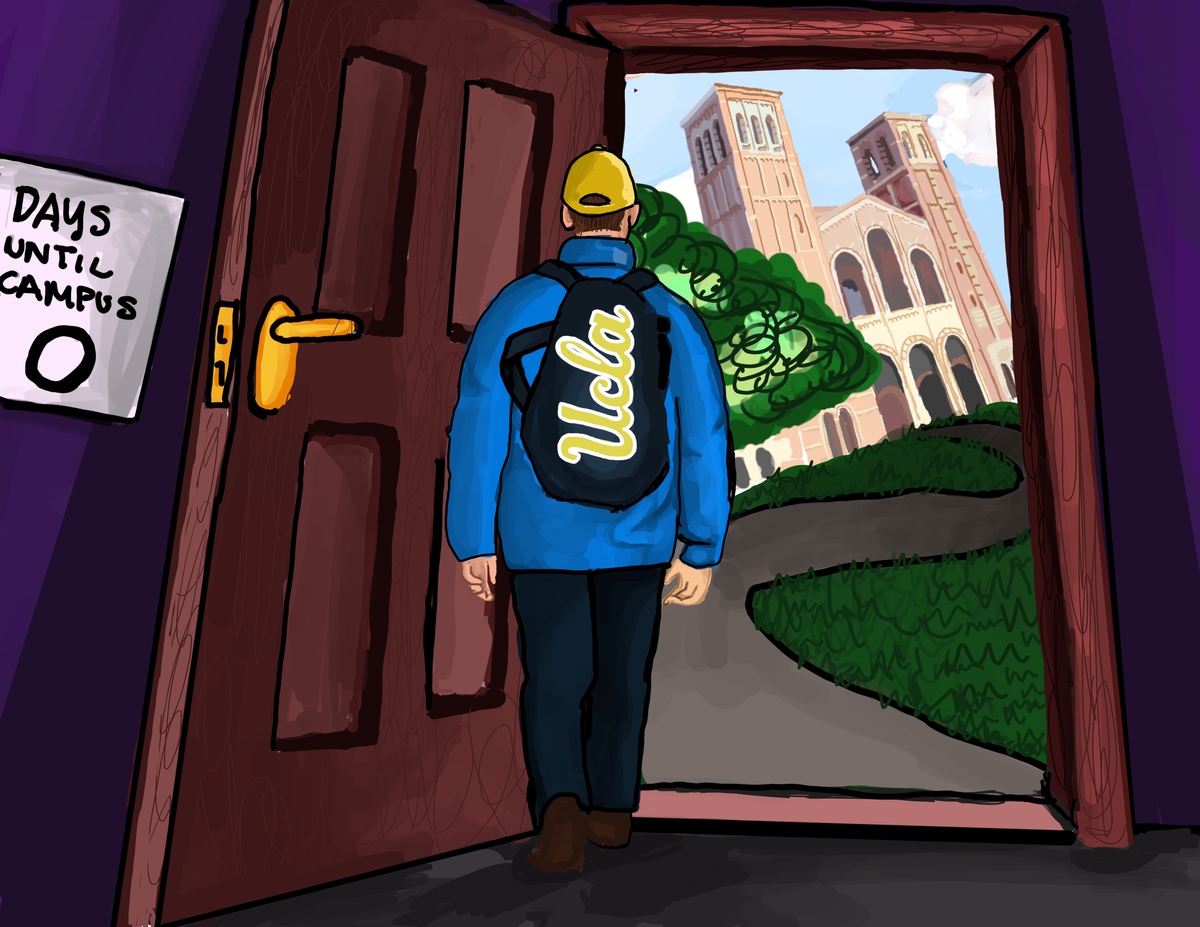 (Ella Stapleton/Daily Bruin)
Vaidehi Ramanarayanan flew more than 8,000 miles from Singapore to Los Angeles, landing in a different COVID-19 situation than that of her home and a timezone that doesn't sacrifice her well-being.
Ramanarayanan, a fourth-year neuroscience student, is one of many international students who returned to Westwood this school year.
Some students said their move back to Westwood has meant an adjustment to different COVID-19 regulations and an improvement in their health and social life. Depending on what country they left, the COVID-19 regulations in Los Angeles may be more or less strict.
Ramanarayanan said she felt safer in Singapore because the country has had around 60,000 COVID-19 cases and 29 deaths, masks are mandatory, there is strict contract tracing and people adhere to COVID-19 rules for the most part.
On the other hand, Ramanarayanan said the threat of COVID-19 in Los Angeles is substantially higher. Ramanarayanan had to plan ahead with her doctor to make sure that her health insurance would cover her if she got sick from COVID-19. Los Angeles County currently has an average of 1,419 new COVID-19 cases each day, with a total of 22,304 deaths.
[Related link: International students balance desire to return to US with uncertainties of pandemic]
After arriving at home in Thailand since UCLA classes went virtual, Yukta Trivedi knew she eventually needed to return to Westwood for her last two undergraduate quarters.
The fourth-year business economics student returned to Westwood in February and felt that after almost a year away from campus, spending the last few months of college close to her friends gave her a sense of normalcy during the COVID-19 pandemic.
"I'm a senior, and it's my last chance to be an undergraduate student," Trivedi said. "I came back because I want to spend time with my friends and enjoy the last two quarters before working."
But life in Westwood has not been completely normal for Trivedi. Since leaving Thailand – also a country with comparatively few COVID-19 cases – she has had to become more cautious of COVID-19. Trivedi has had to be more aware of social distancing and has kept her contacts to a small bubble of friends.
"Once I got used to it during the first few weeks of being back, everything's been okay, and staying within my own bubble is not too bad," Trivedi said.
Nitya Mehta, a fourth-year global studies student, moved back from Panama, a country that also has many COVID-19 cases. Mehta said that COVID-19 testing was not widely available in Panama, and she was in lockdown for 9 months, almost the entire duration she was in Panama.
Mehta felt that being back in Westwood has been a dramatic change because she is able to leave her home to run errands, such as going to the grocery store. She said that while it was unnerving to see the people who do not wear masks in Los Angeles, the widely available COVID-19 testing was a pleasant surprise.
Life in Westwood means these international students can now attend classes and activities. They would otherwise have to attend school at odd hours from late in the evening to early in the morning.
Ramanarayanan went to class from 1 to 2 a.m. when she was back home in Singapore and had to lead club meetings from 6 a.m. to noon. Being in a different time zone made it difficult to be awake and alert in the middle of the night for exams, she said.
"It put me at a disadvantage to students in the right time zone," Ramanarayanan said. "I had fragmented sleep cycles, and I found myself affected by the lack of sleep, so my mental and physical health deteriorated."
[Related link: For many international students, time zone differences lead to unhealthy sleep habits]
Ramanarayanan said living with her friends who are also going through midterms and finals helps support her and keep her on task.
"I really missed the support system I had here," Ramanarayanan said. "Since being back, I feel that I'm in a much better place with my classes and with my physical and mental health."
Trivedi said that moving back has helped with her mental health because she does not have to work in a different time zone and go through the job application and interview process alone.
"A lot of stress has been lifted off my shoulders because being in a different time zone is very frustrating," Trivedi said. "Being back has definitely helped me calm down with all of that."
International students also have better access to UCLA Dashew Center for International Students & Scholars resources as they search for future employment opportunities. International students who want to work in the United States after graduating have to fill out the Optional Practical Training, which is a 12-month work authorization for full-time international students who plan to seek employment.
"There's a lot of legal paperwork, such as mailing things out, and being back in Westwood makes the entire application process easier because there is a closer contact with Dashew OPT advisors," Mehta said.
Mehta said moving back has been helpful because she is surrounded by people who are going through the same thing as her, such as midterms and finals. She said even though there is still a lack of motivation to do work due to the pandemic, having her friends around her encourages her and helps her stay on track.
For other international students considering whether to move back to Westwood, Ramanarayanan said they must think of how much time they have left and why they wish to return.
"I might recommend senior international students to move back because we want to cherish our last few months," Ramanarayanan said. "Otherwise, it's more of an ambiguous call, and it needs to be considered whether it's worth coming back if you still have a couple of years left at UCLA."