Men's golf wins individual, team victories at Lamkin San Diego Classic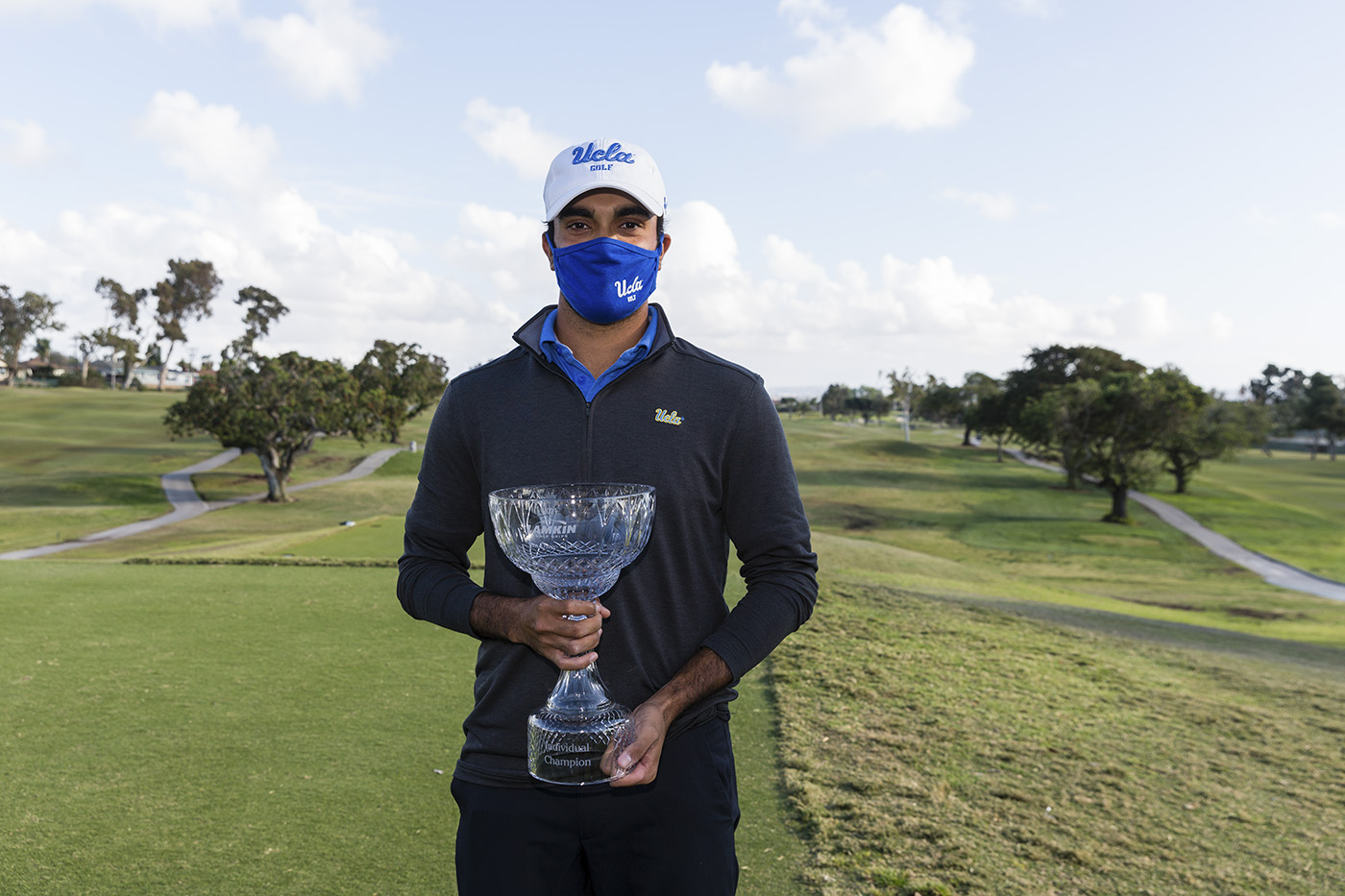 Senior Devon Bling earned his third career win – with all three landing on March 10 – and UCLA men's golf booked its first team win since 2019 at the Lamkin San Diego Classic. (Courtesy of Derrick Tuskan/San Diego State)
March 11, 2021 10:58 a.m.
After finishing in last place just under a month ago, the Bruins flipped the script in San Diego.
UCLA men's golf opened its season finishing in 24th place in the 24-team field at the Prestige in mid-February. At the Lamkin San Diego Classic, which ran Monday through Wednesday, the Bruins found themselves alone at the top. UCLA bested the other 19 teams in the field with a 4-over 868, six strokes ahead of second-place Nevada and 15 strokes better than crosstown rival USC.
"We are super excited. It was a real challenge and a great test," said coach Derek Freeman. "I think the guys worked really hard and came down here with a great attitude."
Senior Devon Bling earned his third career individual victory with a 4-under 212. The win came March 10, the same date he garnered his first two collegiate wins in 2018 and 2020, respectively.
"We are always trying to win as a team and as an individual too – to be able to do both of those things this week was really special," Bling said. "I played really well and was able to stay patient all week long."
Freeman expressed how excited he was for the senior to get his third career victory despite all the challenges he faced this week.
"I was really proud of (Bling). He hit a lot of good golf shots every day, and he stayed patient," Freeman said. "Your mind can wander, and it can become difficult to focus on what you need to, but he did a wonderful job of (staying focused)."
Bling struggled coming in during his final round, shooting 4-over par after playing the back nine 4-under during the first two days. On the 18th hole alone, Bling shot 4-over par across the three days.
The Golf Coaches Association of America PING Third Team All-American said seeing his performance on the back nine really showed him what parts of his game needed work. With a week and a half before the Bruins' next tournament, Bling said he will take this time to improve all aspects of his game before his team begins what he said will be some of the toughest tournaments of its season.
"There (are) certain parts of my game that I still need to work on and that I think I can always improve," Bling said. "I am just going to get back into practice and work on my golf game and get it sharper for the events coming up."
Throughout the tournament, the golfers battled severe weather conditions, including high winds and inconsistent rainfall. Freeman said he was proud of his team for playing through this difficult weather and staying focused throughout the whole tournament.
Junior Bryan Wiyang Teoh reiterated that the weather made it tough to shoot low scores, adding that the harsh playing conditions made the win even more special for UCLA.
"The conditions were really challenging. It was cold and it was windy," Teoh said. "That is what makes (this victory) stand out. We are a team that perseveres and fights through the elements."
Teoh finished the tournament in a tie for 17th place with senior Eddy Lai – who was making his 2021 debut – after they both shot 3-over 219s. Sophomore Mason Greene carded a 5-over 221, which put him in a tie for 23rd. Freshman Dylan Vizanko made his collegiate debut and shot a 26-over 242 to round out the Bruins' lineup.
Freeman said while his team should be proud of its first victory since going back-to-back in April 2019, it needs to get back to work and prepare for its challenging stretch of tournament play.
"We have back-to-back tournaments during spring break, so we got to get ready for those," Freeman said. "We are happy about (the win), and we will celebrate it today, but tomorrow we got to start working towards our next event."
UCLA will be back in action March 22 for the Duck Invitational in Eugene.
Fenn is currently a Sports reporter on the beach volleyball and men's and women's golf beats.
Fenn is currently a Sports reporter on the beach volleyball and men's and women's golf beats.