UCLA women's soccer notches wins with consistent performances at each position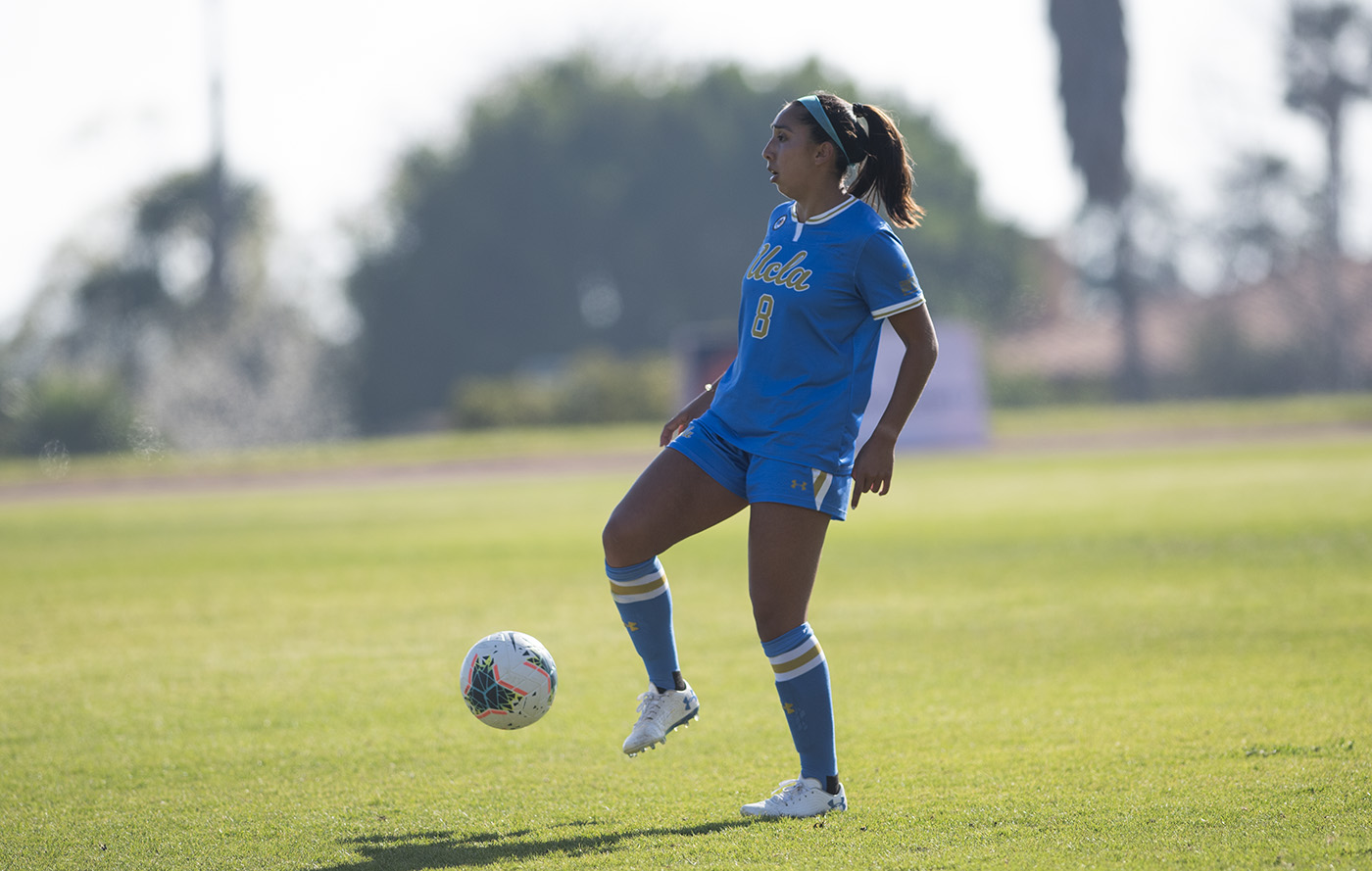 Senior defender Karina Rodriguez returned to No. 3 UCLA women's soccer's lineup against Oregon State after missing the previous three fixtures because of Mexican National Team duties and a quarantining process. (Kanishka Mehra/Photo editor)
Amid their undefeated run to start the season, the Bruins are winning games in a uniform fashion.
No. 3 UCLA women's soccer (6-0, 3-0 Pac-12) has won its first six matches in alternating scorelines of 3-0 and 2-1. In each match, at least one of the team's two leading scorers, sophomore forward Mia Fishel and redshirt freshman forward Sunshine Fontes, found the scoresheet.
Overall, Fishel and Fontes are tied for third in conference goals with four apiece and have a combined four game-winning scores. The former has had success putting loose balls in the opponents' box into the back of the net, while the latter has struck from a distance, scoring multiple goals from beyond the 18-yard box.
Of the 15 total goals the Bruins have scored so far, five have originated from set pieces, two of which came in UCLA's most recent win against Oregon State.
"Good attacking soccer will get you some corner kicks," said coach Amanda Cromwell. "We tell (our players) to make set plays our masterpiece. The better we are at set plays, the better we'll be game to game."
Senior midfielder Marley Canales, the team's set-piece taker, has recorded three of her team-leading four assists from set-piece chances. Her deliveries from the corner flag have allowed the Bruins to bag two goals from 29 corner kicks through six games.
"(Set plays) are always a good opportunity to just try and get on the end of it," Canales said. "So I wanted to make sure I was serving my best ball in."
Canales has also successfully taken two attempts from the penalty spot – both won by Fishel, the team's leader in points. The penalties enabled UCLA to equalize with then-No. 10 BYU before winning 2-1 on Feb. 12 and provided the overtime game-winner against Oregon State.
"(Fishel) does a really good job baiting those defenders," Cromwell said. "And (Canales) was huge in burying the (penalty kick)."
To start the year, the midfield has remained consistent, as Canales and her senior midfielder teammates Olivia Athens and Delanie Sheehan are the only position group yet to see a starting lineup change.
On the backline, changes have been more frequent as another center-back pairing was used after senior defender Lucy Parker exited early against Oregon State because of an injury. Senior defender Karina Rodriguez, returning to the squad after debuting for the Mexican National Team, joined sophomore defender Brianne Riley in central defense, forming the fourth center-half duo in the young season.
"(Rodriguez) was so cool and calm and composed," Cromwell said. "She really helps us secure the ball, get shutouts and deny chances."
The Bruins' defense has recorded three clean sheets in six games, limiting opponents to only three goals and 24 total shots on goal. Rodriguez said the team's defensive success amid multiple lineup adjustments comes down to communication.
"I think communicating with each other, believing in each other, knowing that whoever (plays the ball), I know they're going to win it and, if not, we have cover," Rodriguez said. "We're communicating, and we have everything organized and controlled in the back. While I was gone, (Riley) was able to step in (at center back), and she did a great job."
UCLA will take on Colorado and Utah on Friday and Sunday, respectively, with the chance to remain undefeated through its first eight games for the first time since 2017.
Farinha is currently a Sports staffer on the softball beat. He was previously a reporter on the women's soccer beat.
Farinha is currently a Sports staffer on the softball beat. He was previously a reporter on the women's soccer beat.