Cross country finishes Pac-12 championships with men in 5th place, women in 10th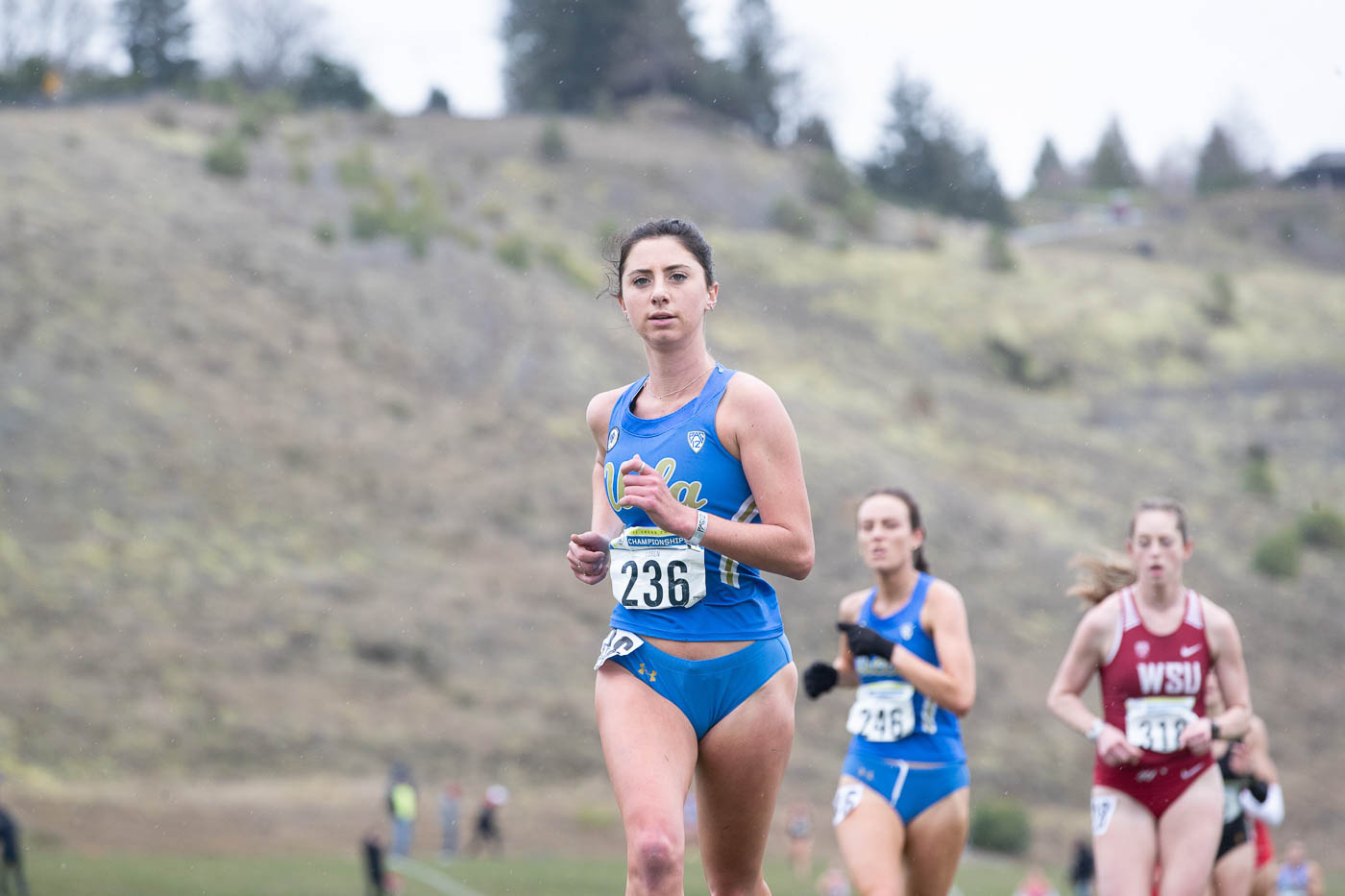 Senior Kira Loren paced the UCLA cross country women in the 6K at the Pac-12 championships, clocking in at 21:40.30 while finishing in 66th place. (Courtesy of Howard Lao)
The Bruins' postseason competition featured almost completely new lineups.
UCLA men's and women's cross country teams placed fifth and 10th, respectively, at the Pac-12 Championships in University Place, Washington, on Friday.
Finishing fifth overall in the 8K, the Bruin men placed ahead of teams such as Washington State.
"Being able to just get top five and beat a school like Washington State, (who) was talked about in the preseason rankings and throughout the season," said redshirt sophomore Darius Riley. "We were just glad we were able to string that along and run hard."
Freshman Anthony Stone finished first for the men and 28th overall with a time of 23:40.70, redshirt freshman Peter Herold crossed the finish line at 32nd place and freshman Jake Parker placed 37th. Riley and sophomore Munir Kabbara rounded out the scoring finishers for UCLA at 38th and 42nd place, respectively.
"The younger guys really stepped up," Riley said. "Anthony Stone, Peter Herold, Jake Parker, they went one-two-three, and they just had really great races. The fact that they were able to step up on the championship stage like that, and that was their first championship race, … it was just great to see them go out there, give it 110% and finish that race."
Assistant coach Devin Elizondo said while last year's Pac-12 championships saw the Bruin men place fourth overall with a group of mostly fourth- and fifth-year seniors, this year's squad featured a completely new lineup of six freshmen and two sophomores.
"We were fourth place a year ago with a very veteran group," Elizondo said. "For this young group to go and be fifth place, beat some really quality Pac-12 schools and be in the mix with some of the upper echelon of not just our region and our conference but in the nation, … (I'm) just really proud of everybody's effort there."
The women had more experience upfront, with senior Kira Loren and junior Gwyn George placing 66th and 67th overall, respectively, finishing first and second for the team in the 6K. Junior Anne Werner placed 75th, freshman Ashley Johnson came in 80th and sophomore Claire Selleck finished 86th to round out the team's 10th-place finish.
"We faced a lot of obstacles leading up to this race," Loren said. "We didn't do as well as we would have wanted to, but with all the obstacles, I think we all pulled it together and did a good job."
Clocking in at 21:40.30 on a completely new course, the senior said the event had a special significance to her.
"I just felt super humbled. … I'll never be running a race like that again in my life," Loren said. "To come in first for the team was just a very special and great way to end my college career."
Elizondo credited the teams' performances with a combination of the leadership shown by the veteran runners and the tenacity shown by the newer members of the team.
"Our leadership this weekend was strong," Elizondo said. "I think when you have young folks racing to a high level, oftentimes it's due to, one, their talent and their hard work, but also due to the leadership and the veterans on that team. … (Herold) did a great job of getting us out and into position, … (Loren), (George) and (senior Marisa Villegas) did a good job of leading the women this weekend."
Yu is currently a Sports contributor on the men's volleyball, track & field and cross country beats.
Yu is currently a Sports contributor on the men's volleyball, track & field and cross country beats.