Board to decide if USAC violated guidelines by denying Bruin Republicans travel funds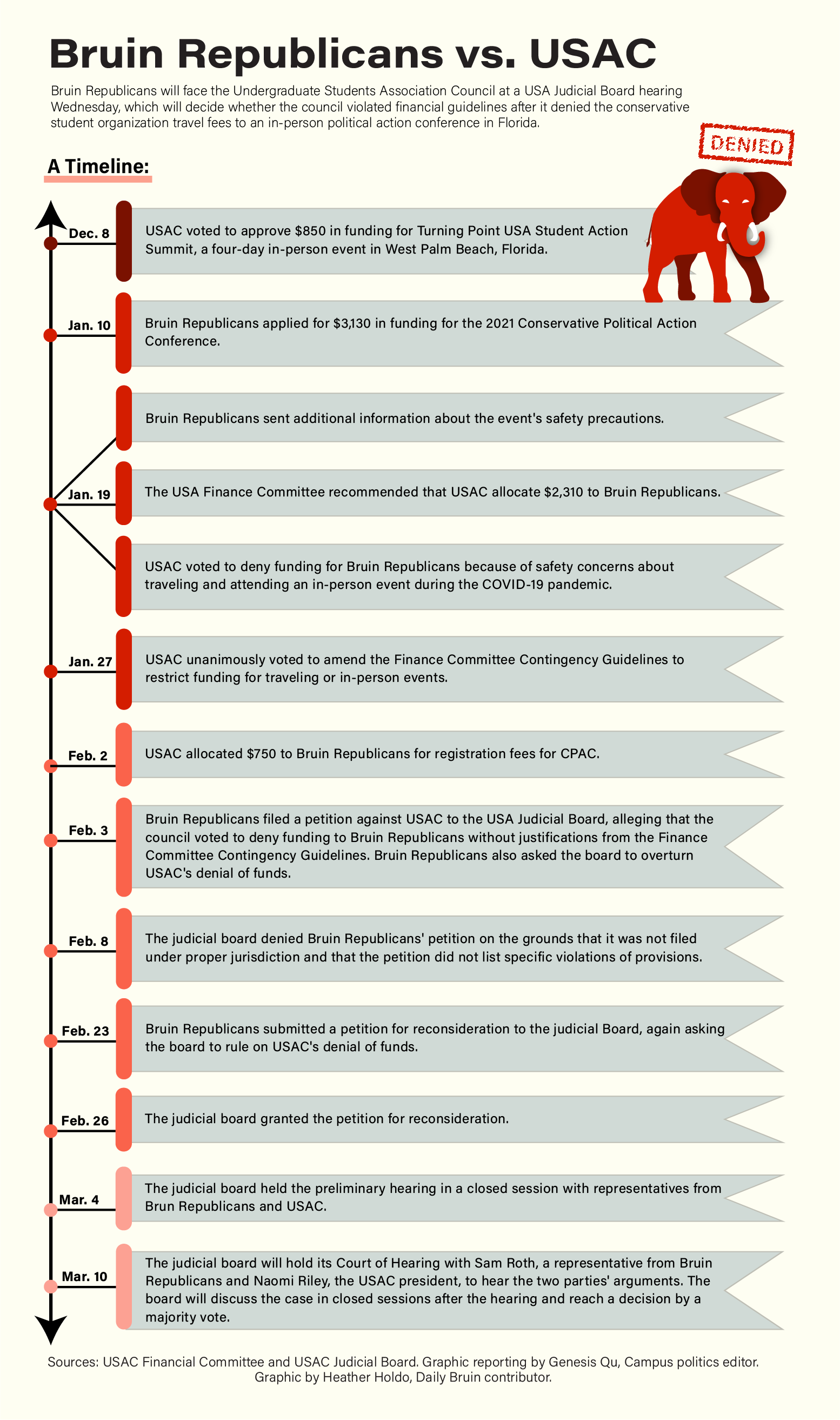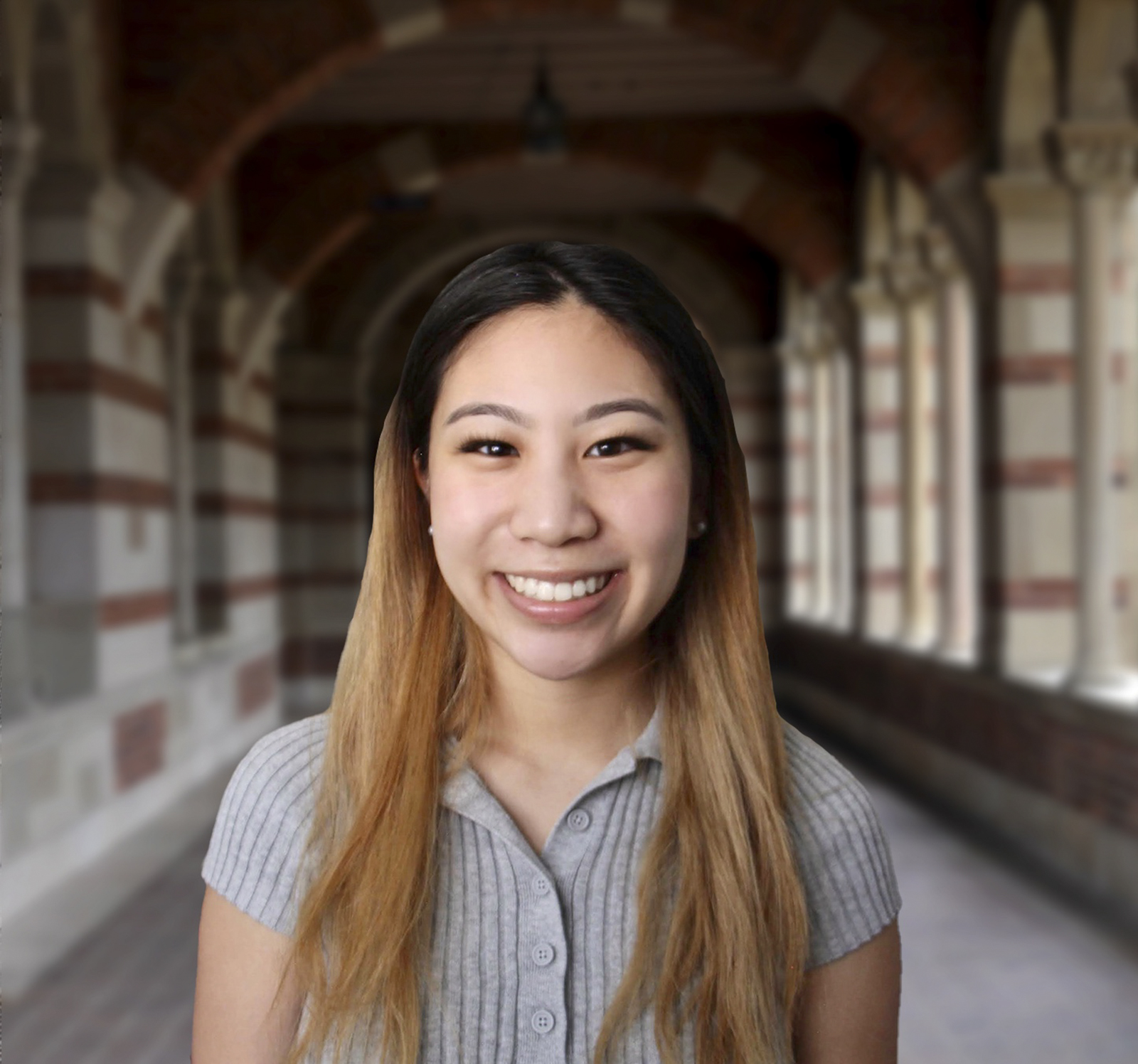 This post was updated March 10 at 5:33 p.m. to reflect a clarification of Emily Luong's statement.
A student panel will decide if student government officials violated financial guidelines by denying in-person travel expenses to Bruin Republicans.
Bruin Republicans sought $2,130 in funding from the Undergraduate Students Association Council in January to attend the Conservative Political Action Conference, a conservative conference in Florida. USAC is funded by student fees.
The council unanimously denied the request out of concern that the event would be held in person. Bruin Republicans is now asking the USA Judicial Board to overturn the decision.
The board, consisting of seven student judges, will rule on the petition by a majority vote in a closed session after a hearing Wednesday with representatives from USAC and Bruin Republicans.
Bruin Republicans did not respond to a request for comment about the hearing.
Naomi Riley, USAC president and a fourth-year political science student, said in the January council meeting that student organizations should not participate in in-person events during a critical lockdown.
"I can't understand why a conference was taking place in person when every other conference has taken place online," Riley said.
Sam Roth, a representative of Bruin Republicans, filed a petition to the judicial board Feb. 23 that led to the Wednesday hearing. The petition alleged that USAC used a policy that did not exist at the time to deny Bruin Republicans funding.
When USAC denied funds to Bruin Republicans, the USA Finance Committee Guidelines did not include explicit rules banning in-person travel. A week later, USAC voted to amend the Finance Committee Guidelines to restrict funding for travel or in-person events.
The Finance Committee – a committee that manages USAC's financial matters – has authority to allocate funds, but must have approval from USAC, according to USAC bylaws. Allocations by the Finance Committee are rarely discussed and are almost always approved by the council.
Bruin Republicans also argued that USAC was "inconsistent" in funding in-person events because it had approved a $850 allocation in December to fund Bruin Republican's trip to Turning Point USA Student Action Summit, another in-person event.
David Minasyan, the Finance Committee chair, said he made a mistake when allocating funds for the TPUSA event in December.
"I thought it would be OK to allocate funds," said Minasyan, a fourth-year economics and psyschobiology student. "This was done in mistake though."
Emily Luong, the USAC internal vice president and a fourth-year communication student, said she did not know the TPUSA event was an in-person event when she voted to allocate funds in December.
While the council usually approves the Finance Committee's allocations, Bruin Republicans' request for the CPAC trip stood out because contingency allocations during the COVID-19 pandemic are typically in the hundreds range, she said.
Because USAC allocated $750 in February to Bruin Republicans to pay for the CPAC registration fees, Bruin Republicans' petition asked the council to allocate the remaining $1,380 deducted from the original sum.
"In order to safeguard the integrity of the process and avoid potential legal liability, the Board should reverse the erroneous decision of the USAC and grant our funding request," the petition stated.