Gymnastics falls to California despite season-highs on vault and floor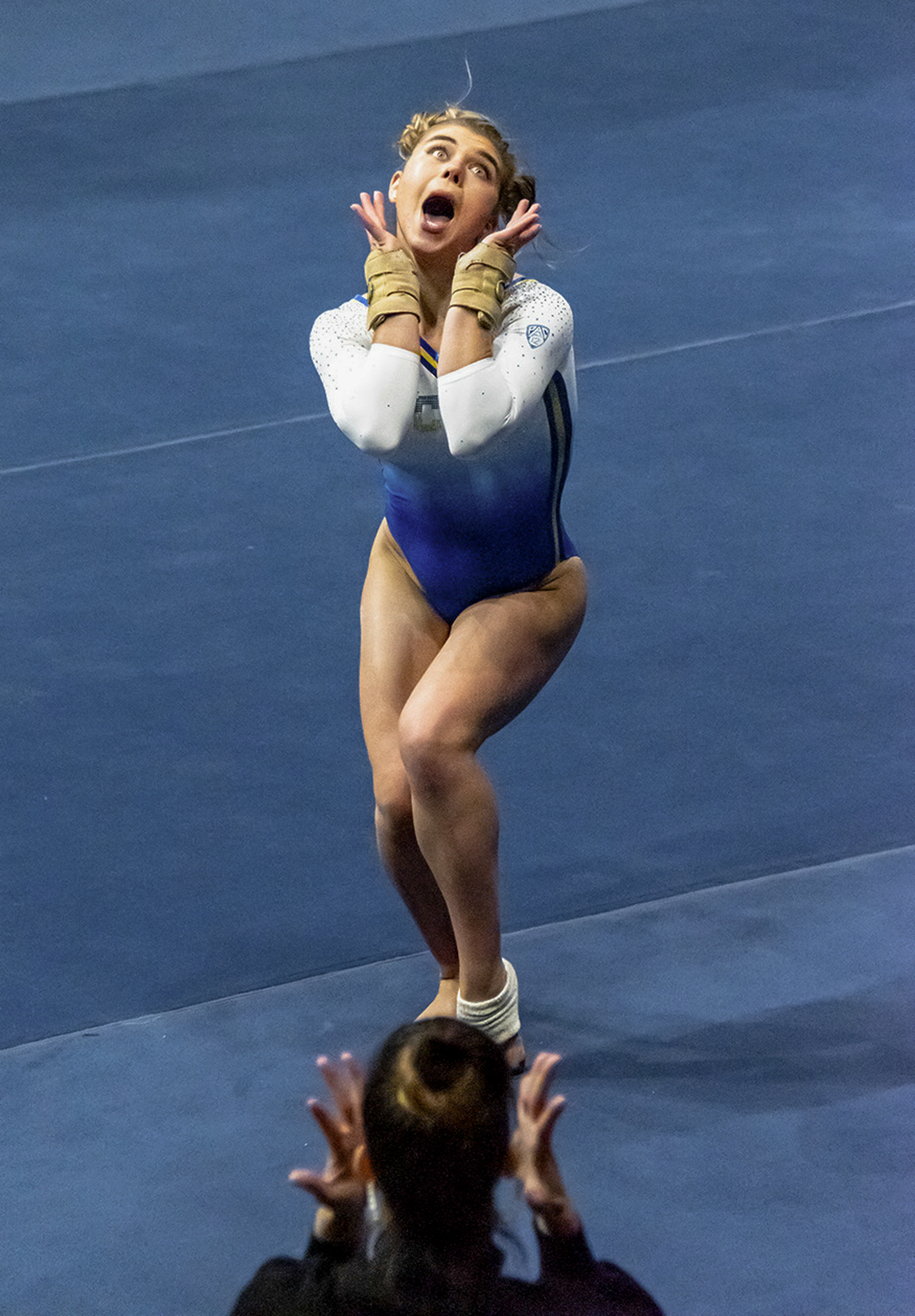 Senior Pauline Tratz tied to win the individual floor title with a career and team-high 9.950 helping lead UCLA gymnastics to tie its season-high on the apparatus Saturday. (Jeremy Chen/Daily Bruin)
gymnastics
---
| | |
| --- | --- |
| No. 10 UCLA | 196.925 |
| No. 9 California | 198.050 |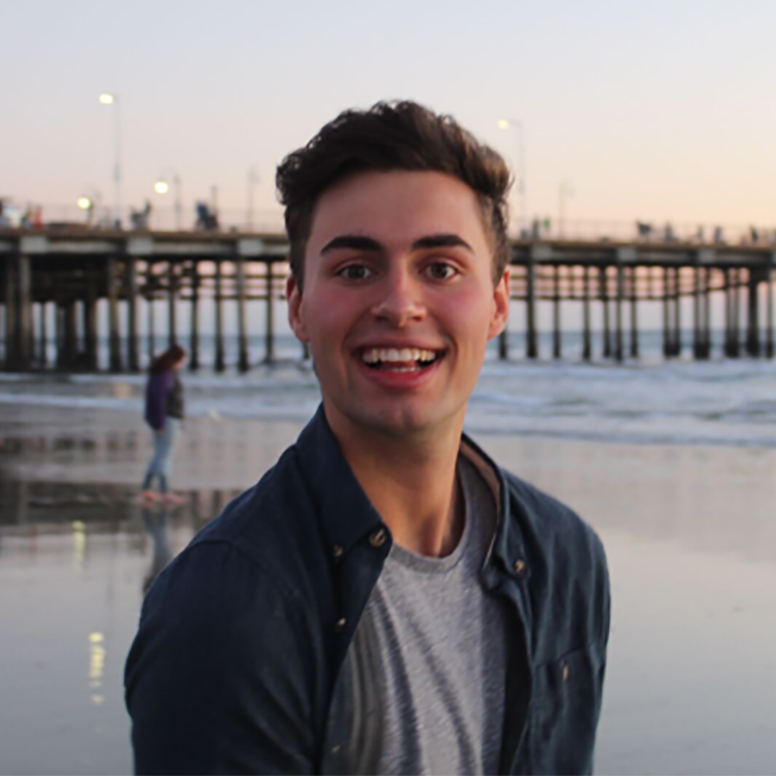 This post was updated March 7 at 11:01 p.m.
The Bruins weren't able to overcome a school and NCAA-record performance.
No. 10 UCLA gymnastics (5-2, 4-2 Pac-12) fell to No. 9 California (5-1, 4-1) at Haas Pavilion 198.050-196.925 as the Golden Bears tied an NCAA record bars rotation with 49.825. It marked the highest score in California's history and the second win against UCLA since the turn of the century.
The meet also marked the first time in three meets the Bruins failed to surpass the 197 threshold.
"I'm definitely sad and somewhat disappointed," said senior Pauline Tratz. "As a team, we need to be mentally stronger and step it up."
Following last week's season-high on bars, UCLA opened the meet with all six gymnasts hitting their routines, with freshman Frida Esparza's 9.850 the lowest score counted en route to a team score of 49.450.
Junior Margzetta Frazier tallied her second consecutive 9.950 and freshman Sara Ulias scored a 9.875, her third straight eclipsing that threshold.
UCLA carried a lead of .225 into its vault rotation with Cal heading to bars, where the Bears rank 12th in the nation. Freshman Chae Campbell led the Bruins with a 9.950 on vault – good for the event win – and senior Nia Dennis chipped in a 9.925.
Cal, however, notched a 49.825 on bars, including a perfect ten from Emi Watterson, and every counted score was above 9.925 as the Bears would claim a lead they never relinquished after the second rotation.
"(Dennis') vault and (Campbell's) vault were phenomenal," said coach Chris Waller. "When we shine we shine really brightly. The vault rotation started super strong. We were on fire. It's just that when we have a hiccup, we need to figure out how to get back to confidence more quickly."
Campbell won the all-around title with a 39.625, beating her previous career high by .200.
"It's not about getting in all the numbers but just doing what I can do as consistently as possible," Campbell said. "That gives me the confidence to compete no matter what happens out there."
Tratz dabbed her way to a season-high 9.950 tying for the floor title while junior Sekai Wright scored a career-high 9.875 on the apparatus. The Bruins tied a season-high 49.450 as Campbell registered a team-high 9.925.
"Floor is a big difference from my first two years," Tratz said. "My routines used to be more serious and now I get to show my funky and fun side. This routine especially. It's me going to New York after graduation and being kind of overwhelmed but fighting my way through and getting people's attention. It's fun and fitting for where I am at right now in life."
While it was UCLA's highest floor score of the season, lineup anchor Dennis stepped out of bounds on her second pass for the second time in three meets and tallied her third straight score lower than 9.900 with a 9.625. Dennis scored higher than 9.900 in the Bruins' first three meets this year.
Waller said a mentality change may help iron out Dennis' mistakes.
"She's on the Katelyn Ohashi plan of training, which means minimize it because her body can't do more," Waller said. "At this point, it's a mental game. It's about figuring out how to do it when it's time to go. She's certainly doing the best she can, but we need to figure it out."
Cal registered 15 scores of 9.900 or higher, including every score on its bars rotation and four on beam.
While junior Samantha Sakti scored a 9.925 on beam and Esparza avoided a fall tallying a 9.675, Dennis fell in her second consecutive beam routine, meaning UCLA had to count a fall after a fall from senior Kendal Poston in the leadoff spot.
Frazier and Campbell rounded out the rotation with two hits, but the Bruins matched a season-low with a 48.650 on the event. The 48.600 beam score means UCLA will now have four meets with a beam rotation lower than 49.000, which last occurred in the 2014 season.
The Bears' score marked the highest in the Pac-12 this season. With UCLA failing to put together four strong events once again, Waller said it's time for his team to regroup.
"We keep thinking that this (meet) is going to be the one," Waller said. "It's been this slow pace of getting to our potential. The challenge is going to be getting the ship right again and believing that we can do this. Somehow we need to reboot and come in this week to figure out how to put it all together."
Edgar is currently a Sports reporter on the gymnastics beat. He was previously a contributor on the men's tennis beat.
Edgar is currently a Sports reporter on the gymnastics beat. He was previously a contributor on the men's tennis beat.