Women's golf sees worst team finish of the season at Bruin Wave Invitational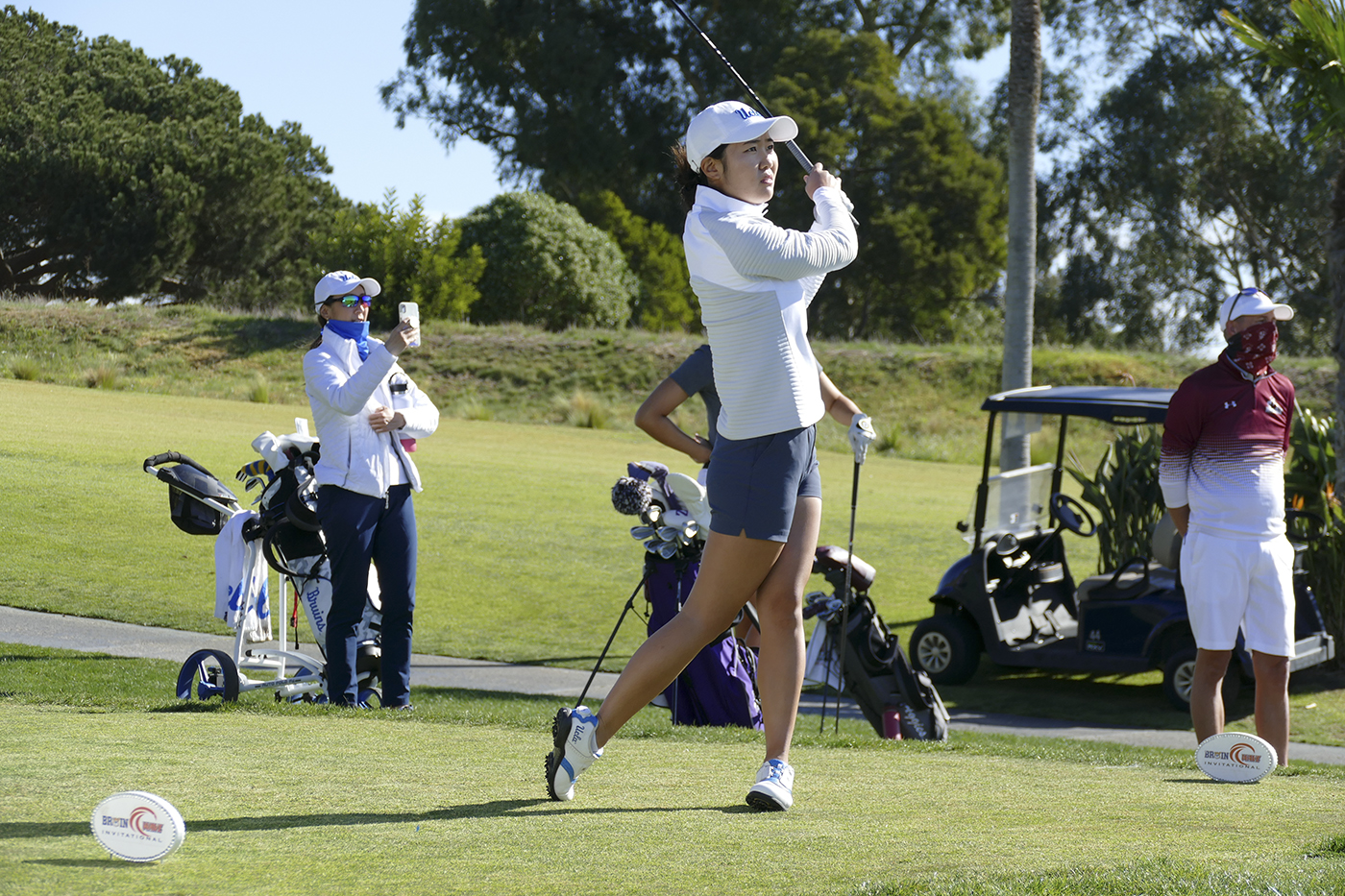 Sophomore Yuki Yoshihara made her 2021 debut at the Bruin Wave Invitational, earning a 12th-place finish – the second-best by a UCLA women's golfer in the tournament. (Courtesy of UCLA Athletics)
The Bruins carded their worst performance of the year despite two top-12 individual performances.
UCLA women's golf logged a sixth-place finish at the Bruin Wave Invitational, finishing outside of the top five for the first time this season. The Bruins shot a 75-over 939 during the three-day tournament, which is their worst score since the 2015 NCAA Championship.
Despite finishing day one in a tie for third place, shooting a 25-over 313, then finishing day two in fifth place with an improved score of 23-over 311, the blue and gold had its worst day of the tournament on day three. UCLA carded a 27-over 315 in the final round, dropping the team to sixth place, 24 strokes off the tournament winner, Arizona State, and eight shots behind another Pac-12 rival, Oregon, which finished in third.
Coach Carrie Forsyth said she was disappointed with the result of the tournament and wishes the placing would have reflected all of the work that the team has put in off the course.
"(The tournament) didn't go well – I don't think we played nearly as well as we hoped, and it was disappointing to finish the way that we did," Forsyth said. "I don't think (the result) was a reflection of the work the players have been doing to get better. I thought we were going to perform a little better than we did."
Even with the team's low finish, sophomore Emma Spitz took home solo fourth honors, carding a 7-over 223. The ANNIKA Award finalist from a year ago who had started the season with three straight top-three finishes, saw that streak come to an end at what she described as a difficult course with even tougher conditions.
"The wind kept turning and changing every day, and it would start one direction and switch during the round," Spitz said. "It was very unpredictable, which definitely played a role and made (the tournament) a lot tougher."
Her coach also mentioned how the weather played a factor this week and how it caused the overall scoring averages of the tournament to hang a little higher than she was anticipating.
Sophomore Yuki Yoshihara made her 2021 debut in the tournament and shot a 16-over 232, which put her in a tie for 12th. After not traveling for the previous three tournaments, Yoshihara was given the opportunity to start and took advantage of it, concluding the tournament with UCLA's second-best score.
"I came into the tournament as the fifth player and didn't have many expectations for myself, but I remained confident in my game," Yoshihara said. "When I look at my overall 54-hole score compared to the rest of the field, I am happy with that, but there is a lot of improvements for sure."
Forsyth reiterated how proud she was of Yoshihara, with it being her first start of the season and first competitive golf tournament in over 12 months.
"I am so happy for (Yoshihara)," Forsyth said. "It made me really happy to see her succeed and get some reward for the work she put in preparing."
The rest of the Bruins' starting lineup did not have the same success as Spitz and Yoshihara. Junior Simar Singh shot a 34-over 250, and sophomores Annabel Wilson and Emilie Paltrinieri shot a 27-over 243 and 31-over 247, respectively. Junior Phoebe Yue played as an individual and carded a 31-over 247, which put her in a tie for 52nd with Paltrinieri.
UCLA will have three weeks off before it travels back to Arizona for its next tournament, and Forsyth said the team will use all the time it can to be as prepared as possible for the Ping/ASU Invitational.
"Our plan was to always really maximize this time by allowing everybody to focus on practice and trying to give them opportunities to work on their game," Forsyth said. "We are in a competitive mode and this time is valuable to us, so we need to us it well."
Fenn is currently a Sports reporter on the women's soccer beat. He was previously a contributor on the beach volleyball and men's and women's golf beats.
Fenn is currently a Sports reporter on the women's soccer beat. He was previously a contributor on the beach volleyball and men's and women's golf beats.