Men's volleyball recovers after loss, defeats Concordia in third match of series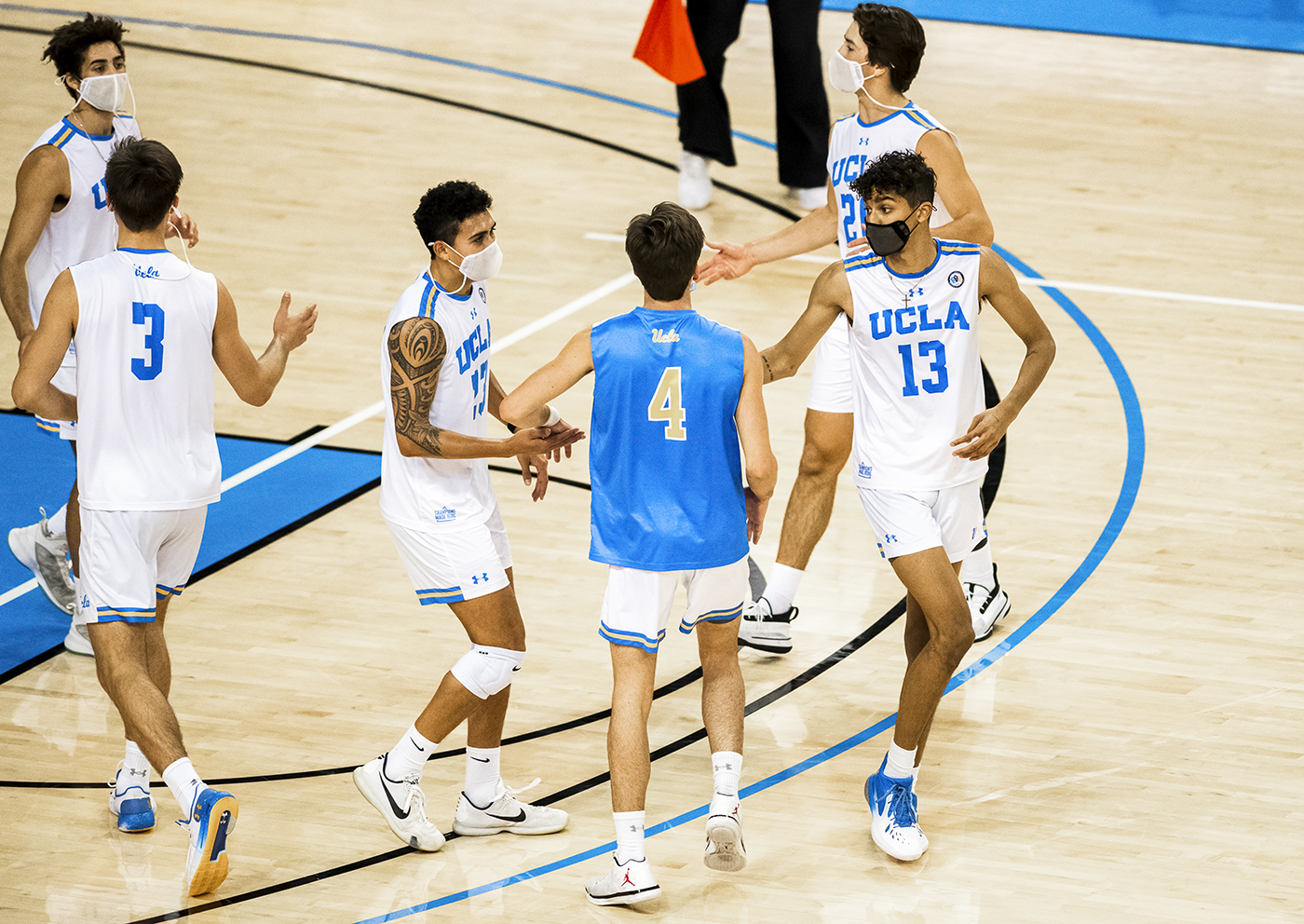 For the first time in his UCLA men's volleyball career, redshirt freshman outside hitter/opposite Merrick McHenry hit over .500 in a match, recording 10 kills on 12 attacks in the Bruins' victory. (Lillie Yazdi/Daily Bruin)
Men's Volleyball
---
| | |
| --- | --- |
| Concordia University Irvine | 0 |
| No. 9 UCLA | 3 |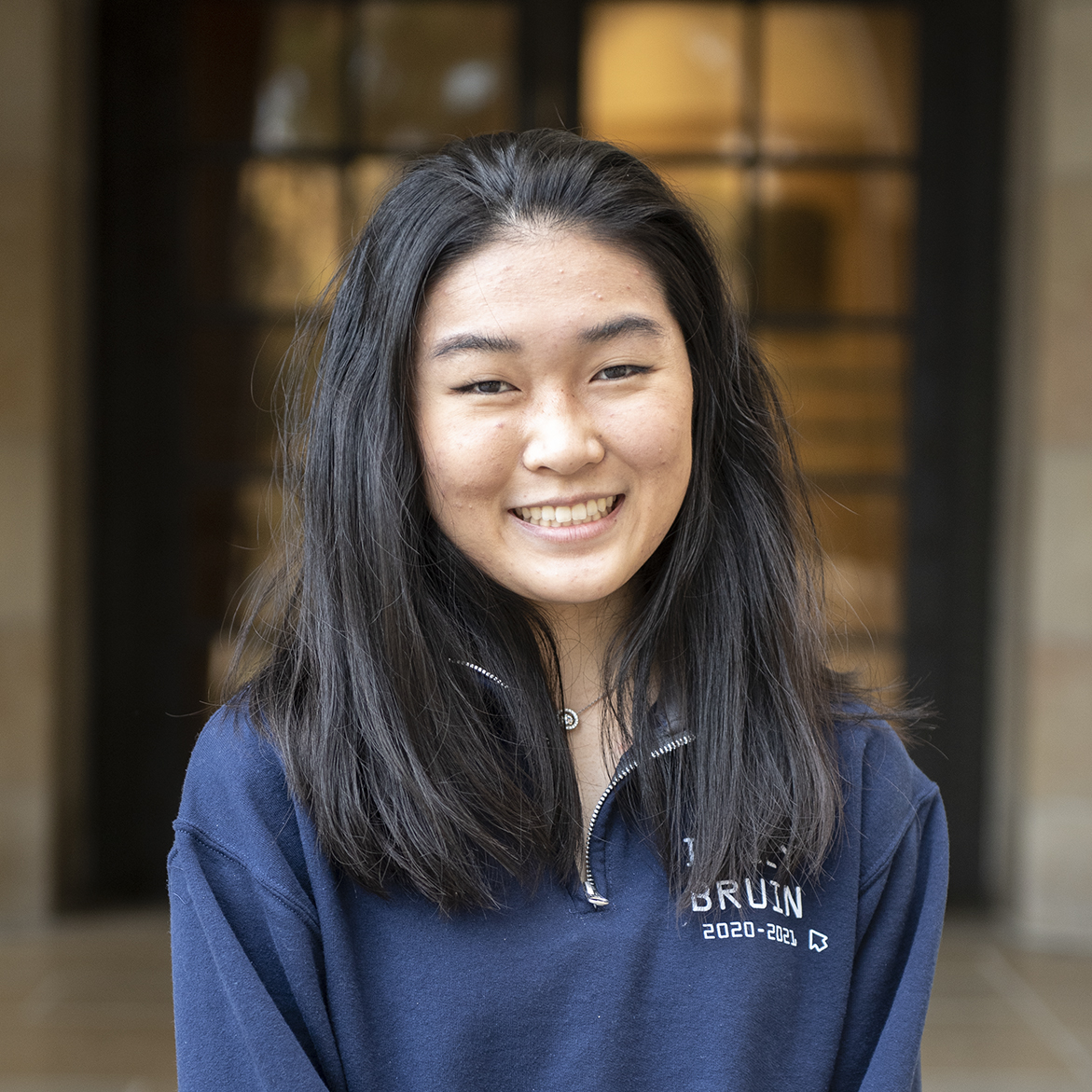 The Bruins wrapped up the rubber match of a three-game series with a victory.
No. 9 UCLA men's volleyball (6-3) won in straight sets against Concordia University Irvine (1-5) on Tuesday at home by scores of 25-22, 25-20, 25-15.
On Saturday, the Bruins saw an end to their five-year, 10-match winning streak against the Eagles, when unranked Concordia won its first match ever against UCLA in five sets. The Bruins then saw their rank drop two spots in the polls.
After the loss, redshirt freshman outside hitter/opposite Merrick McHenry said the team focused on passing well. Redshirt senior outside hitter Austin Matautia also described a change in the team's morale, which he said played a factor in UCLA's victory.
"I think our biggest difference was our mindset going into the game," Matautia said. "We had a team meeting today before the match just to discuss how we wanted to come into every match. At the end of the day, we're the same team Saturday and tonight. … Our mental game tonight was better."
The Bruins hit .554 throughout the match, while the Eagles hit .286 overall. Set one saw a close battle between the teams, with two aces from freshman outside hitter Ethan Champlin – who finished hitting .750 overall.
In the second and third sets, UCLA continued its winning ways from the first period, closing out Concordia to take the victory.
"We just went on a lot of good scoring runs, especially in the second and third (sets)," McHenry said. "There were definitely a couple of good stretches where (redshirt junior middle blocker Ian Parish) went on a really good run serving. … I think that's what helped us get the victory tonight."
Sophomore outside hitter/opposite Cole Ketrzynski had 12 kills with a .476 hitting percentage, Matautia contributed 10 kills and three aces and redshirt senior outside hitter/setter Sam Kobrine pitched in 41 assists. McHenry hit .833 for the match with 10 kills and no attack errors.
"I think (McHenry) played really well. … If we can give him the ball as much as we can, we're going to have a super successful season," Matautia said. "It really starts with every pass that's back there, putting up settable balls, for (Kobrine) to dish the ball out nicely and give (McHenry) the height that he needs to really get over the block. … He's a huge threat with us now that we have him back."
The Bruins' .554 hitting percentage is not only a season best but the leading hitting percentage in the nation in a match thus far this season.
"I'm feeling pretty good about the direction of this team," said coach John Speraw. "Obviously, (McHenry) has been a surprise bright spot in terms of his development. I mean, a month ago he wasn't even playing middle, and now he's getting a lot of kills for us. … He's doing some good things."
Speraw also emphasized the team capitalized more on the opportunities it had during the match after recently falling to the same opponents.
"I just think we played up to our capabilities," Speraw said. "Particularly on serving, we served the ball a lot better, and I think we executed on a few more opportunities when we had them."
UCLA will next play Stanford twice at home Friday and Saturday.
Yu is currently a Sports contributor on the men's volleyball beat. She was previously a contributor on the cross country and track & field beats.
Yu is currently a Sports contributor on the men's volleyball beat. She was previously a contributor on the cross country and track & field beats.