UCLA baseball pitches its way to a shutout win against UC Irvine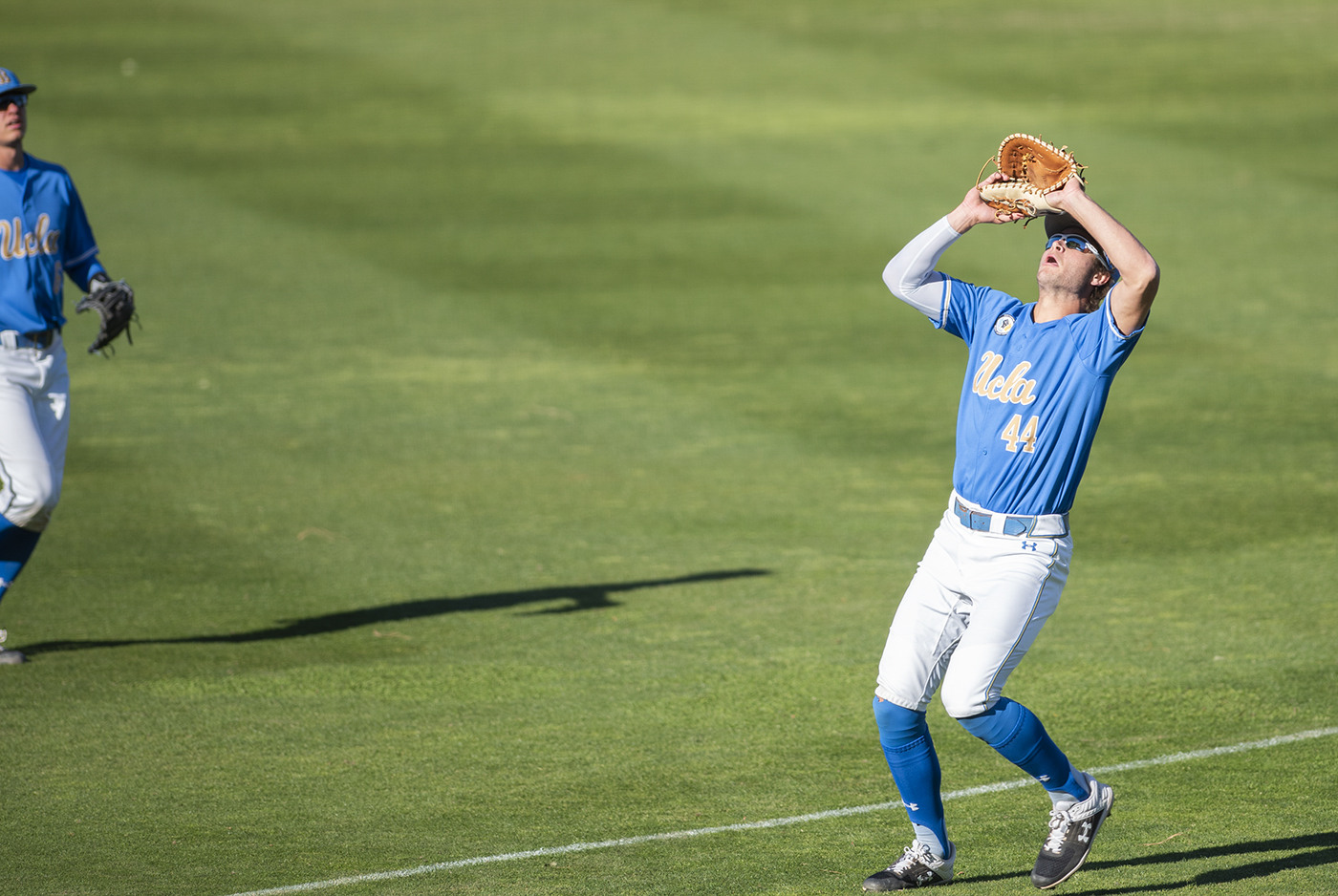 Freshman third baseman Kyle Karros' two-run double in the seventh inning provided insurance for No. 8 UCLA baseball in its series-clinching win over UC Irvine on Sunday. (Jefferson Alade/Daily Bruin)
Led by a pitching staff that allowed only three hits, the Bruins were able to pull off a series-clinching shutout against the Anteaters.
No. 8 UCLA baseball (4-3) took the third game of its series against UC Irvine (4-2) 4-0 on Sunday, giving the Bruins a two-games-to-one series win over the Anteaters. Early run support gave way to a one-hit, no-run performance by junior right-hander Nick Nastrini and a two-run double by freshman third baseman Kyle Karros in the seventh rounded out UCLA's shutout win.
Nastrini's time on the mound lasted six innings and featured seven strikeouts and five walks.
"(He had) power stuff," said coach John Savage. "Big fastball, 94, 95, 96 (miles per hour). I really liked his change. I liked his curveball, his slider at times. He kind of got out of sync at times – clearly with a couple walks – but if you don't give hits you can give up a couple walks. If you give up some hits, you can't walk anybody – they kind of go hand in hand."
Only two of the right-hander's innings of work saw Anteaters in scoring position. In the third, Nastrini walked the bases loaded but was able to recover by striking out first baseman Adrian Damla, the owner of the highest batting average in Irvine's starting lineup.
In three of Nastrini's innings, the Anteaters went three-up, three-down.
"I had pretty decent fastball command," Nastrini said. "It wasn't there the entire outing – I walked a couple guys. My curveball and my slider were really working for me today. I could throw (them) any count both to lefties and to righties. I just felt really confident on both of those today."
Offensive efforts began immediately for the Bruins when senior designated hitter Pat Caulfield hit a leadoff single in the first inning. After walks to junior shortstop Matt McLain and junior catcher Noah Cardenas, the Bruins had the bases loaded for Michael Curialle. The sophomore right fielder hit a sacrifice fly to right, scoring Caulfield and giving the Bruins an early 1-0 lead.
Nastrini said that his team getting him early run support was encouraging for the rest of his outing.
"It was awesome knowing that my team was grinding at-bats, trying to get me runs," Nastrini said. "It was really welcoming and made me feel really good going out there."
UCLA did not see another hit until the bottom of the seventh, when Curialle singled up the middle with one out and then advanced to second on a passed ball. Redshirt senior outfielder Jarron Silva stroked a pinch-hit single, scoring Curialle and doubling the Bruins' advantage.
Scoring continued in the frame for UCLA with a double from Karros, scoring Silva and junior first baseman Jack Filby, who had been intentionally walked.
"Being up there with runners in scoring position and two outs, really my only job there is to get the guy in from second," Karros said. "Really it was just getting back to it, back to my middle of the field approach, focusing a lot on just slowing the game down and getting a good pitch to hit."
While the Anteaters recorded leadoff hits in the eighth and ninth innings, both were singles, and neither was enough to get Irvine on the board in the rubber match of the series.
"We had a good week," Savage said. "We won three out of four, and we can build a little momentum off of it. Irvine is a very good team. It's a very well-coached team. It's a very experienced team. We pitched and we played good defense today, therefore we did enough to win. We put up a lot of zeros, and at the end of the day it was a team effort."
Simons is currently a contributor on the baseball and women's tennis beats.
Simons is currently a contributor on the baseball and women's tennis beats.