USAC Recap – Feb. 23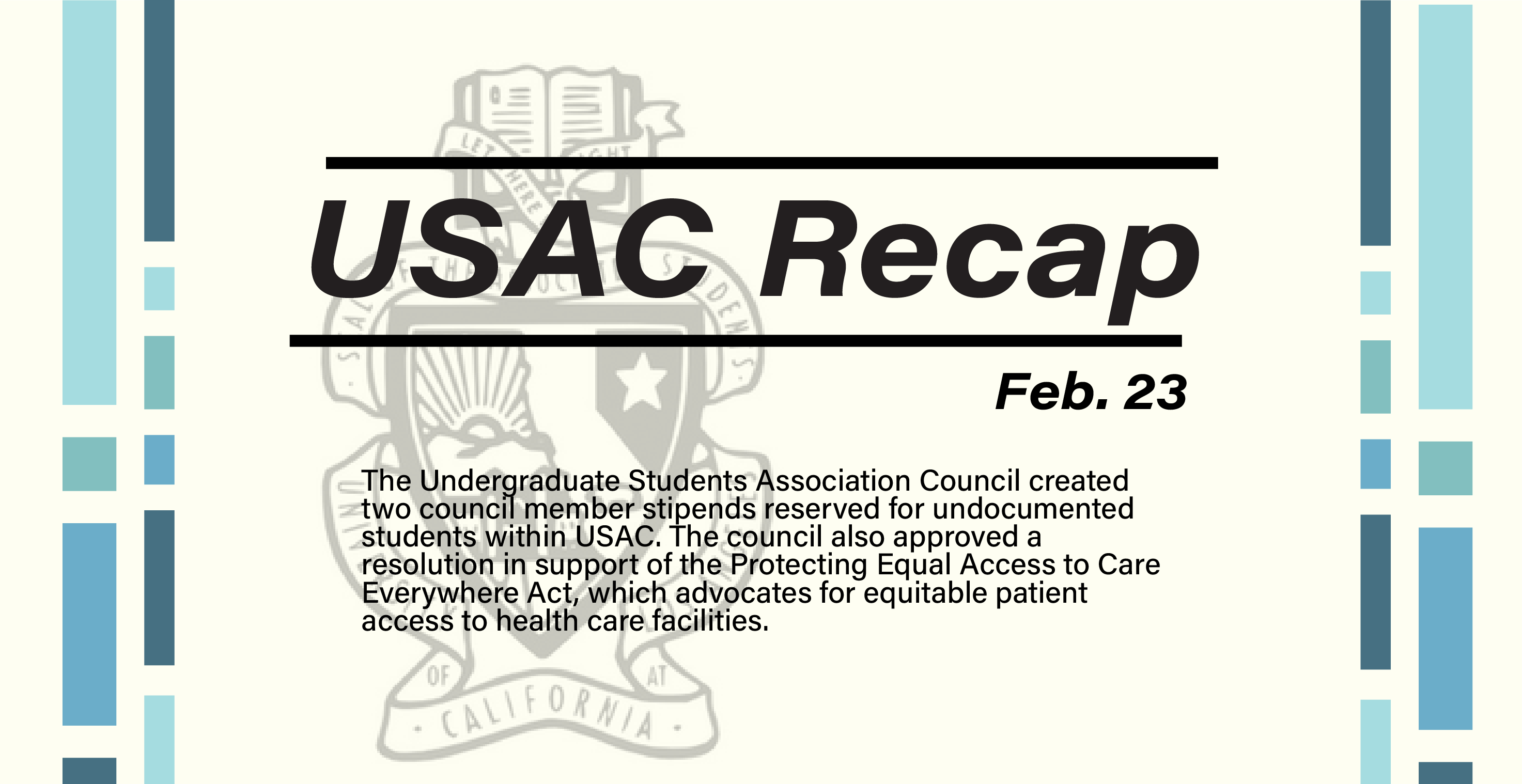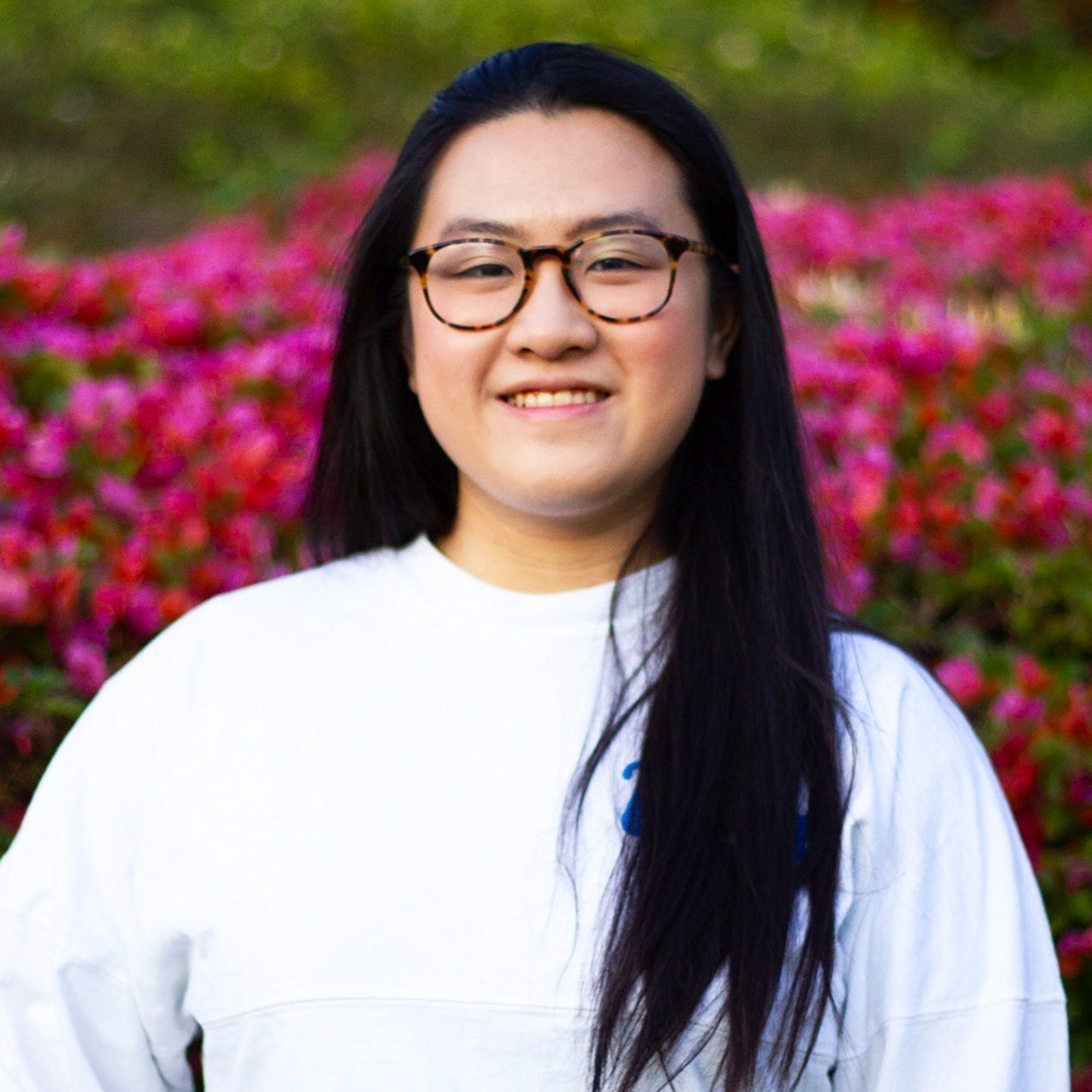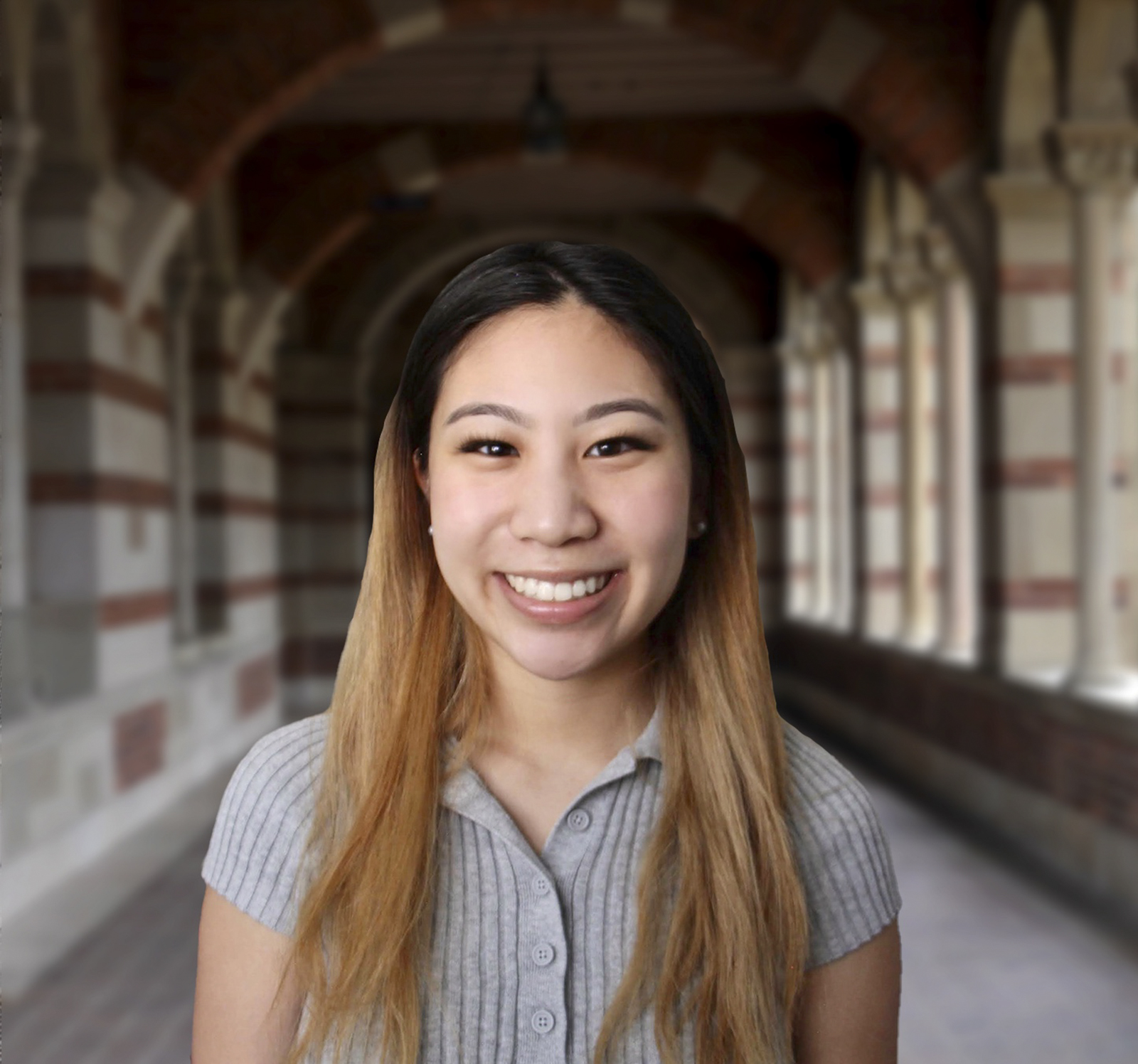 The Undergraduate Students Association Council created two council member stipends reserved for undocumented students within USAC. The council also approved a resolution in support of the Protecting Equal Access to Care Everywhere Act, which advocates for equitable patient access to health care facilities.
Public Comment:
Rose Watson, a UCLA California Public Interest Research Group intern and a first-year student, said CALPIRG is encouraging UCLA to promote student voting accessibility. She added that CALPIRG met with UCLA orientation directors to allocate five minutes during new student and transfer student orientations to encourage students to vote. Watson added that CALPIRG wants to have a BruinsVote representative present on voter registration at every class in fall quarter.

Prabhdeep Rai, the UCLA CALPIRG chapter chair and a fourth-year history student, said the University of California Student Association passed a resolution at its meeting in February in support of CALPIRG's open textbook grant program, which allows faculty-written, peer-reviewed books to be made available to the public for free or at discounted prices. CALPIRG will host its statewide winter conference Feb. 27, she added.

Justine Lim, a third-year political science student, and Jeffry Umana, a first-year political science student, said they support the proposal to create a reserve fund that would pay undocumented students who work for USAC. Students without work authorization can't receive payment, so this stipend would support undocumented students on council, Lim said.
Special Presentations:
Zoya Mulji, a third-year human biology and society student and USAC Office of the President affordability director, said the USAC budget comes from student referenda fees in the Bruin Bill. She said students pay $93 per quarter to USAC, which makes up the council's roughly $8 million annual budget.
Allocation:
The council allocated a total of $1,675.92 to the Undergraduate Psychology Society at UCLAfin for its Question, Persuade, and Refer Certification program.
The council allocated a total of $1,500 to SKY at UCLA, an organization that hosts events promoting student happiness and leadership skills, for its SKY Happiness Workshop.

The council allocated a total of $60 to Consult Your Community, a consulting club, for its social and club merchandise.

The council allocated a total of $657.08 to Internet Bull Report at UCLA, a financial commentary blog, for its operational funding.

The council allocated a total of $254.57 to Flying Samaritans at UCLA, a nonprofit student group that provides local community members free access to basic health care, for its Society of Student-Run Free Clinics Annual Conference.

The council allocated a total of $144 to Iranian Student Group at UCLA for its spring recruitment.

The council allocated a total of $1,016.67 to Hooligan Theatre Company, a UCLA student-run theatre company, for its Hooligan Theatre Company Presents-Clue.

The council allocated a total of $1,222.17 to Grupo Folklórico de UCLA, an organization celebrating Mexican heritage, for its Folklórico Pasarela.

The council allocated a total of $133.92 to Artreach at UCLA, an organization that provides marginalized communities opportunities and resources to create art, for its Zoom Family Feud and Artreach Bubble Battles.

The council allocated a total of $100 to the Tawaianese American Student Association for their TASA Big Little Award Ceremony.

The council allocated a total of $100 to the USAC Office of the Transfer Student Representative for its Summer Bridge Program Interviews.

The council allocated a total of $800 to the Financial Supports Commission for the iClicker REEF Reimbursement Program.
Resolutions:
The council approved a resolution in support of a proposed Protecting Equal Access to Care Everywhere Act that would strengthen provisions of California laws to ban corporations from denying patients access to health care services based on nonclinical criteria, such as religious beliefs or profit.
Agenda:
The council allocated $50,000 from the UCLA Campus Programs Committee and Program Activities Board surplus fund to the Internal Vice President Rent Relief Fund and $150,000 from the fund to the USAC COVID-19 Relief Fund.

The council considered a USAC surplus request from Improving Dreams Equality Access and Success at UCLA, an organization representing undocumented students, to allocate two full-year council member stipends to compensate undocumented students who serve on council. Students who don't have work authorization will receive the stipends through a reserved Associated Students UCLA fund, said USAC President Naomi Riley.

External Vice President Aidan Arasasingham requested $44,600 from the USAC surplus to fund the Bruin Trailblazers Scholarship, an annual $2,000 scholarship that would support UCLA student advocates and community leaders. USAC will consider the proposal at its next meeting.

The council amended changes to the election code to clarify that candidate unit requirements must come from a four-year university or community college and added language inclusive of transfer students.

Office space allocation committee chair Hannah Regan and finance committee chair David Minasyan requested $22,335 from the USAC surplus fund to purchase and install storage furniture for 10 student offices in Kerckhoff Hall. Storage furniture would allow student groups to have clean office spaces and focus on community development, Regan said.
Reports:
Riley said her office discussed the reopening of libraries and outdoor recreation areas with Administrative Vice Chancellor Michael Beck. She also said she encouraged UCLA administration to be transparent if the university took action against incidences of hate speech on campus. She said she met with the COVID-19 Response and Recovery Task Force to discuss the reopening plan on campus.

Internal Vice President Emily Luong said the Rent Relief Award has received 600 applications. She added that the Campus Safety Alliance Committee will start an abolitionist series, a social media campaign about social justice and the struggles for the abolition of policing systems

Arasasingham said Gov. Gavin Newsom and legislative leadership in the California State Senate and California State Assembly reversed budget cuts to the UC. He added that his office is negotiating with the UC Office of the President to increase the Student Equity Access for Recruitment and Retention Appropriation budget from $30 million to $50 million to target underserved students affected by pandemic.

General Representative 1 Laura Laubach said her office started organizing its first town hall, which will take place March 5. She added that her office will highlight retention programs offered by the Mother Organizations through Instagram story takeovers at the beginning of spring quarter.

General Representative 2 Justin Rodriguez said in a written statement that his office is promoting a survey on student purchasing habits at the ASUCLA Store.

Facilities commissioner Sachi Cooper said in a written statement that her office is working on a commuter student resource guide.

Transfer student representative Zuleika Bravo said in a written statement that her office started reviewing applications for the Transfer Student Center Director. She added that she wrote a letter in collaboration with the Transfer Learning Center about the lack of asynchronous classes in the Political Science department. She also said she collaborated with the USA Elections Board to change language in the election code to clarify that transfer students can run for USAC President.

Student wellness commissioner Christina Read said in a written statement that her office collaborated with student organizations to host Health for Heritage Week events that are occurring this week.

Academic affairs commissioner Breeze Velazquez said her office reached out to individual academic departments to ensure that they listed pass/no pass policies on their websites.
The Undergraduate Students Association Council is the official student government representing the undergraduate student body at UCLA. Council meetings take place every other Tuesday at 7 p.m. during winter quarter and are open to all students. Winter quarter meetings will take place virtually on Zoom; links for the meetings can be found on the internal vice president's Facebook page. Watch a livestream of the meetings on the USAC Live! channel on YouTube.
Au-Yeung was the assistant Graphics editor at the Daily Bruin, where she was previously staff.
Au-Yeung was the assistant Graphics editor at the Daily Bruin, where she was previously staff.