Women's basketball to honor seniors in final home game against USC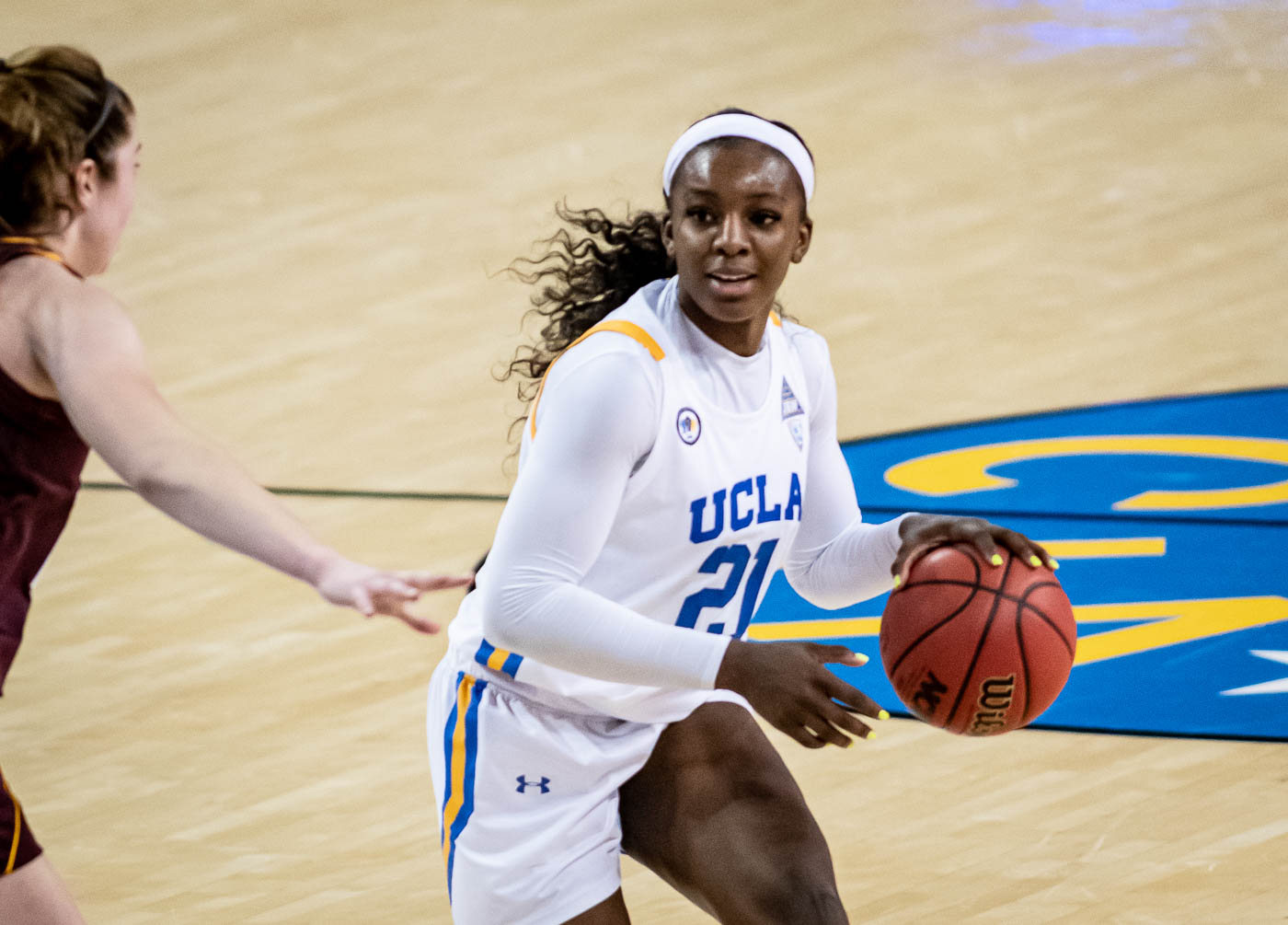 Senior forward Michaela Onyenwere could potentially be playing her last career game in Pauley Pavilion on Friday. Onyenwere has logged over 3,000 minutes in her Bruin career to go along with 1,727 career points – including 17.5 points per game this season. (Alex Driscoll/Daily Bruin staff)
Women's Basketball
---
USC
Friday, 5 p.m.
Pauley Pavilion
UCLA Live Stream
The Bruins will conclude the regular season with a matchup in a longstanding rivalry.
Following a victory against No. 14 Oregon (13-6, 10-6 Pac-12) and a loss to Oregon State (8-6, 6-6) this past weekend, No. 10 UCLA women's basketball (13-4, 11-4) will face USC (10-10, 8-9) in its final regular-season game at Pauley Pavilion on Friday.
In its latest meeting with the Trojans, the Bruins came out victorious, winning 73-52. However, coach Cori Close said her team is expecting to play an entirely different team than in its previous encounter, as USC has several players who are playing new roles.
"If you look at the minutes of who was playing when we played them the first time, and the proportion of minutes that are playing in their last five games, I bet you it is 80% different," Close said.
Trojan forward Alissa Pili did not make an appearance in the Bruin's previous matchup against the Trojans, but she has averaged 24 minutes and 13 points in the last five games.
Close said Pili – the reigning Pac-12 Freshman of the Year – changes the whole dynamic.
While the Trojans have lost their last two games, senior forward Lauryn Miller – who scored a season-high 16 points against Oregon – said it is important to treat every game in the Pac-12 seriously, particularly because the pandemic has brought several uncertainties.
Miller also mentioned how team records this season could be misleading since COVID-19 protocol has forced teams to play without certain players and even forced the programs to shut down entirely for a number of weeks.
"We are aware that (the Trojans) do have a lot of threats," Miller said. "Definitely in this conference you have to respect everybody, and especially with this pandemic, records mean very little just with so many different factors that go into who you've played or who you've lost to."
With the NCAA Tournament around the corner, senior forward Michaela Onyenwere – who is second on the team with 17.5 points per game this season – said she will use this upcoming game as momentum going into the postseason.
"If we are able to go into USC and do what we need to do in order to win that game to just propel us into the postseason (that) will be super important," Onyenwere said.
Senior Night Festivities
This game marks the seniors' final contest at Pauley Pavilion, and a senior night ceremony will take place to commemorate the players' accomplishments. UCLA will honor Onyenwere, Miller and redshirt junior guard Lindsey Corsaro following the conclusion of the game.
Each player has an extra year of eligibility because of the COVID-19 pandemic, but Miller and Corsaro both have decided to forgo it, and Onyewere said she was leaning that way as well. Redshirt senior guard Natalie Chou is the one senior on the roster who Close said is definitely taking the final year of eligibility.
Close said the seniors have made an immense impact on her, from the Black Lives Matter movement to the influence they have had on the team dynamic, specifically Onyenwere.
"I think (Onyenwere) will leave a mark on two facets," Close said. "The way she has led us in being an elite teammate and elite work ethic for every single day for four years. Also, her discovery of using her voice."
The coach also said she appreciates Miller's willingness to be mentored and taught and her ability to connect with coaches and players alike.
"I think (Miller) has been someone that has shown immense courage," Close said. "Just like she facilitates and makes people better around her on the court, she actually does that as much or more off the court, and I think there are several people who would say that their experience would be so different if Lauryn Miller wasn't their teammate."
Combined, Onyenwere, Miller and Corsaro have played 7,177 minutes and scored 2,707 points for the Bruins.
"It's definitely emotional – as a whole staff, we love them very, very much," Close said. "It's like your kids going off, so I have no qualms in being emotional."
UCLA is scheduled to tipoff against USC at 5 p.m. in Pauley Pavilion, with senior night festivities coming immediately after the conclusion of the game.
Chen is currently a Sports contributor on the beach volleyball beat. She was previously a contributor on the women's basketball and women's volleyball beats.
Chen is currently a Sports contributor on the beach volleyball beat. She was previously a contributor on the women's basketball and women's volleyball beats.