UCLA women's volleyball adjusts to new lineup to sweep Arizona State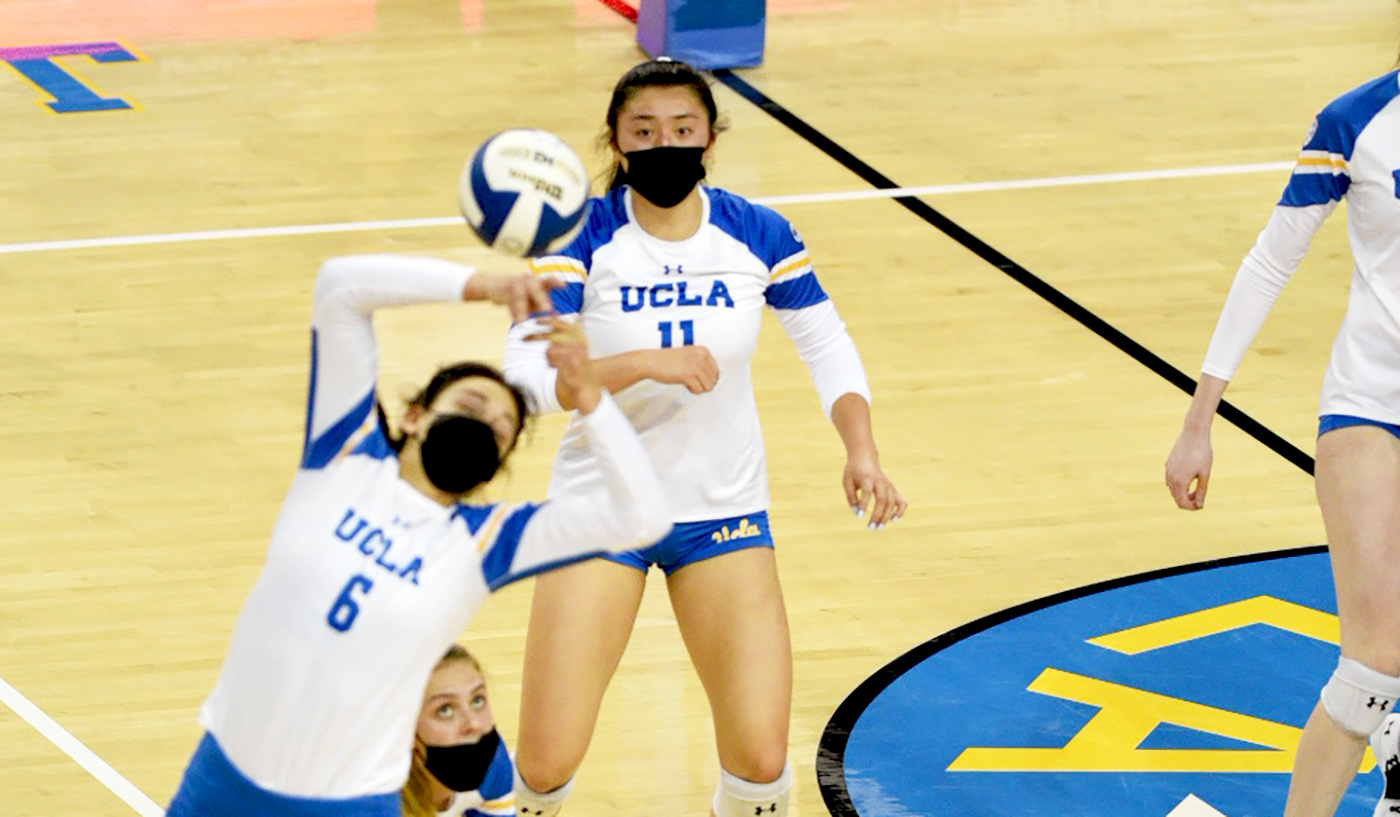 After a season-ending injury to junior setter Devon Chang, freshman setter Audrey Pak has seen an increased role, recording 28 assists in last Friday's win at Arizona State. (Ella Barnes/Daily Bruin)
A new pair of setters helped lead the Bruins to a pair of wins.
No. 15 UCLA women's volleyball (8-3) coach Michael Sealy counted on his two freshmen setters Audrey Pak and Kate Lane to help propel the Bruins to their first sweep of the season since opening weekend.
In its doubleheader at Tempe, UCLA came out with a 6-2 lineup, spearheaded by Pak and Lane. Sealy said he was happy with his team's setters as they set up the Bruins for a 0.325 hitting percentage and 121 total kills on the weekend.
"Both setters did a good job of running our offense," Sealy said.
UCLA was forced to adapt its starting lineup after starting junior setter Devon Chang went down with an ankle injury Feb. 12. While the Bruins had operated with a two-setter lineup prior to the injury, with Lane already appearing in 20 sets at the time, Pak made her season debut last week on Feb. 14.
After completing her first career start Sunday against Arizona State (1-9), Pak said UCLA emphasized flexibility as it faced off against the second-best blocking school in the Pac-12.
"We have definitely had to make a lot of adjustments with (Chang) out," Pak said. "Everyone just has to be very flexible and able to go with the flow."
Pak was able to set a career-high in assists en route to a 3-1 victory Feb. 19, finishing with 28 assists on the night, while Lane had 25 of her own. In the second win of the back-to-back against the Tritons, both setters were able to follow up their performances with 24 assists from Pak and 22 from Lane.
In both victories, the Bruins managed to outperform their season averages in hitting percentage and kills per set. Between the two games, UCLA also saw multiple players hit for double-digit kills across the net.
Pak said her team's ability to work with the shifting lineups was pivotal to the Bruins' wins.
"I think that it was great being able to win the first day," Pak said. "Then we just made a lot of adjustments, and we were just looking forward to the next game, hoping to get a sweep, which we did."
Despite this early success with an ever-shifting lineup, Sealy noted UCLA's players still have much to learn from each other and have room for improvement as the team enters the second half of the season.
"I think the more we get to practice with (Pak and Lane) and understand their personnel and getting used to each other, I think we will continue to improve," Sealy said. "But, I think they did a good job."
Palmero is currently a Sports contributor on the beach volleyball and women's volleyball beats.
Palmero is currently a Sports contributor on the beach volleyball and women's volleyball beats.