UCLA women's soccer heads to Tucson to avenge last season's loss to Arizona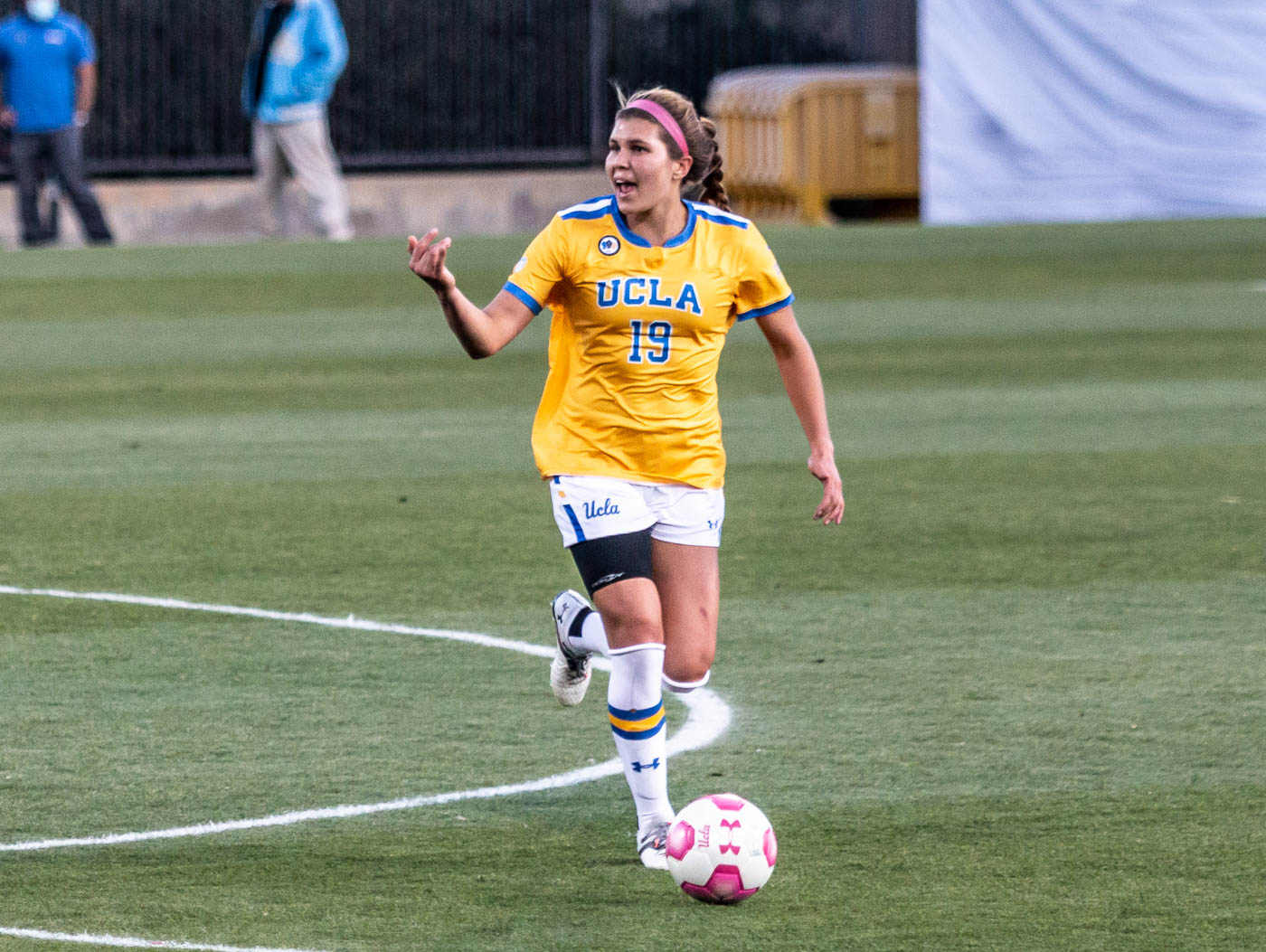 Redshirt senior defender Jacey Pederson has started all three of No. 4 UCLA women's soccer's 2021 contests, scoring her first career goal in the opener against Pepperdine. (Keaton Larson/Daily Bruin)
Women's Soccer
---
Arizona
Friday, 5 p.m.
Tucson, AZ
Arizona Live Stream
The Bruins will leave the state for the first time this season to begin conference play.
No. 4 UCLA women's soccer (3-0) will start its Pac-12 schedule against Arizona (4-0) on Friday night in Tucson. Both teams enter the matchup going undefeated in nonconference fixtures. In their most recent matchups, UCLA defeated San Diego 3-0, and Arizona secured a 3-0 win over Northern Arizona.
The Wildcats have scored 13 goals over their first four games of the season, recording at least two goals in every match. Arizona's offensive catalysts, forwards Jada Talley and Jill Aguilera, lead the team in goals with three and four, respectively, and have both been responsible for two game-winning goals apiece.
"They're very dynamic – they have really good counter-attack abilities," said coach Amanda Cromwell. "(They have) dynamic, really good forwards that can score. … They can shoot from distance. They're very opportunistic. We have to be really sharp and play our game and hold on to the ball like we usually do."
While the Wildcats have been averaging more than three goals per game, the Bruins have only conceded one goal through three appearances – with the lone allowed goal coming from a clearance ricocheting off an opponent into the UCLA net.
Redshirt senior defender Jacey Pederson, who has started all three games, said the defensive success stems from constant communication and organization.
"At center back, (senior defender) Lucy (Parker) has held down the defense a lot," Pederson said. "She's been a great communicator making sure we all stay organized together. Also, our (redshirt junior) goalkeeper Lauren Brzykcy has played a crucial role in preventing goals. Her ability to stop shots and distribute the ball and organize from the back has also been very vital in our success."
In the desert, the Bruins will be without one defensive piece as senior defender Karina Rodriguez will miss her second consecutive game because of duties with the Mexican National Team. Pederson and her fellow defenders were able to secure a clean sheet in Rodriguez's previous absence and said they hope to remain on the same page again against the Wildcats.
"It's always just a relationship that has to be worked on, whether it's with (Rodriguez) or with anybody else playing in that position," Pederson said. "So I think it's just a matter ofstaying connected and communicating with that person I'm playing alongside."
The last time UCLA traveled to Tucson, it was handed its second conference loss in as many games to open the 2019 conference season. Talley netted a goal in each half to secure a brace for the home side in its 3-0 victory.
Sophomore defender Brianne Riley said last season's loss is not the main focus for the team, but it provides extra incentive.
"It just motivates us more to stay focused and gives us an edge and desire to play and beat them," Riley said. "I think it just gives us a little fuel to make a difference and change the game and have a different outcome than last year. Come out with a win."
The Bruins will have the opportunity to remain undefeated and avenge one of three Pac-12 losses from last season Friday night at 5 p.m.
Farinha is currently a Sports contributor on the women's soccer beat.
Farinha is currently a Sports contributor on the women's soccer beat.