No. 17 men's tennis secures victory over UC Santa Barbara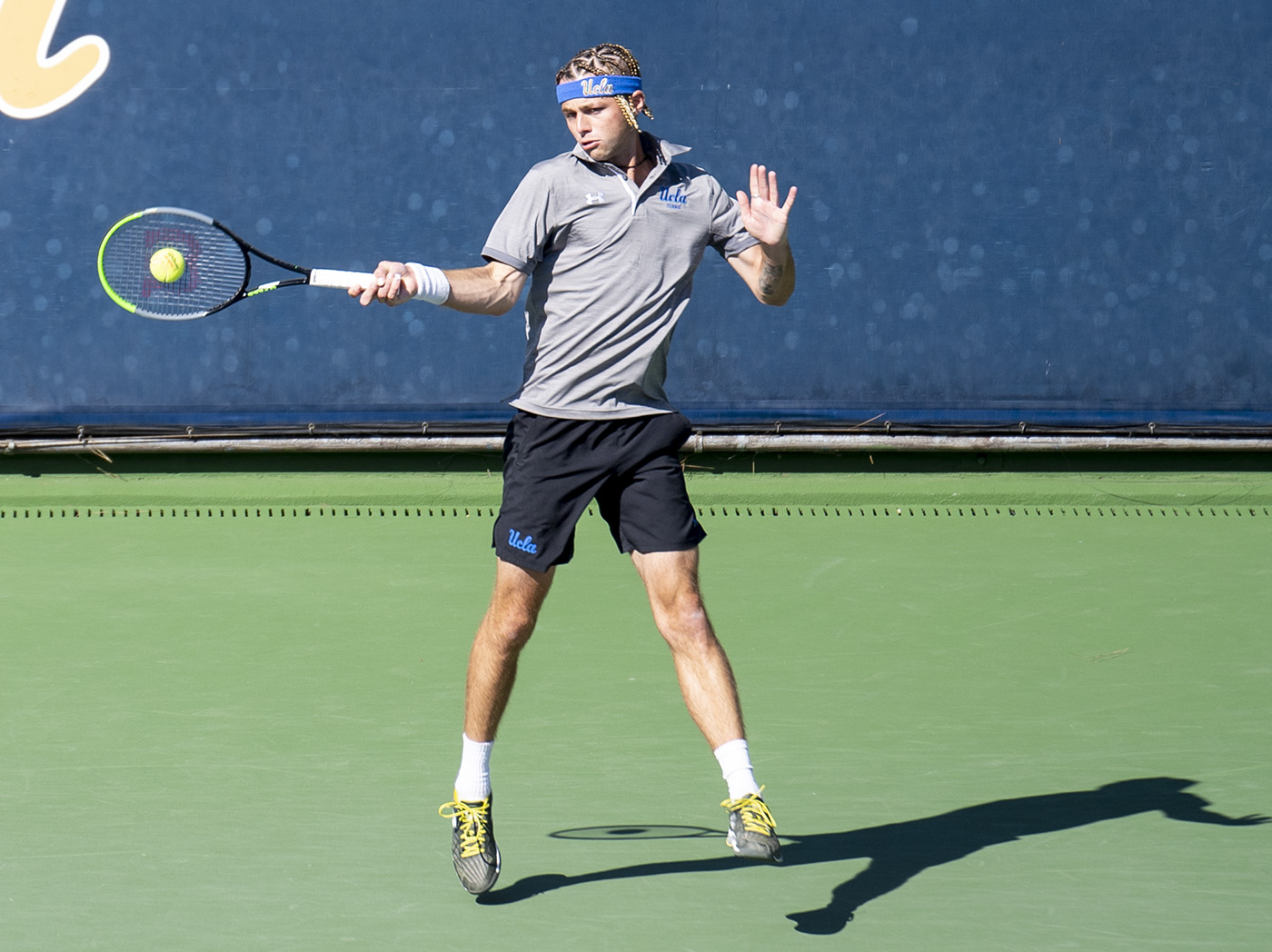 Despite losing his doubles match, sophomore Drew Baird clinched No. 17 UCLA men's tennis' victory by winning in straight sets in his singles match. (Esther Ma/Daily Bruin)
Men's Tennis
---
| | |
| --- | --- |
| UC Santa Barbara | 1 |
| No. 17 UCLA | 6 |
The Bruins earned a lopsided victory over the reigning Big West champions.
No. 17 UCLA men's tennis (3-1) secured a 6-1 win – more than the usual 4-0 win – in its 31st meeting against UC Santa Barbara (0-1) on Wednesday. The win marked the Bruins' second-straight win on the season and put them 30-1 all-time against the Gauchos.
Senior Bryce Pereira played his first doubles match of the season with redshirt senior Connor Rapp, earning a 6-2 victory over Gauchos Joseph Guillin and Alejandro Vedri to add to the Bruins' doubles score. The Bruins secured the doubles point on court one with senior Keegan Smith and junior Patrick Zahraj defeating Stefano Tsorotiotis and Kai Brady 6-2.
"Both (Smith) and (Zahraj), after losing the other day in a fairly close match, looked much better," said coach Billy Martin. "It's going to take them a while to get some chemistry and start to get the feel for each other. … I know that they will get better, but they looked sharper."
Smith, the nation's No. 10-ranked singles player, won in straight sets against Guillin – the No. 27-ranked player in the nation.
"(Smith) played an extremely talented young man that we've been able to watch," Martin said. "I actually recruited (Guillin) as a freshman, so I think that's a good win for him."
Junior Mathew Tsolakyan won his singles match against Joseph Rotheram 6-4, 6-3. With his win Wednesday, Tsolakyan remained undefeated in dual match play, earning a 9-0 record that goes back to the shortened 2019-2020 season.
"I'm always happy to win matches," Martin said. "I still saw some great competitiveness out there from a lot of the guys."
Sophomore Drew Baird clinched the Bruins' win over the Gauchos in a close second set against Tsorotiotis 6-4, 7-5. Baird said there was no ill will between him and his opponent despite the competitive nature of the match.
"I actually have tremendous respect for (Tsorotiotis). I've known him since I was like 15 – you just get competitive," Baird said. "It's one of the only one v. one sports, so you get really into it, but it's all respect and it's all love."
Zahraj also played a singles match that went down to the wire, ending with a second-set tiebreaker to win the match 6-4, 7-6.
As the match got closer in the second set, Zahraj was heard criticizing his own performance before sealing the win on court six.
"With me, it's kind of a thing when I'm not happy about my game, I start losing a little bit of control of my emotions," Zahraj said. "I feel like in the tiebreaker, you can refocus and focus up and get it done."
UCLA will continue its seven-game homestand this weekend when they face crosstown rival No. 9 USC on Sunday at 1 p.m.
Chesney is currently a Sports contributor on the men's tennis beat.
Chesney is currently a Sports contributor on the men's tennis beat.