Ana Padurariu and Brooklyn Moors take friendship across borders to UCLA gymnastics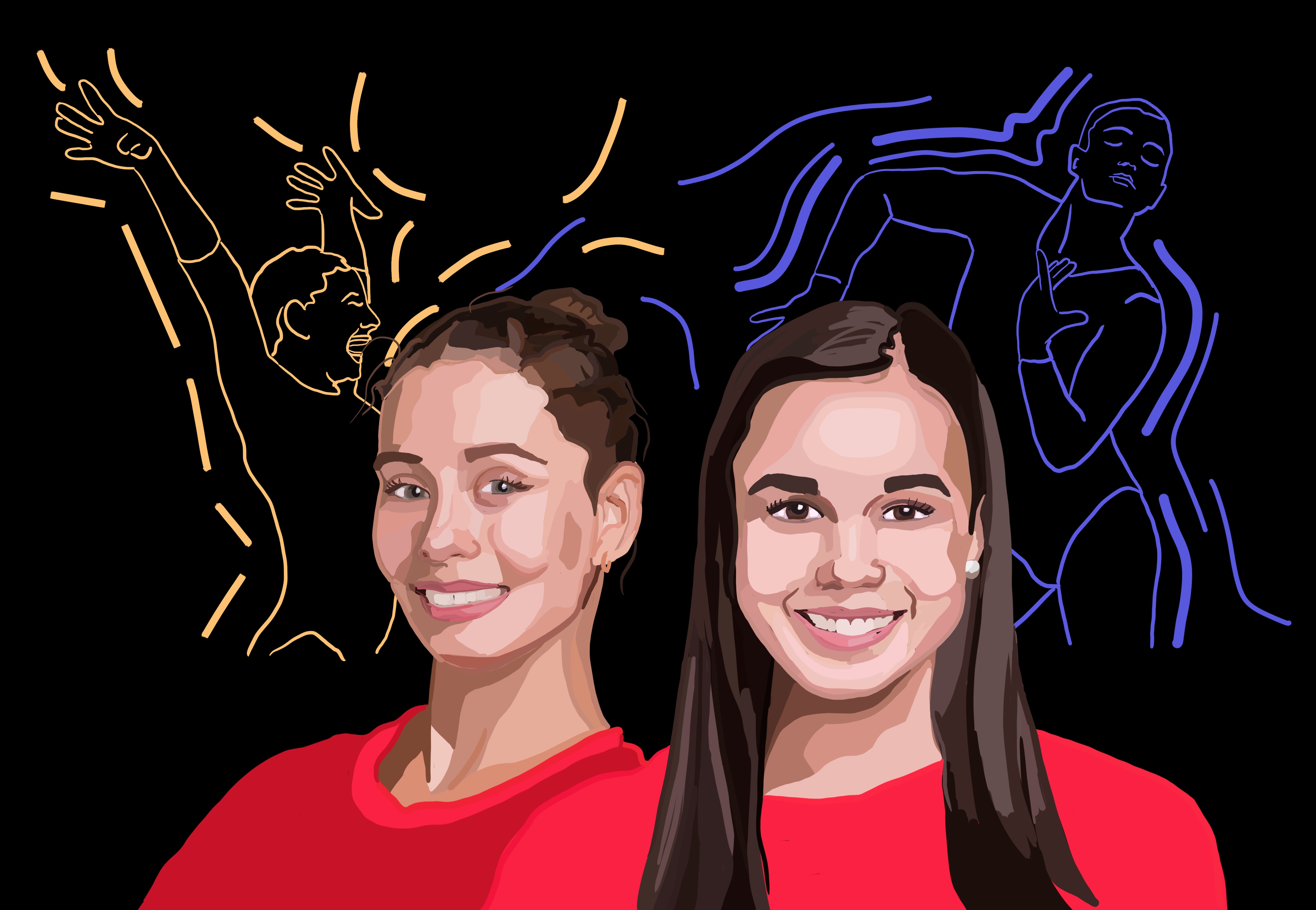 (Emily Dembinski/Daily Bruin)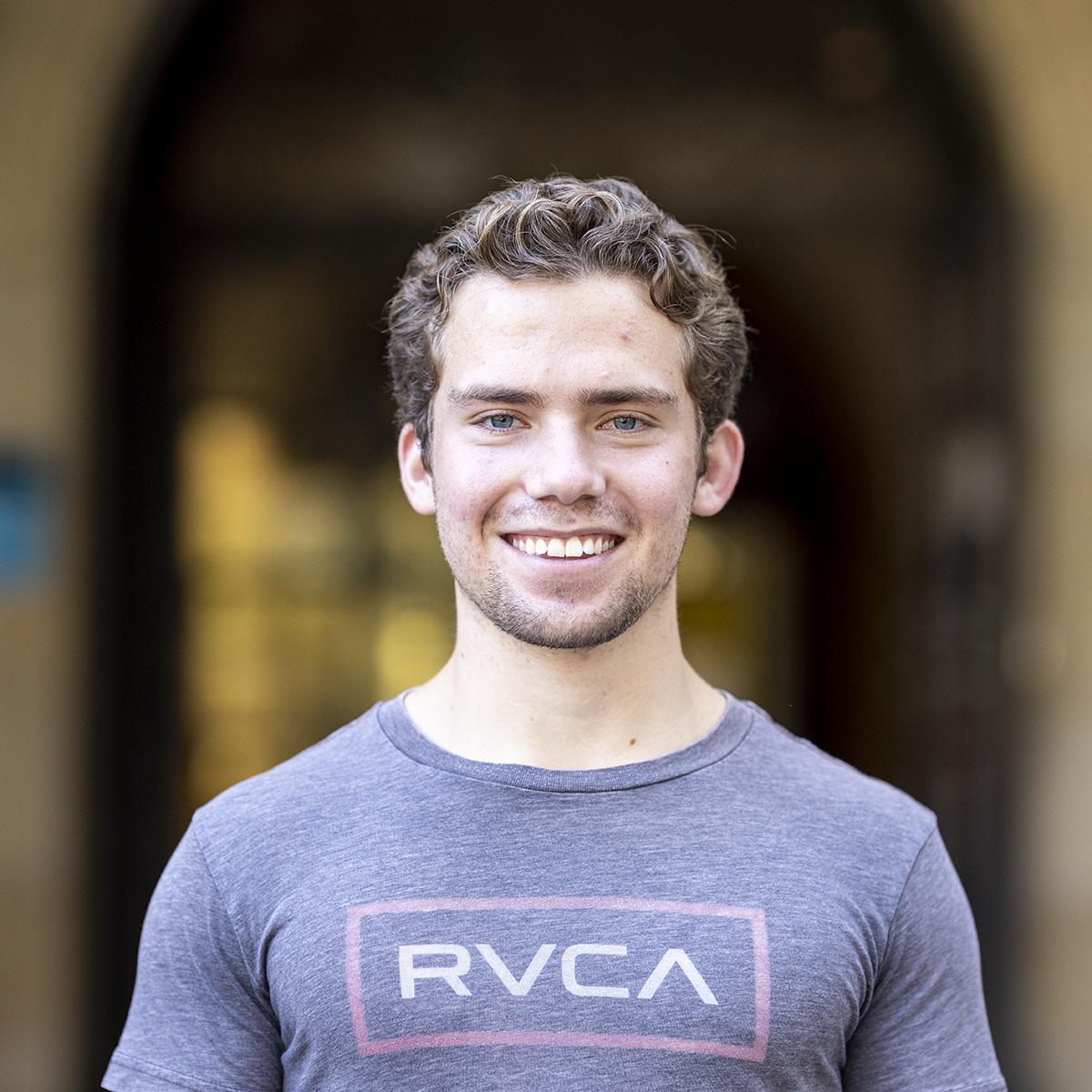 This post was updated Feb. 28 at 6:24 p.m.
On the verge of completing her wolf turn, Ana Padurariu suddenly lost her balance.
Falling off the beam on the first skill of a routine at the beam finals of the World Championships would've been an experience to forget for many gymnasts. Instead, it became a bonding moment for an unlikely pair of friends.
Recounting her thoughts as she flipped around the beam and onto the mat below, Padurariu, all smiles, confidently exclaimed that she was simply "bedazzled." It was a trivial gaffe, but fellow Canadian Brooklyn Moors will never let her teammate live it down.
For Moors and Padurariu, that moment is one in a long list of shared memories. From folk dancing to the tune of Miley Cyrus' "Hoedown Throwdown" to making TikToks together, the two have ensured there is never a dull moment between them.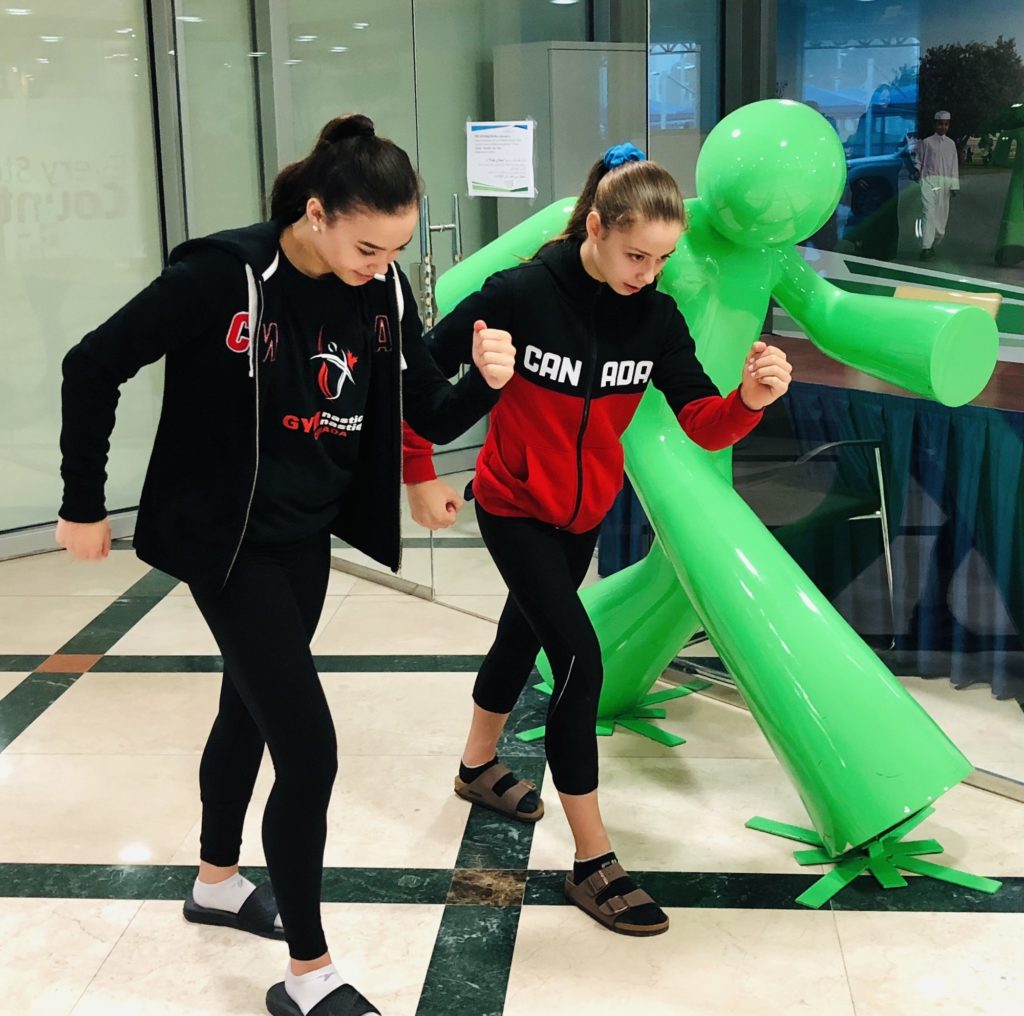 While the now-inseparable duo had crossed paths during their elite gymnastics careers before, they didn't become friends until 2018, when they competed together for the first time at the World Championships in Doha, Qatar. In what was Moors' second appearance at the World Championships and Padurariu's first, Team Canada placed fourth – the team's best finish of all time.
Those three weeks sparked an unbreakable bond, according to Padurariu.
"We've gotten really, really close just because we can relate to each other on a lot in gymnastics and outside gymnastics," Moors said. "We're just kind of like sisters."
Despite training at different gyms and not having competed together for more than a year because of the COVID-19 pandemic, Padurariu said the two are as close as ever.
"We talk like every single day and we're so involved in each other's lives because we live such similar lives," Padurariu said. "We've become such good friends over the past few years. It's amazing to have someone like her."
Now, Moors and Padurariu are set to embark on a new journey together – as Bruins.
The two incoming freshmen and Olympic hopefuls, however, were supposed to be in Westwood already.
They intended to compete in the 2020 Summer Olympics before joining UCLA in the fall. When it was announced that the Tokyo Games were officially on hold, their plan was in jeopardy. Padurariu immediately picked up the phone and called Moors.
"We were kind of in shock," Padurariu said. "And then a little bit later, we kind of just started crying together. The fact that we had no control about it I think was the most annoying part. And we were just so ready to get out of that elite stage and transition into the college stage."
The Canadian National Team members had been planning the next steps in their gymnastics careers for years.
Moors made her first official visit to Westwood in November 2018. Before she returned home to Cambridge, Ontario, the three-time World Championship competitor had accepted a full scholarship offer to join the Bruins.
After committing herself, Moors wanted to make sure she wouldn't be without Padurariu.
"I was kind of on the sidelines, like, 'Let's go,'" Moors said.
But Padurariu, the younger of the two, had not even begun to consider UCLA until January 2019, when coach Chris Waller made an unexpected visit to her gym. While the younger gymnasts at Padurariu's gym in Oshawa, Ontario were in awe of the former U.S. national team gymnast and four-time NCAA champion coach, Padurariu didn't quite understand why – that is, until Waller sat down with her and her parents.
"Once he told me everything there is about UCLA, I just instantly fell in love," Padurariu said. "I suck at decision making. Like, I suck at it. And as soon as (Waller) left my house, I was like, 'Mom, I am going to this school.'"
Whereas Moors is redshirting this season and took classes remotely in the fall, Padurariu deferred her enrollment and will join the program next year.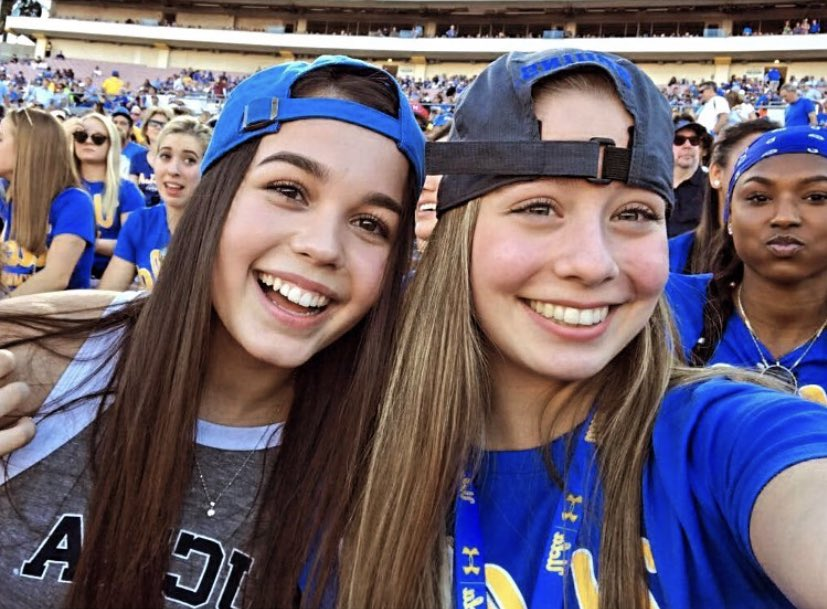 Moors and Padurariu are set to join a long line of Canadian gymnasts who have passed through the Bruins' program, including Yvonne Tousek – who led UCLA to three NCAA championships in four years – and Christine Peng-Peng Lee – who scored two perfect 10s at the 2018 NCAA final en route to capturing the team title for the Bruins for the first time in eight years.
The two future Bruins had the opportunity to consult with their idols before making the monumental decision and were even featured in Lee's YouTube vlog at the 2019 Canadian National Championships.
Waller, who coached both Tousek and Lee, said the UCLA and Canadian cultures are a perfect match.
"(Canadian gymnasts are) super humble and super hard working and very artistic … really expressive," Waller said. "They tend to wear their heart on their sleeve. I just think that there's been a good connection culturally. We just seem to fit."
But while Waller believes the palm trees of Westwood are a great fit for the Canadian gymnasts, the UCLA alumnus focused his recruiting pitch on what the No. 1 public university in the country has to offer outside of the gym.
"Number one is helping that young person coming to college to be the best human being they can be," Waller said. "To help them find what their authentic self is."
For Padurariu, whose family hails from Romania, the academic prestige of the most applied-to university in the U.S. played an integral role in her ultimate decision.
"I feel like I've accomplished all that I want to accomplish in the elite world and in the gymnastics world here," Padurariu said. "Once I went to university, I mostly wanted to focus on academics. And then the gymnastics was kind of a plus."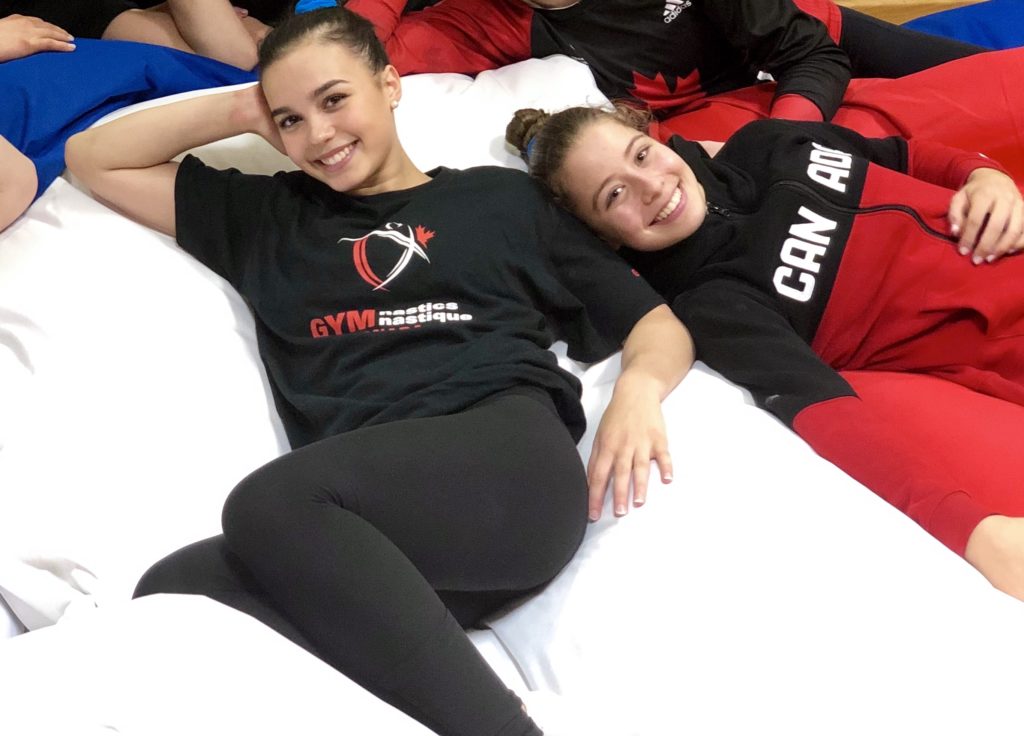 The two elite gymnasts – who have spent much of their careers competing as individuals – are looking forward to competing with a team. Padurariu even has a whole notes page of "dad jokes" she can't wait to share with her fellow Bruins.
After interacting with the team during her 2018 visit, Moors said she can't wait to join the program.
"I loved the team and how close they were and how much fun they were having," Moors said. "I really wanted to join in."
Moors and Padurariu may share an affinity for the vibrant culture of UCLA gymnastics, but when it comes to their personalities, there is little room for overlap. Padurariu said while Moors is not quite her polar opposite, she certainly helps counterbalance her "hyped-up" personality.
On the gymnastics floor, their contrasting personalities take center stage. Padurariu – who won a silver medal on beam at the 2018 World Championships – described her style of gymnastics as "funky" and said she can't enjoy a routine unless she can smile.
Moors' style, however, couldn't be more different. The recipient of the Longines Prize for Elegance at the 2017 World Championships – awarded to gymnasts who set themselves apart from competitors with their grace and charisma – Moors said she hopes to add some dramatic scenes to the UCLA floor lineup.
Moors' performances on floor, one of which earned the gold medal at the 2019 Pan American Games, are so full of emotion Waller questioned whether she would have the emotional stamina to perform her routine on a weekly basis.
"You watch her performance and it feels like the one you see is the only one she's ever going to do," Waller said. "She puts so much into it."
Padurariu said Moors' elegance is not constrained to the gym floor.
"(Moors) is just so graceful in everything she does," Padurariu said. "The way she talks, the way her gymnastics is – she just brings a certain grace and poise to everything she does. And I think that's an amazing quality that I wish I could have."
While Padurariu envies Moors' charisma, Waller said he is also looking forward to everything Padurariu will bring to the table for the Bruins.
"She's an incredible, wonderful human being," Waller said. "Academically really smart and dedicated to school and just wanting to learn every single day. Super fun and outgoing. Incredibly humble and kind and appreciative. She's going to be a great addition on a multitude of levels."
Padurariu's signature smile and Moors' flair for drama may paint a picture of two distinctly different people. But for the next four years, the Canadian counterparts will take the competition floor united by one common thread: four letters stitched across their leotards.
Settleman is currently an assistant Sports editor on the gymnastics, women's soccer, women's golf, women's water polo and men's water polo beats. He was previously a contributor on the gymnastics and women's water polo beats.
Settleman is currently an assistant Sports editor on the gymnastics, women's soccer, women's golf, women's water polo and men's water polo beats. He was previously a contributor on the gymnastics and women's water polo beats.