Students receive COVID-19 vaccines, encourage all to follow when eligible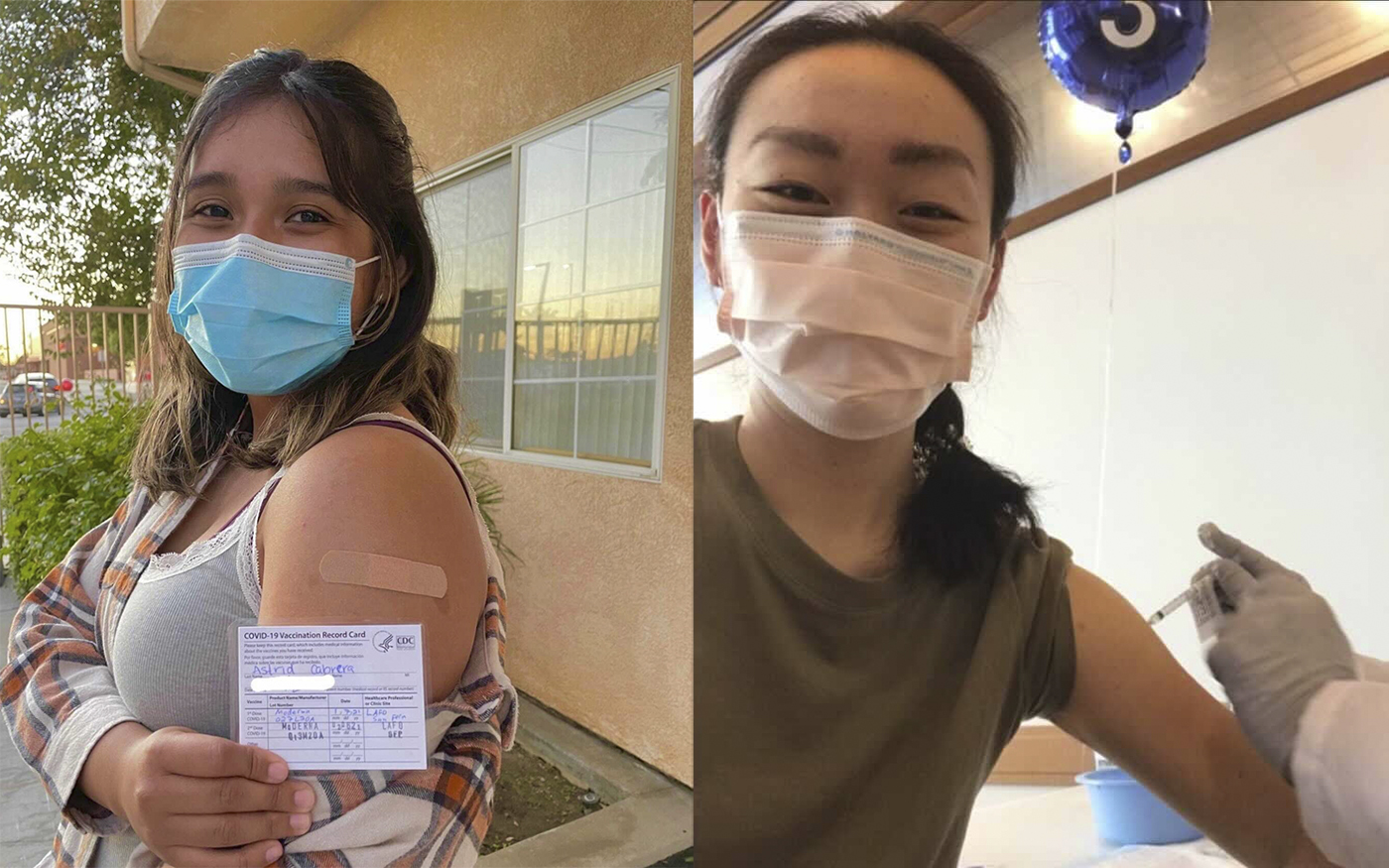 (Left to right: Courtesy of Astrid Cabrera, Courtesy of Melissa Bu)
This post was updated Feb. 28 at 8:18 p.m.
Astrid Cabrera leaped at the chance to receive the COVID-19 vaccination as soon as she became eligible.
"If I can help slow the spread, I will," Cabrera said.
Cabrera, a second-year physiological science student and health care worker, received the first dose of the Moderna COVID-19 vaccine in January, and the second dose in February.
Students said they experienced a range of emotions prior to receiving the COVID-19 vaccine, from hesitation to enthusiasm. However, they added they have no regrets, encouraging students who have yet to be vaccinated to do so when they can.
Cabrera was able to receive the COVID-19 vaccine because she works with the organization Community Organized Relief Effort in Los Angeles County to administer COVID-19 tests and vaccinations.
Cabrera said she and her parents tested positive for COVID-19 in April after her parents contracted the virus at their workplace. She said although they recovered in two weeks, she was nervous the entire time because both she and her father have underlying medical conditions.
"The second that I was able to get the vaccine, I was quick to get it because I was like, 'Hey, there are different strains coming out,' and I don't want to get sick again and I don't want anyone else to get sick," Cabrera said.
While students who qualify as health care or essential workers have already been able to receive the vaccine, the broader student population must wait until at least March, according to the LA County Department of Public Health. Students who have the opportunity to get vaccinated should do so as soon as possible, said Chancellor Gene Block at a town hall in January.
All eligible students, faculty and staff will be able to be vaccinated at UCLA at no cost, Block said. However, UCLA Health is currently only vaccinating health care workers and patients who are 65 years old and older in accordance with the distribution schedule set by LA County, Block said.
Melissa Bu, a third-year molecular, cell and developmental biology student living in Massachusetts, said she was initially hesitant about getting the vaccination as she is not at high risk for COVID-19. Bu was vaccinated through a hospital-affiliated research institute she works at part-time, and Massachusetts is adhering to a similar schedule as LA County.
"There was definitely some guilt going into it, but I kind of realized … not taking it wouldn't change this system of distribution," Bu said. "It's really how the state has decided to distribute and where they've allocated these resources."
Bu said her vaccination experience went smoothly and she only felt mild side effects, like a stuffy nose, after the first dose. After her second shot, Bu had a slight headache and sore arm, but nothing as severe as side effects her friends had, she said.
Arm pain, headache and fever are common side effects of the COVID-19 vaccine, according to the Centers for Disease Control and Prevention.
John Mazziotta, the vice chancellor of UCLA Health Sciences, said students should rest for the day after they receive the vaccination and stay hydrated to cope with the aftereffects of the vaccine.
Cabrera said false information about vaccine distribution has led to some confusion around when people can receive the vaccines. She said people would line up for over two hours at CORE because they heard on the news it was their turn to receive a vaccine, only for her to send them away.
"It's very disheartening to have to turn people away," Cabrera said. "The news media sometimes gives them false hope where we're not really in that phase yet, so we've had trouble with that."
Alex Hedrick, a third-year mechanical engineering student who is still waiting to be vaccinated, said he hasn't received much information about a vaccination timeline for students, but he would not hesitate to take it when it becomes available to him.
"I would love to take the vaccine and have as many of my friends take the vaccine as possible," Hedrick said. "So if I were to be vaccinated and my friends (were) to be vaccinated, then I would feel safe to hang out with them."
Still, Mazziotta said people should remain alert about COVID-19 after getting vaccinated because it is not known yet whether a vaccinated person can still spread COVID-19. Caution will help protect those who are unvaccinated, he said.
Mazziotta said everyone should get the vaccine as it will help us reach herd immunity. Herd immunity is the state in which the virus cannot be easily transmitted between people because of a high percentage of immunity in the population.
"It's a race to get to herd immunity. … We have to reach that percentage before the variants that are constantly being generated by the virus escape the vaccine," he said.