Op-ed: India's farmer protests reveal the urgency of climate justice action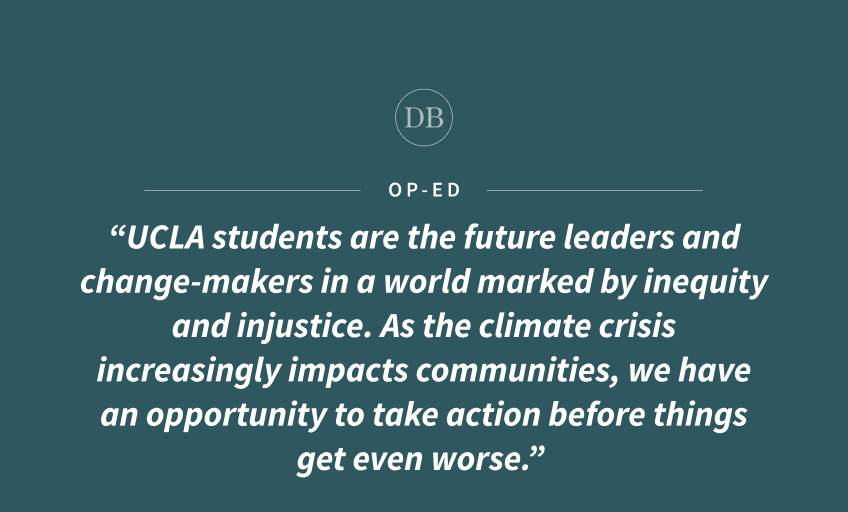 If you've been paying attention to the news lately, you may have heard about the massive farmer protests in India that were sparked by the passing of three agricultural laws this past September. For many months now, farmers have protested these laws that dismantled market price regulations, saying that they threaten livelihoods. In recent weeks, the situation gained more widespread attention because of a government crackdown, the arrest of young climate activist Disha Ravi and the tweets of climate activist Greta Thunberg, who has been vocally supportive of the protests.
Maybe you have been unaware of the protests and their connection to the climate crisis. As a student myself, I know that it can be hard to keep up with the news, and it's easy to feel indifferent about something happening in India if you live halfway across the world.
But there's a reason that Thunberg has been using her platform to bring awareness to these demonstrations. The situation in India is more than just a response to oppressive labor laws. It's also a powerful example of pushback against climate injustice, or the disproportionate impact of climate change on vulnerable populations. However, women farmers at the forefront of the protests provide a striking picture of resilience, something we will need more and more in a warming world.
UCLA students are the future leaders and change-makers in a world marked by inequity and injustice. As the climate crisis increasingly impacts communities, we have an opportunity to take action before things get even worse. The women protesting in India are a real example of effective grassroots climate action in the face of injustice, and we have a responsibility to recognize and emulate their grit and sacrifice.
So, what do these protests have to do with the climate crisis?
According to the 2019 Intergovernmental Panel on Climate Change report, climate change disproportionately affects vulnerable, agriculture-dependent populations through "food insecurity, higher food prices, income losses, lost livelihood opportunities, adverse health impacts and population displacements." India, a country in which more than half of the population is employed in the agriculture sector, certainly falls into this category. Since agriculture in India is so dependent on rainfall, and climate change has caused an increase in both extreme droughts and floods, farmers have been struggling to make ends meet for a while now.
With the passage of the three contested agricultural laws, it will be harder than ever for these farmers to implement sustainable agricultural practices that would make their crops more resilient to climate change. Female farmers, who do a whopping 80% of the agricultural work in India yet own only 13% of the land, are especially hard hit by these laws and by agricultural losses due to climate change. Because of this, women are showing up in full force at the protests now.
Scientist-led Project Drawdown says that ensuring equal access to resources and land for women farmers is one of many effective solutions to the climate crisis. This is why Thunberg has been speaking out in support of the women demonstrating in the streets outside New Delhi. Braving the winter elements and potentially violent clashes with police, these often overlooked women have organized, rallied, stood firm and demanded their rights as farmers in order to feed their families.
Ordinary women are doing extraordinary things just by showing up and speaking out. As more and more places in the world – including California – are facing the threat of worsening droughts and floods that will disrupt agricultural systems, we need to follow the example of these women in how we adapt. We must shift to more sustainable and equitable systems, and this will happen through a strong collective effort. We Bruins need to join the global movement and speak up for the sake of resilience.
I've committed to staying informed of climate injustices around the globe and stories of resilience. I plan to attend climate protests, engage in these issues on social media and write about climate justice when I can. To join me in these efforts, I urge you to pay attention to what's happening in India and elsewhere. Read the stories of inspiring women leading the climate movement. Attend a climate protest, donate and petition for specific causes, join others in reducing your own climate footprint and be bold in your action, like Thunberg and these women in India.
As climate leader Christiana Figueres puts it, "Each one of us will not win this battle individually – it will require all of us playing our role wherever we can."
How will you be a part of global climate resilience today, on our campus and beyond?
Lindner is a third-year environmental science student.