Softball looks to extend home winning streak in upcoming San Diego State matchup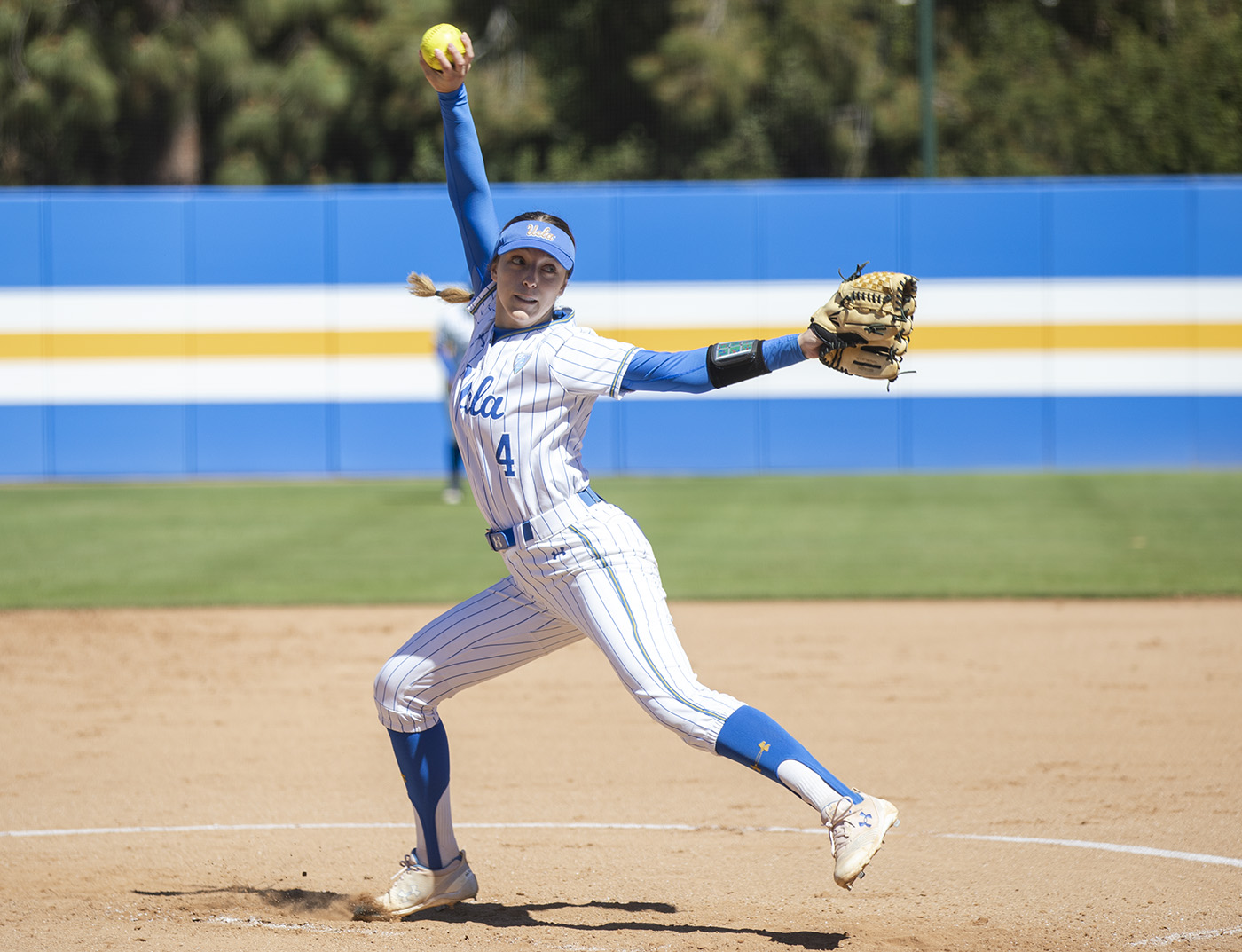 Redshirt junior pitcher Holly Azevedo pitched a total of nine innings across two games over the last weekend, giving up six hits and four earned runs while striking out five batters. (Ashley Kenney/Assistant Photo editor)
Softball
---
San Diego State
Wednesday, 2 p.m.
Easton Stadium
UCLA Live Stream-3
Even without fans in the stands, Easton Stadium has continued to provide home-field advantage for the Bruins.
No. 1 UCLA softball (5-0) will host undefeated San Diego State (5-0) on Wednesday after allowing just two runs combined in its first three games in Westwood this season. A win would be the 10th straight victory at home dating back to last season.
Redshirt junior infielder Delanie Wisz said the team's character has allowed it to bring the necessary energy despite complicated guidelines and a lack of fans.
"We're a team full of big personalities," Wisz said. "Having to socially distance and wear masks, it's kind of difficult to have the same type of energy you would have in a normal season where everybody can be in the dugout and we're not all spread out, but I think we're doing a really good job of keeping the energy high."
While having to come from behind to win their first two road games of the season Saturday, the Bruins have never trailed at home, outscoring their opponents 24-2 and allowing just six hits in the first three games. The stretch includes UCLA's first mercy-rule victory of the season, as the team tallied 10 hits and didn't strike out once in an 11-1 five-inning win over Loyola Marymount on Sunday.
When discussing the mercy-rule win, coach Kelly Inouye-Perez said the team continues to use personal goals for every inning to keep the team focused regardless of the game's score.
"The goal is always to be able to score every inning, but we broke down the game (Sunday) into individual challenges for every inning," Inouye-Perez said. "We wanted to score first in the first inning, or be able to get the leadoff on, or get quality at-bats. We just had goals for every inning, and it was exciting to see that there was a kind of focus every inning that gave the girls something to challenge themselves."
Rather than spreading their scoring across multiple innings, the Bruins have relied on large rallies in single innings to win at times thus far. UCLA scored six of its seven runs in the first inning in the season opener against Fresno State, scored seven runs in the final inning to take the lead against Cal State Fullerton on Saturday and scored in just two innings in the 11-1 LMU win on Sunday.
Redshirt junior pitcher Holly Azevedo said large rallies are always nice, but the team can continue to work toward being more consistent in how it scores its runs going forward.
"It's always good, but we have to be consistent," Azevedo said. "That's something we're always working towards. I saw that we had two or three innings of no runs, but I was confident they'd come back."
Azevedo pitched 3 1/3 scoreless innings and allowed just one hit in a 5-0 win over the Aztecs last season. The game was another unbalanced one for the Bruins offensively, as they scored all five of their runs in the last frame.
Rachel Garcia Injury
The Bruins will likely again be without former USA Softball Collegiate Player of the Year Rachel Garcia, who is day to day, according to Inouye-Perez. The redshirt senior pitcher/first baseman and preseason All-American missed the last three games for UCLA after injuring herself during the top of the first inning against Cal State Fullerton on Saturday.
Inouye-Perez said the team has plenty of options if Garcia is indeed unable to take the mound.
"If she's not an option then we have three other pitchers that can pitch," Inouye-Perez said. "The plan is not for her to throw on Wednesday, and we're going to take it day by day and just assess it every day to see how she is. But no, (our approach) doesn't change, in that if she's not an option we just stick to a different rotation."
Garcia did not pitch in last year's matchup between the two schools because she was training for the Olympics with Team USA, but the Bruins still held the Aztecs scoreless, allowing just three hits.
First pitch between UCLA and San Diego State will be Wednesday at 2 p.m. in Easton Stadium.
Carlson is currently a contributor on the women's basketball and softball beats.
Carlson is currently a contributor on the women's basketball and softball beats.