Letter to the editor: Criticism of UCLA's program is unwarranted, only gives partial view of program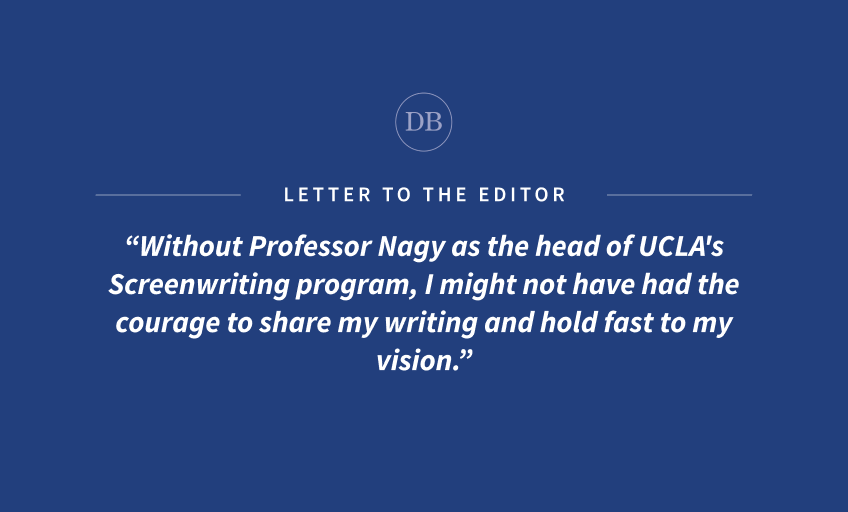 Dear Daily Bruin Editorial Board,
I write in response to your recent Enterprise article, "Lights, Camera, Inaction." I graduated from UCLA's Screenwriting MFA program in the spring of 2020.
The claims laid in this article are not at all reflective of what I experienced as a student in the UCLA School of Theater, Film and Television. I find many of the statements in this article to be inaccurate, skewed and biased, only giving a partial view of the story.
The article states, "In 2018, Professor Phyllis Nagy became the head of screenwriting and began making problematic changes to the program right away, several students said." I am not one of those students, and I would have to strongly disagree. Throughout my time as a graduate student, I saw opinions about the Screenwriting program voiced by a few made to stand in for all students. Those opinions were not mine. I would like to provide a different voice, which I know is supported by many of my colleagues.
In 2018, I interviewed with professor Nagy for a spot in the Screenwriting program. Her approach to cinema immediately inspired me. I actually breathed a sigh of relief upon our interview, because as a writer who doesn't write to the studio film, I knew that the program under professor Nagy's direction could encourage my artistic vision. Professor Nagy was the reason I decided to go to UCLA, and the courses that I took with her – in addition to receiving guidance from her as my academic advisor – were hands down the highlights of my experience at UCLA. She made my time in the program worthwhile. I've talked to many students who feel similarly.
Professor Nagy brought many changes when she became the head of the program, including many changes that provided a level of academic and artistic rigor that a world-class graduate screenwriting program requires. I chose to go to UCLA because I wanted to study and write films as part of an artful dialogue held to the standard of a world-renowned academic institution. Throughout my time at UCLA, professor Nagy held that standard, elevating the Screenwriting program.
Professor Nagy has always instilled in her students that screenwriting is an art. She brought out the absolute best in my writing, and I know many, many students in my cohort who would say the same. Just one note from professor Nagy can enhance your script beyond measure or save you hours – maybe years – of rewriting in the wrong direction. She'll change your approach to film, she'll ask you questions you never thought of. Her knowledge of the film industry is current. Myself and many members of the student body have been deeply inspired by professor Nagy's teachings.
Professor Nagy emboldens her students to feel confident in their work, to stand up for their artistic integrity and to make strong choices. As a woman who is a filmmaker, I know that the cards are stacked against me. Without professor Nagy as the head of UCLA's Screenwriting program, I might not have had the courage to share my writing and hold fast to my vision.
Finally, this article lacked a diversity of opinions. In the future, it would behoove your paper to include interviews from varied perspectives.
Jakim is an alumna of the screenwriting master's program under the School of Theater, Film and Television.