Men's tennis defeats Loyola Marymount to kick off 7-game homestand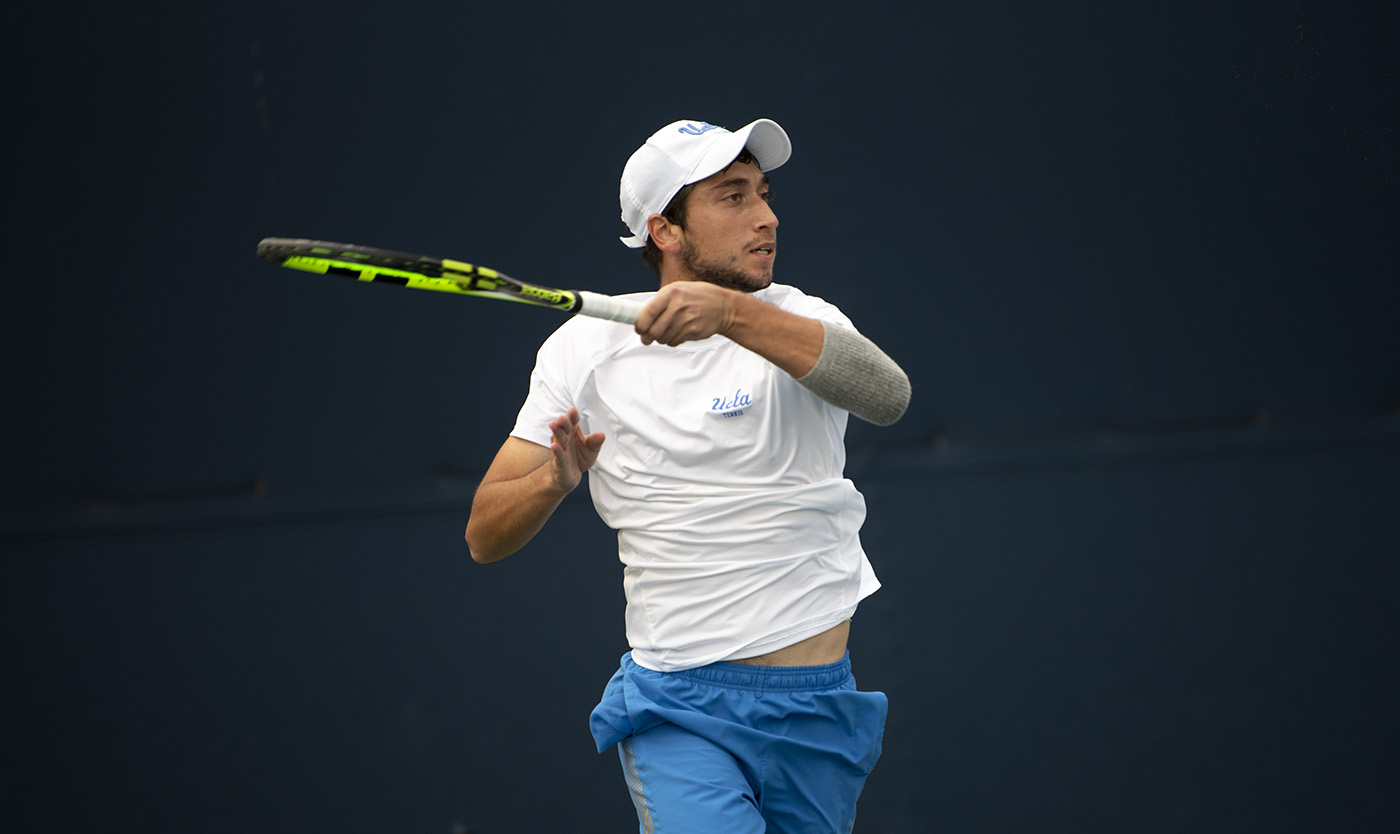 After No. 18 UCLA men's tennis picked up three straight singles points, junior Mathew Tsolakyan clinched the victory by winning two straight sets on court No. 5 to give his team the winning fourth point. (Daily Bruin file photo)
Men's tennis
---
| | |
| --- | --- |
| Loyola Marymount | 1 |
| No. 18 UCLA | 4 |
The Bruins picked up a win in their 2021 home opener after 348 days between home matches.
No. 18 UCLA men's tennis (2-1) debuted its seven-game homestand with a 4-1 win over Loyola Marymount (2-2). The Bruins improved to 6-0 in the all-time series against the Lions.
Despite the three-point win, UCLA started from behind.
LMU pulled off the upset to earn the doubles point, with the Bruins' doubles pairings of senior Keegan Smith and junior Patrick Zahraj and redshirt senior Connor Rapp and junior Max Wild each falling 6-4 at courts one and three, respectively. Sophomore Drew Baird and graduate transfer Sam Feit delivered a 6-1 victory on the second court, but it wasn't enough to stop UCLA from losing its first doubles point all season.
Going into singles play with a 1-0 deficit, Smith, Baird and redshirt senior Ben Goldberg swept the top three singles matches. The trio upended the Lions' Diego Nava 6-4, 6-2, Daniel Moreno 6-4, 6-4, and John Bryan Otico 6-3, 6-3, respectively.
Even with the doubles loss, Smith said he remains confident in his abilities after dispatching his singles opponent in straight sets.
"Right now, I've been doing the right things and I just got to keep doing them," Smith said. "I'm happy (with) where my game's at right now."
Having rattled off three consecutive points, the Bruins were one shy of clinching the match. Feit took the first set 7-5 on the fourth court but dropped the second 6-2. Junior Mathew Tsolakyan and Zahraj lost their first sets 7-6 and 6-3, respectively, but turned the tables to both win their second 6-3.
With elapsed match times cracking the three-hour mark, it all came down to the two juniors.
Tsolakyan clinched the victory, delivering the decisive fourth point at fifth singles by overcoming LMU's Emin Torlic 6-7, 6-3, 6-4. Tsolakyan had to come back from a set down and a break in the third to pull out the win.
The ITA Scholar-Athlete said he tries to stay present when adversity presents itself.
"Just trying to think of it one point at a time, don't think about the results or anything," Tsolakyan said. "Stay focused on each point and just work your way through it."
Coach Billy Martin said he recognized that Tsolakyan didn't have his best day on the court, but applauded him for digging deep.
"He played poorly and still kept his head and was able to still know that the end result of winning the match was so very important to our team," said Martin. "Sometimes you have to win ugly."
UCLA was without junior Govind Nanda, the team's No. 2 singles player a year ago, for the third time in as many matches. Martin said Nanda is away from the team playing outside tournaments, but will likely be back soon.
"We're all looking forward to Nanda coming back because he's going to absolutely add a big boost to our lineup, both singles and doubles-wise," Martin said. "I expect him back towards the end of this month or in March to finish the season strong for us."
Nanda's absence has also left Smith without his traditional doubles partner. Despite this, Smith said he is feeling good about his new partnership with Zahraj.
"You know, me and (Zahraj) click pretty well," Smith said. "We didn't get it done today, but I think me and him are going to do well together, so I'm excited about that."
After its match against Boise State was canceled earlier this month, UCLA ended up having nearly a month of preparation for this matchup. There will be a quicker turnaround for its next match, as it is slated to face UC Santa Barbara on Wednesday.
Martin said he hopes his squad can head into Wednesday with more confidence, saying that this season will present more challenges.
"We got the jitters out, we got a win. A good opponent really, but still, we're going to have to play a lot better than that to really have a good and successful year," Martin said.
Nelson is currently a Sports contributor on the men's tennis beat.
Nelson is currently a Sports contributor on the men's tennis beat.