Women's basketball to face Oregon schools as Close named coach of year finalist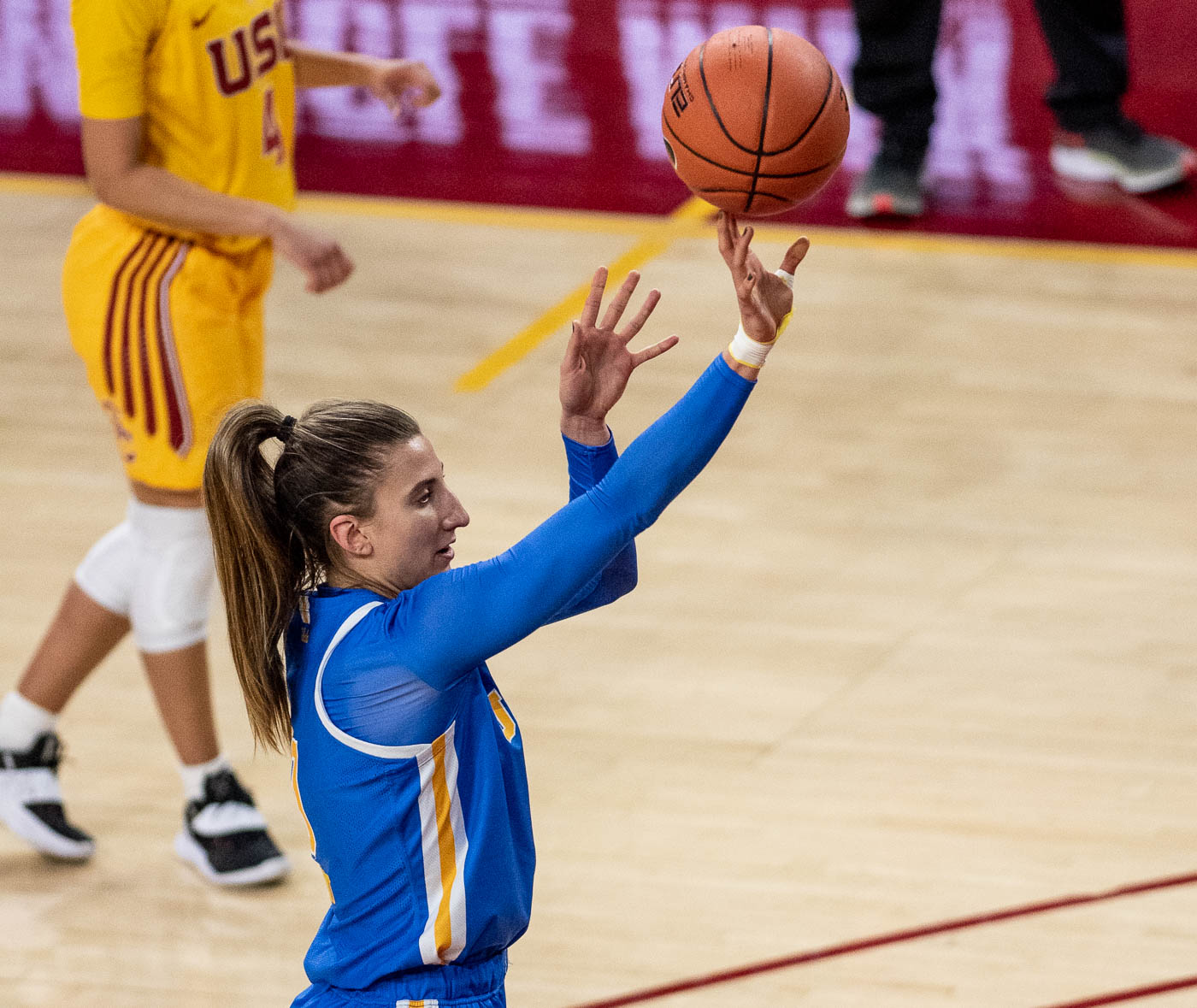 Redshirt junior guard Chantel Horvat is coming off her second-highest scoring performance of the season, putting up 14 points on 6-of-10 shooting in No. 8 UCLA women's basketball's win over Utah. Horvat is averaging a career-high 6.8 points per game this season. (Amy Zhang/Daily Bruin senior staff)
Women's Basketball
---
No. 13 Oregon
Friday, 5 p.m.
Pauley Pavilion
Pac-12 Networks
---
Oregon State
Sunday, 1 p.m.
Pauley Pavilion
ESPN2
The Bruins are nearing the end of the Pac-12 season with two of their final three games this weekend.
No. 8 UCLA women's basketball (12-3, 10-3 Pac-12) will face No. 13 Oregon (12-5, 9-5) on Friday and Oregon State (6-6, 4-6) on Sunday, with the chance to secure a top-two conference finish.
UCLA was victorious in its latest game in Eugene, with senior forward Michaela Onyenwere leading the team with a season-high 33 points.
However, the Bruins' previously scheduled matchup against Oregon State was postponed because of COVID-19 concerns within the Beavers' program.
Oregon State has had almost 50% of its games canceled or postponed this season and was forced to pause all activity twice. The Beavers are also one of the last teams out of the NCAA tournament field currently, according to ESPN.
In preparing for its matchup against Oregon State on Sunday, coach Cori Close said it is important for her team to execute its game plan and to match Oregon State's desperation with focus and preparation.
"They are coming together at the right time," Close said. "They are talented. They are leading the conference in 3-point shooting percentage. They are playing for their lives to get into the NCAA tournament."
The Beavers are shooting 41.6% from beyond the arc in conference play, seven percentage points ahead of the Bruins' 34.5% in the Pac-12.
The Bruins completed their final scheduled Pac-12 road trip this past weekend, but the circumstances this year have made traveling less desirable, according to Onyenwere. COVID-19 protocols have limited what teams can do on the road.
Onyenwere said the limited interactions she has with her teammates and the lack of activities that they would normally do make the trips feel longer.
"It always feels like when we come home, we have been gone for two weeks," Onyenwere said. "It definitely makes the days longer when you are just sitting in your room or just watching Netflix."
However, Close continues to commend her team for remaining devoted to each other and to the season and for making sacrifices.
"I think I have seen consistency in the right things," Close said. "They have had consistency in selflessness and putting the team first, and they have had consistency in willing to be challenged and to grow every day."
As the regular season begins to come to a close and the team prepares for the NCAA tournament, Close said that she cares most about relishing the process of what it takes to become great.
UCLA is scheduled to take on Oregon on Friday at 5 p.m. and Oregon State on Sunday at 1 p.m. at Pauley Pavilion.
Coach of the Year Finalist
This week, Close was one of 15 coaches to be named as a finalist for the Naismith Women's Coach of the Year Award after becoming the third coach in program history to achieve 200 career wins earlier this season.
Close said that she appreciates being recognized among reputable coaches.
"I am really grateful for the opportunity, but my goodness, my peers are so amazing," Close said. "To be in that group is humbling but also inspiring."
Redshirt junior guard Chantel Horvat, who has made appearances in only two-thirds of the games this season because of injury, said the sacrifices that Close has made for the team and her dedication and commitment to the players as individuals is highly regarded.
"I know I speak for a lot of girls when I say this," Horvat said. "Coach Cori is just a phenomenal woman, and we all look up to her."
Onyenwere, who was 10-of-24 from the field and scored 25 points in UCLA's win over Utah, echoed what Horvat said and also expressed her appreciation for Close's loyalty.
"I am super grateful that coach Cori is someone I can trust," Onyenwere said. "My experience has been something I wouldn't trade for anything."
Chen is currently a Sports contributor on the beach volleyball beat. She was previously a contributor on the women's basketball and women's volleyball beats.
Chen is currently a Sports contributor on the beach volleyball beat. She was previously a contributor on the women's basketball and women's volleyball beats.