Opinion: Adherence to COVID-19 guidelines imperative to protecting homeless population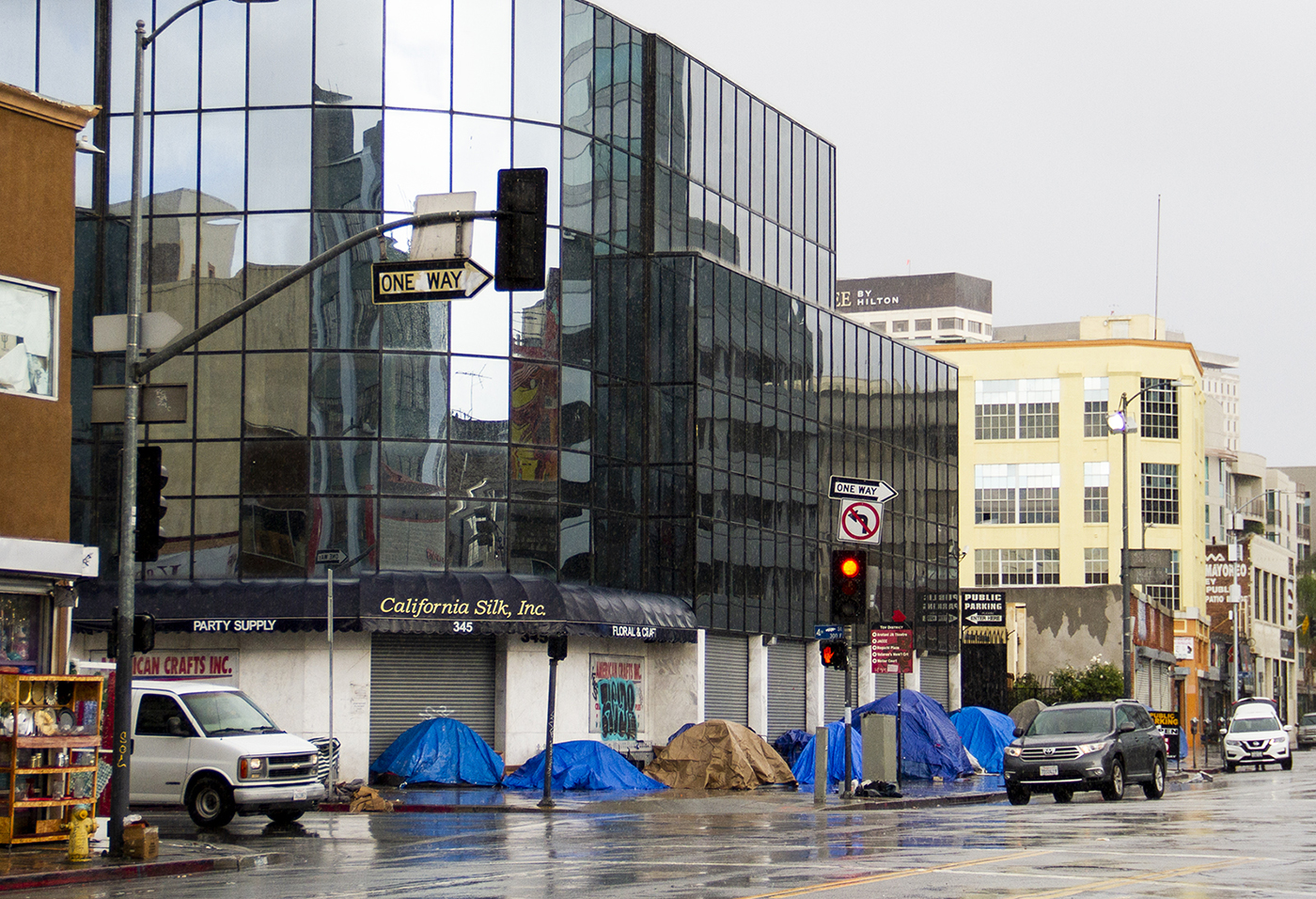 COVID-19 infection rates in Los Angeles may be falling, but that's no excuse for Angelenos to stop following public health guidelines. In what may be the last months of the pandemic, Angelenos should remain alert and aware, especially for the sake of people experiencing homelessness. (Daily Bruin file photo)
COVID-19 guidelines may have changed for Los Angeles County, but the virus is still very much a threat.
LA County has seen a total of more than 1 million cases of COVID-19 since the start of the pandemic. That is about one-third of all COVID-19 cases in California.
Unfortunately, some seem unable to grasp the dire reality of this situation.
Christian missionary and activist Sean Feucht held a series of events throughout LA County from Dec. 30 to Jan. 1. These events, some of which occurred in Central City, drew crowds of up to 2,200 with few wearing masks or following physical distancing guidelines, openly defying the state's lockdown orders during that time.
By holding an event of this magnitude, Feucht showed a blatant disregard for the lives he endangered, demonstrating the kind of behavior that will allow cases to continue to spike.
Angelenos need to consider the effects their actions can have on others – especially those who may not have the privilege of protecting themselves against the virus. Even as businesses are reopening, new cases are falling and more people are getting vaccinated, Angelenos need to remain diligent when it comes to following COVID-19 guidelines.
Someone's First Amendment rights should not come at the cost of public health.
Eugene Volokh, a First Amendment law professor at the UCLA School of Law, said regardless of the religious nature of Feucht's concert, its defiance of COVID-19 guidelines would likely not be constitutionally protected.
Some may argue that Feucht and the attendees of this event were simply practicing their right to worship freely. However, there is a stinging irony to the fact that a crowd of thousands could gather for Feucht's "party of all parties" while COVID-19 cases continue to climb among the most vulnerable populations and food insecurity rates skyrocket because of the pandemic.
More worryingly, this concert has set a dangerous precedent for LA County that COVID-19 protocols are more of a suggestion than a law.
"If the city declines to enforce the rules against one kind of speaker, one kind of concert, let's say, (it) may make it harder to enforce the rules against another," Volokh said.
Perhaps it isn't surprising then that Grace Community Church, an evangelical megachurch in Sun Valley, California, planned on hosting an in-person conference for men involved in the evangelical church before LA County and the state of California's threats coerced them into postponement. Last year, the conference drew large crowds as seen in recordings from the event.
Angelenos must continue to abide by COVID-19 guidelines. Otherwise, lower-income populations and people experiencing homelessness will continue to bear the disproportionate burden of the pandemic's challenges – and those indifferent to the troubling experiences of others.
The Centers for Disease Control and Prevention considers people experiencing homelessness to have an increased risk of becoming infected compared to those who aren't experiencing homelessness. This is a result of the communal nature of many homeless services and the fact that many of the people experiencing homelessness are older adults or have underlying medical conditions. In Los Angeles alone, nearly 7,000 homeless individuals have tested positive for COVID-19.
It also doesn't help that LA's homelessness crisis was making headlines even before the pandemic. Between 2019 and 2020, the county's homeless population grew by a whopping 12.7%.
Marina Faragalla, a biochemistry and biomedical research alumna, works with the personal protective equipment management division of LA COVID Volunteers, a community service organization that provides resources to people deeply impacted by the pandemic. She said since so many places were closed because of the pandemic, people experiencing homelessness are less able to access vital resources.
One of these vital resources is food.
Christine Mavilian, the food corps coordinator for LACV, said her experience working with LACV has shown her how important it is to recognize that homelessness is a daily struggle.
"Hunger doesn't stop just because there is a pandemic," said Mavilian, a physiological sciences graduate student.
In fact, hunger and food insecurity have increased as a result of the pandemic. According to the Los Angeles Regional Food Bank, approximately one in five Angelenos experienced food insecurity before the pandemic. Now, about one in four face food insecurity.
That being said, LA County officials are doing their part to keep Angelenos safe. A motion passed by LA City Councilmember Paul Koretz allows more city employees to issue tickets to individuals not wearing masks in public.
But this is just one step toward safeguarding Angelenos' health.
What a lot of people in LA need more than hand sanitizers and masks is assistance getting food and help with everyday tasks, Faragalla said.
While the county can certainly do more in the way of working with community organizations that help marginalized communities make ends meet during the pandemic, it's up to Angelenos to stop the spread – if not for themselves, then for others.
Adherence to COVID-19 guidelines in what may be the home stretch of the pandemic is essential. Let's hope Angelenos recognize this.