Gymnastics ends win streak with narrow loss to Utah despite season-high score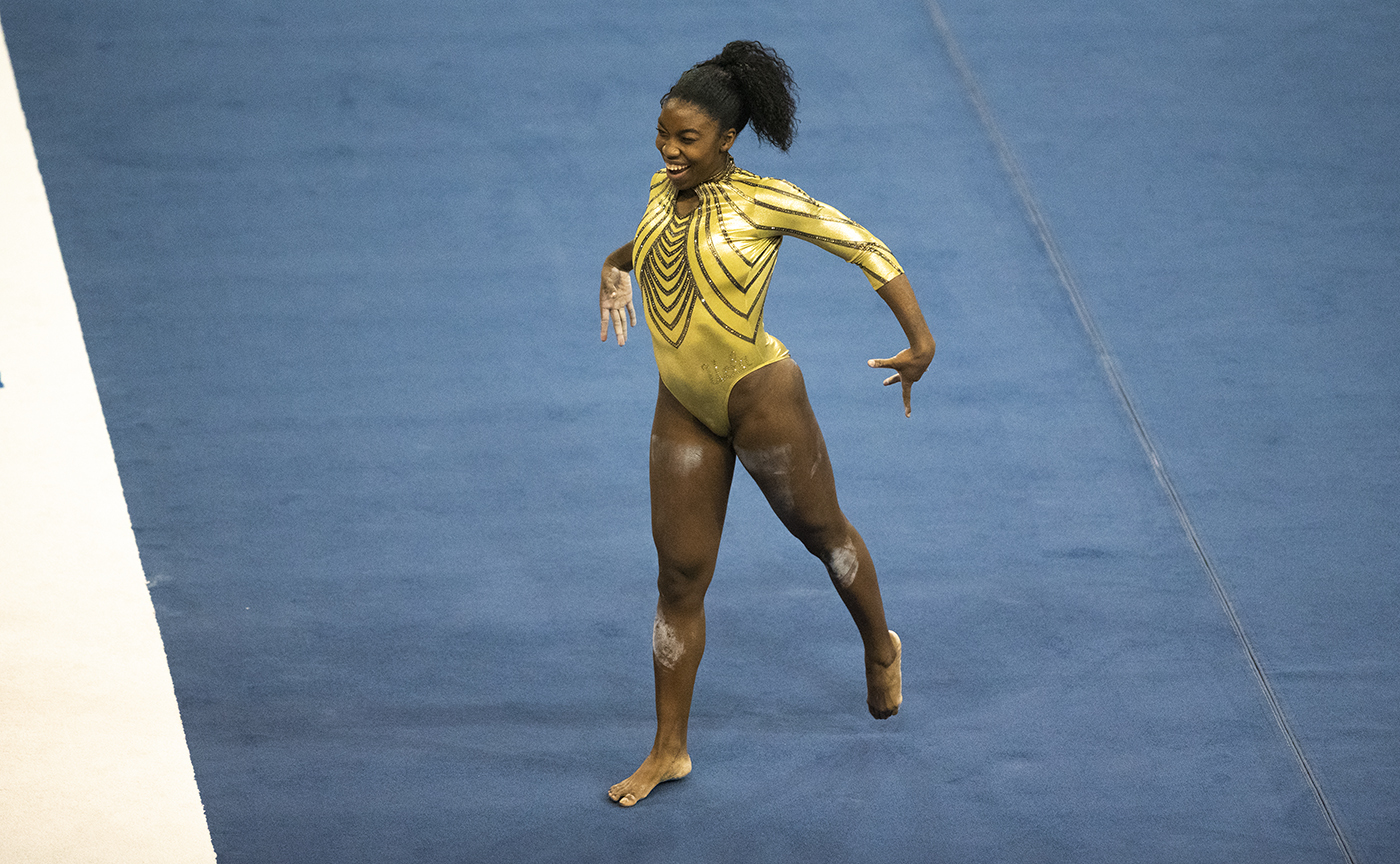 Earning her second all-around win of the season, freshman Chae Campbell scored a 39.425, including a meet-high 9.950 on the floor. (Kanishka Mehra/Photo editor)
Gymnastics
---
| | |
| --- | --- |
| No. 14 UCLA | 197.100 |
| No. 3 Utah | 197.225 |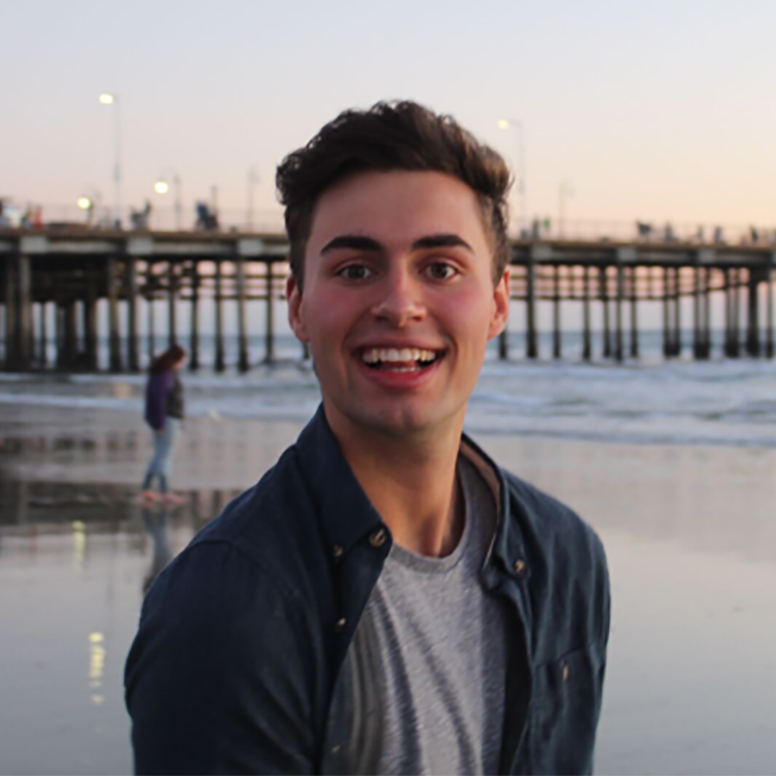 This post was updated Feb. 25 at 7:42 p.m.
The Bruins posted a season-high score, but it wasn't enough for the win.
No. 14 UCLA gymnastics (4-1, 3-1 Pac-12) fell to conference rival No. 3 Utah (7-1, 4-0) 197.225-197.100 despite having an individual win in three of the four rotations as well as earning the all-around award. It was the Bruins' third meet in 10 days and the first time this season the team cracked the 197-point threshold.
UCLA led by 0.050 with only Utah's Sydney Soloski left to perform. Soloski iced the win for the Red Rocks, as her routine scored a 9.925, the second-highest score on the event in the meet.
Coach Chris Waller said the rivalry meet reincarnated his team's competitiveness.
"I was really, really inspired by the team tonight," Waller said. "A whole bunch of fierce competitors were reawoken in this meet and you could feel them battle. It was fun, but they were fierce, they wanted to win and fought until the very end."
Even with the team recording above its season average on the uneven bars with a 49.100, UCLA trailed after the first rotation with Utah scoring a 49.300 on vault. Freshman Sara Ulias rebounded from a fall in the last meet and scored a career-high 9.875 on bars, while senior Nia Dennis anchored and earned the event win for the rotation with a 9.900.
On vault, the Bruins again proved they don't need to run out a sixth vaulter to be successful. The team scored a 49.175, and while no UCLA gymnast scored higher than junior Margzetta Frazier's 9.875, none scored lower than a 9.800 either. The performance was a marked improvement from the 48.950 the Bruins scored against the Huskies.
Senior Pauline Tratz scored a 9.825 on vault and tied her season-high of 9.900 on floor where UCLA finished with a 49.400. Freshman Chae Campbell scored a career-high 9.950, the team's highest score of the night.
SHE DID THAT 🔥 @chae_2001 @uclagymnastics freshman Chae Campbell put up a career-high 9.95 on floor: pic.twitter.com/UHr8qCnyXe

— espnW (@espnW) February 20, 2021
After a rare fall by Utah anchor Abby Paulson on beam, Dennis had the chance to help the Bruins cut into the Red Rocks' lead, but the All-American stepped out of bounds on her first pass and received a 9.725. Dennis left the floor following her routine, went to the tunnel and did not return.
With Utah's lead at .100 going into the final rotation, Campbell said the team understood the opportunity and used the added pressure as motivation.
"We knew that we had to pull out one of the best beam rotations of our lives," Campbell said. "Going (into the event) we told each other that we would do it for each other and as long as we (did) that, our gymnastics would be there. We know that our gymnastics is good enough to beat the very best, and as long as we lean into each other, we know we're going to perform."
Sixth-year senior Nicole Shapiro made her season debut, replacing Dennis on beam. Shapiro hit her routine scoring a 9.725 despite a slight wobble when the senior managed to stay on the beam and avoid a fall, which drew applause from her team.
After Shapiro finished her routine, Frazier rushed over and got in her face.
"I told her she was a beautiful beam worker, and I knew she had it," Frazier said. "I was just screaming a lot. I gave her a hug and she was so happy. She gave me a hug before beam, and I just gave her so many words of praise."
UCLA would go on to put up a season- and meet-high 49.425, with Frazier scoring a career-high 9.925 in the apparatus. Junior Samantha Sakti bounced back from two consecutive falls to earn a 9.900 and Campbell chipped in a 9.850.
Waller said his team embraced the comeback mentality needed heading into the beam rotation.
"We leaned into the competition," Waller said. "We knew where we were at. We knew that we had to crush it on beam to win this thing. For (Sakti) to go out there and have one of her best routines at UCLA, that was a huge breakthrough for her. That wasn't luck."
The meet marked the first time this season the Bruins surpassed a 49.000 on all events.
UCLA will return to Pauley Pavilion on Feb. 27 to host Oregon State.
Edgar is currently a Sports reporter on the gymnastics beat. He was previously a contributor on the men's tennis beat.
Edgar is currently a Sports reporter on the gymnastics beat. He was previously a contributor on the men's tennis beat.