Grand theft auto cases nearly double in West LA since beginning of pandemic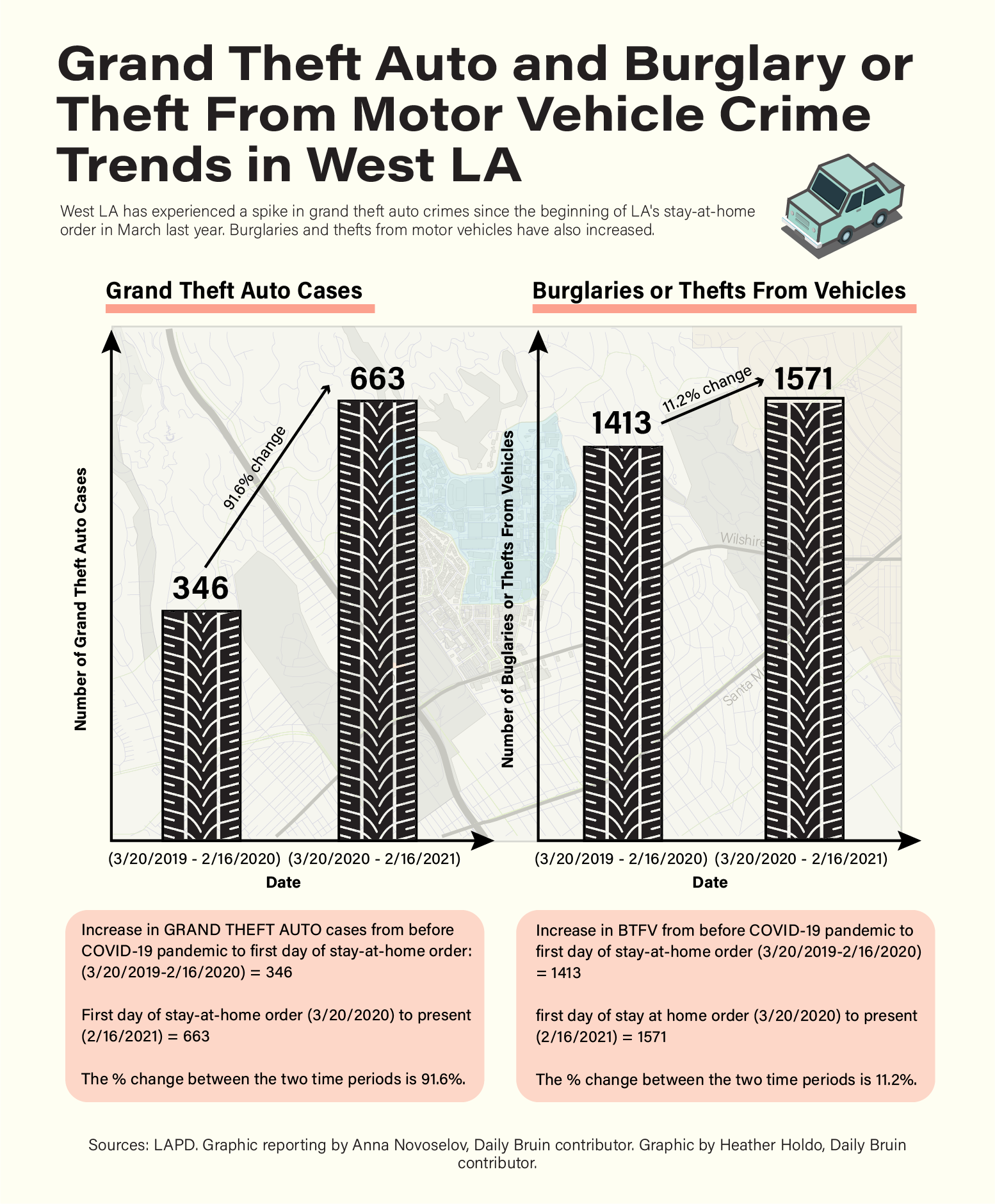 Grand theft auto and motor vehicle break-ins in West Los Angeles spiked since the onset of the COVID-19 pandemic in March.
According to data from the LAPD, there were 663 reported grand theft auto cases in West LA from March 20 to Feb. 16, compared to 346 from the same period last year. Cases of motor vehicle break-ins increased by 11.2% over the same period.
Ryan Whiteman, acting captain of the West LA Division of the LAPD, said the spike in vehicular-related thefts may be attributed to the implementation of $0 bail initiatives in LA County.
The LA County Superior Court enacted a $0 bail for nonviolent felonies and most misdemeanors last March to slow the spread of COVID-19 in jails, according to a Superior Court press release.
"The individuals that are reoffending aren't spending any significant time in jail," Whiteman said. "There's no consequences for behavior, and if they are able to commit a crime and get cited out, they're willing to take a chance of doing it again and again."
However, there is not enough data to conclude that the $0 bail initiatives are the cause of increased crime rates, said Alicia Virani, director of the UCLA Criminal Justice Program.
"Law enforcement frequently tries to say that crime rates have gone up for any number of (reasons), tying it to any number of criminal justice reforms, but generally that linkage has not played out," she said.
Other factors, such as economic challenges, increased rates of homelessness and unemployment due to the COVID-19 pandemic may be contributing to the increased crime rates, Virani said.
Decreased traffic on the streets may also be behind increased motor vehicle theft, said Michael Skiles, president of the North Westwood Neighborhood Council.
"The lack of people around is what creates opportunities for criminals to try to steal cars," he said. "We're hoping crime rates go back down once COVID-19 restrictions are lifted and human behavior goes back to normal."
The rising price of catalytic converters, an emissions-control device that contains precious metals like palladium and rhodium, could be another reason motor break-ins have spiked, Whiteman said. According to The New York Times, a person could remove a catalytic converter from underneath a car in minutes, then sell it for several hundred dollars on the black market.
To combat the increase in crime, the LAPD conducts a crime analysis to determine where crime is occurring and then allocates resources like increased high visibility patrols to those areas, Whiteman said.
The department also tries to communicate security information through its social media platforms and to community watch groups, businesses and neighborhood councils, he said.
"We use that as a force multiplier to try to get information out to deter (crime) and harden targets for crime," he said.
Whiteman said two distinct issues make West LA prone to grand theft auto and motor break-ins: delivery drivers leaving their cars running while dropping off orders and tandem parking.
Often, people leave their keys inside one or both of the cars parked in tandem spots so their roommates can move them, Whiteman said. Around 45% to 50% of the vehicles stolen in West LA in the past year were left unlocked with the keys inside, he said.
The Automobile Club of Southern California recommends drivers roll up their windows and park their cars in a garage or well-lit area, said Marie Montgomery Nordhues, an ACSC public relations officer. If they need to park on the street, drivers should invest in a device that locks the steering wheel or install a theft tracking device, she said.
Scott Alpert, an LAPD community relations officer, said in an emailed statement that people should lock their vehicles, take their keys out and hide valuables out of sight to decrease their chances of becoming victims.