Scouting Report: UCLA vs. Utah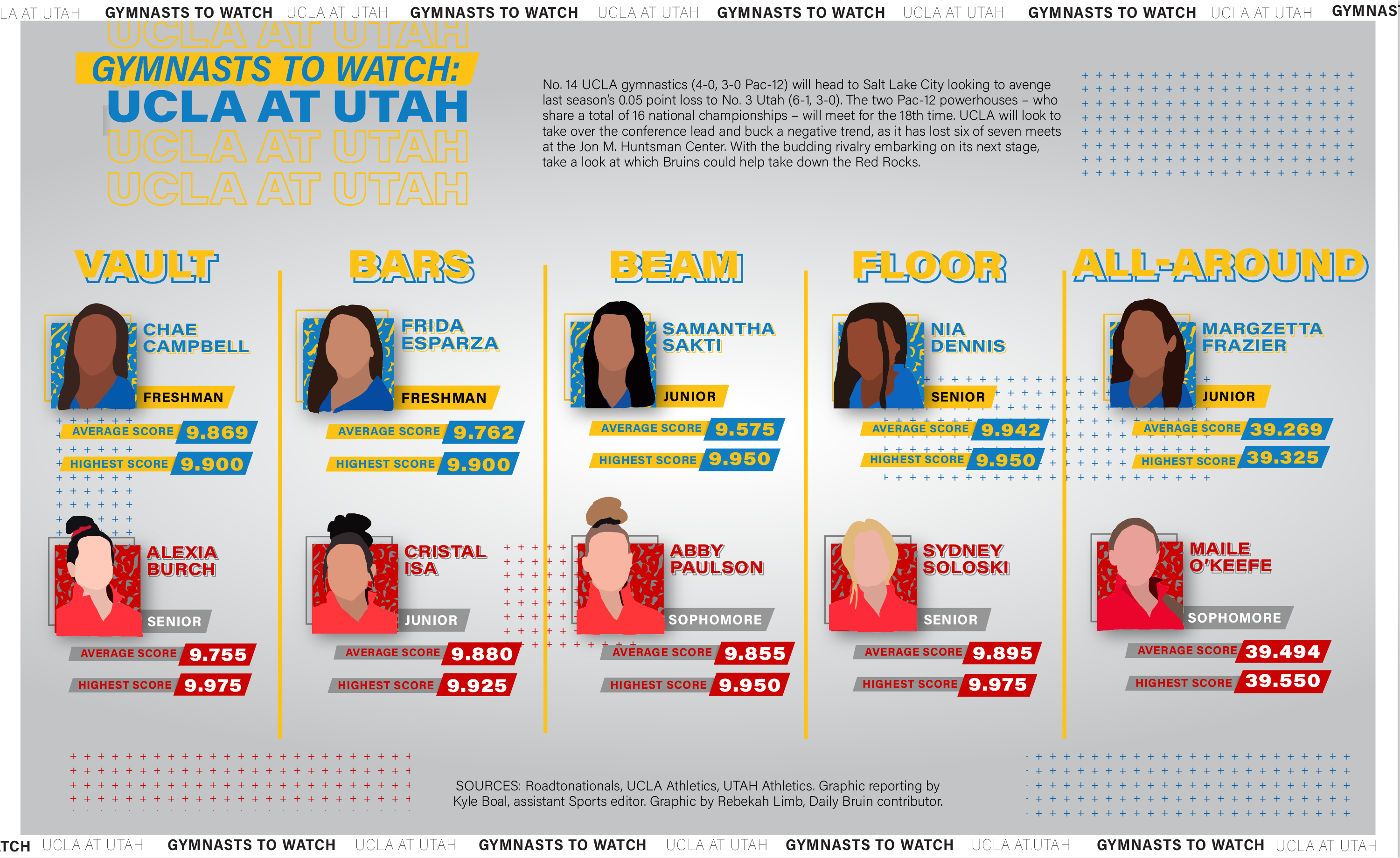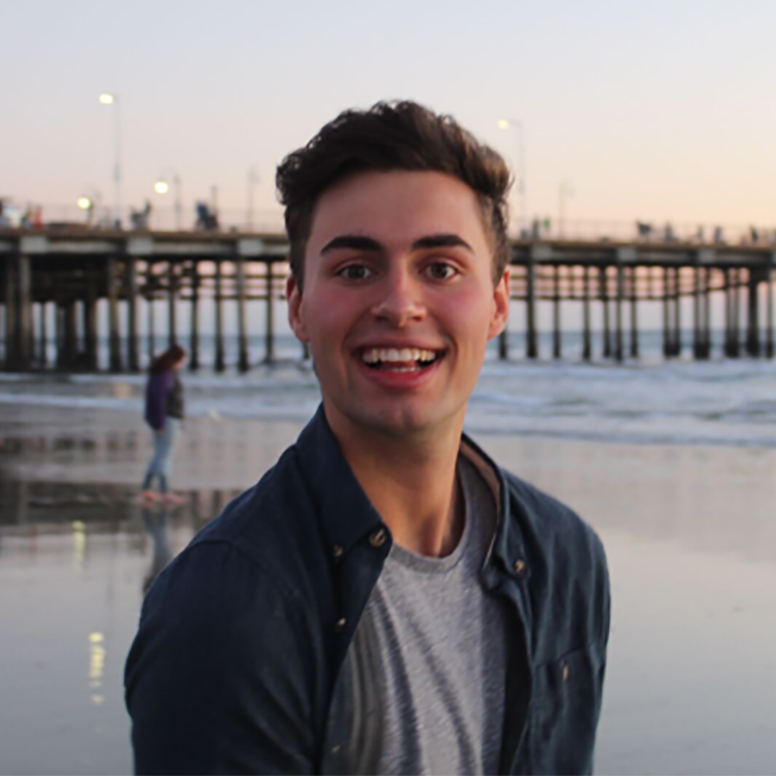 Correction: The original version of this article incorrectly stated UCLA did not have a vaulter with a 10 starting value. In fact, UCLA has one vaulter with a 10 starting value.
This post was updated Feb. 18 at 12:29 p.m.
No. 14 UCLA gymnastics (4-0, 3-0 Pac-12) will put its perfect record on the line when it heads to Salt Lake City for a clash with No. 3 Utah (6-1, 3-0). Can the young Bruins score an upset in freezing cold Utah and avenge last February's loss? Here is the first-ever gymnastics scouting report by Sports contributor and renowned Salt Lake native Nico Edgar – who happily took the opportunity to scout his Utes.
University of Utah Red Rocks
Strength: Beam
Weakness: Bars
X-Factor: 9.900+ scores
If there is one word to describe Utah's performance so far this year, it is consistency.
The third-ranked Red Rocks have tallied only one event score lower than a 49.000 this season, a 48.975 back on Jan. 17.
Since then, all of Utah's scores have fallen in the 49.200-49.575 range, with the beam rotations coming in as its strongest event. The Red Rocks rank third in the nation on beam and average a 49.290, while that average jumps to 49.360 over the past three meets.
Sophomore Maile O'Keefe leads the Red Rocks on beam, where she checks in at No. 2 nationally with an average of 9.93. O'Keefe registered the only perfect 10 on beam in the NCAA this season and has been crowned the Pac-12's Gymnast of the Week three times in 2021 to go along with her 10 event wins.
UCLA's beam lineup, which is ranked 17th in the nation, will have to go up against Utah's Abby Paulson. The sophomore scored a perfect 10 on her beam routine when the teams met last season, securing the win for the Red Rocks in Pauley Pavilion. The sophomore ranks No. 29 on the apparatus but has scored back-to-back 9.95s.
For the Bruins to make beam competitive, junior Samantha Sakti will need to return to form. After ranking third in the nation heading into last week, falls on her past two routines dropped her to 280th.
In addition to Paulson, the team has two more Pac-12 Specialists of the Week in its ranks. Senior Alexia Burch's 1.5 Yurchenko on vault and senior Sydney Soloski's first pass double layout on floor bolster the lineups where Utah ranks 6th and 4th, respectively.
https://twitter.com/UtahGymnastics/status/1355737533775106050?s=20
Burch has recorded three event wins, with her performance inching upwards. After failing to hit in Utah's second meet, the vault specialist notched a 9.9, then a 9.925 and most recently a 9.975. Excluding her 9.125, Burch's 9.9125 average would be good for third in the nation.
Floor-specialist Soloski matches Burch's three event wins as well as her season-high of 9.975. Soloski – who performs to a "Mi Gente" remix – hasn't scored lower than a 9.9 since the Red Rocks season opener and ranks 17th in the nation on the event.
The Bruins will look to have All-American senior Nia Dennis counter Soloski on floor. The senior ranks higher than Soloski at No. 4, but her season high is lower at 9.95.
With UCLA not having a single vaulter with a 10 starting value and running out five vaulters in three of four meets, matching up with Utah's vaulters will be challenging. Freshman Chae Campbell may represent UCLA's best hope for a standout score in the rotation, but her season high of 9.9 would only tie for second-best in Utah's lineup.
If the Utes have a weakness, their bars lineup is as close as it gets.
Coming in at No. 8, the bar rotation has yet to eclipse a 49.300 for Utah. Junior Cristal Isa anchors the lineup, and like Burch, the 14th-ranked, two-time event winner is rounding into form.
After averaging a 9.858 in the season's first three meets, Isa has recorded two consecutive scores of 9.900 or higher.
Freshman Frida Esparza and junior Margzetta Frazier will challenge the Red Rocks on the uneven bars, where UCLA's season high comes in at 49.1250. Frazier scored a season-high 9.925 on bars in the Bruins' most recent meet, while Esparza has recorded two 9.9s.
While Utah didn't count a score in any event lower than a 9.825 in its last appearance, the Red Rocks only performed two scores higher than a 9.95 and have only six such scores total.
If Utah fails to register high-end scores, and UCLA gets standout performances across all events, the Red Rocks' consistency could be for naught, and the Bruins may topple their Pac-12 rival.
Edgar is currently a Sports reporter on the gymnastics beat. He was previously a contributor on the men's tennis beat.
Edgar is currently a Sports reporter on the gymnastics beat. He was previously a contributor on the men's tennis beat.