Opinion: UC should acknowledge, denounce human rights abuses in India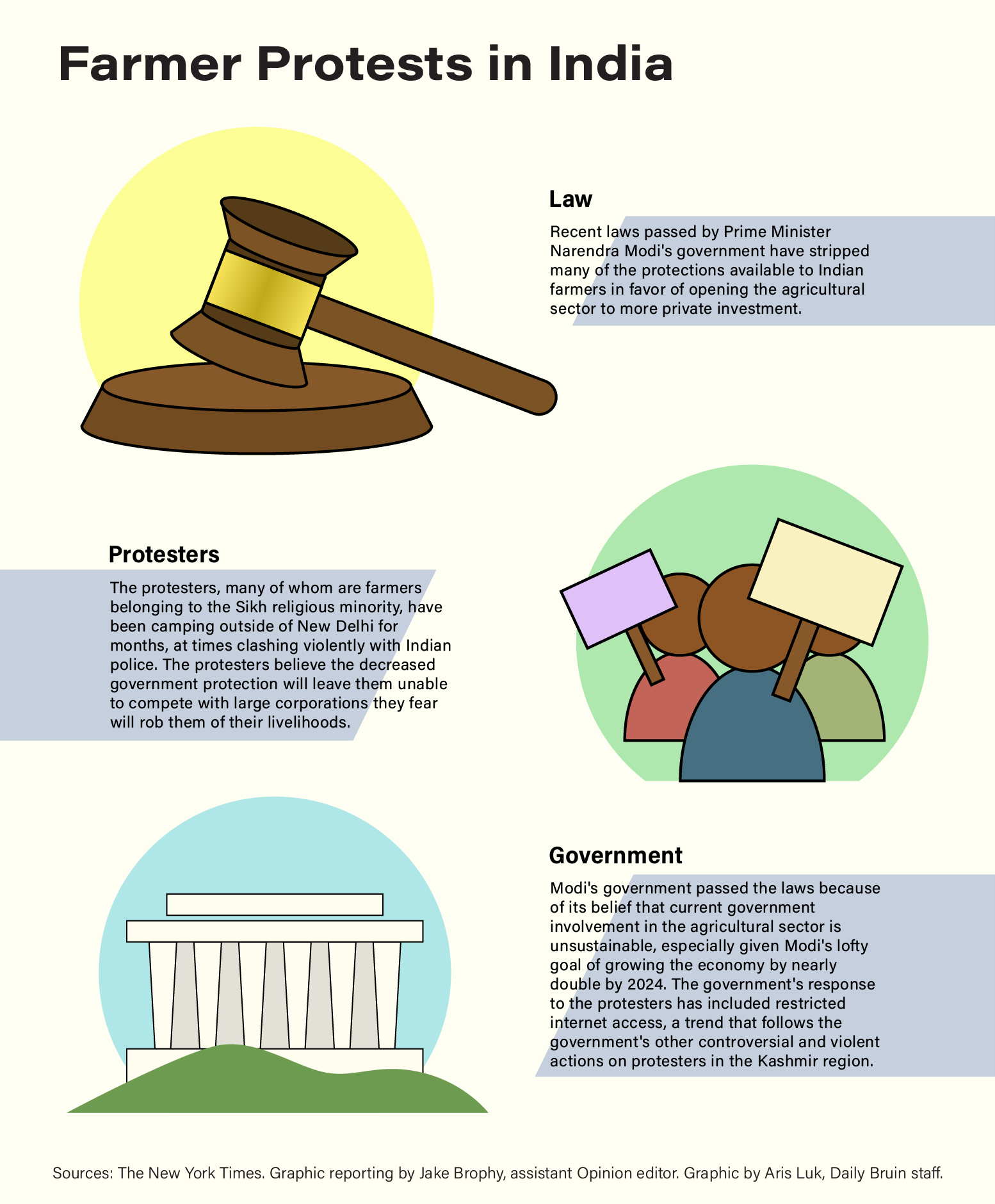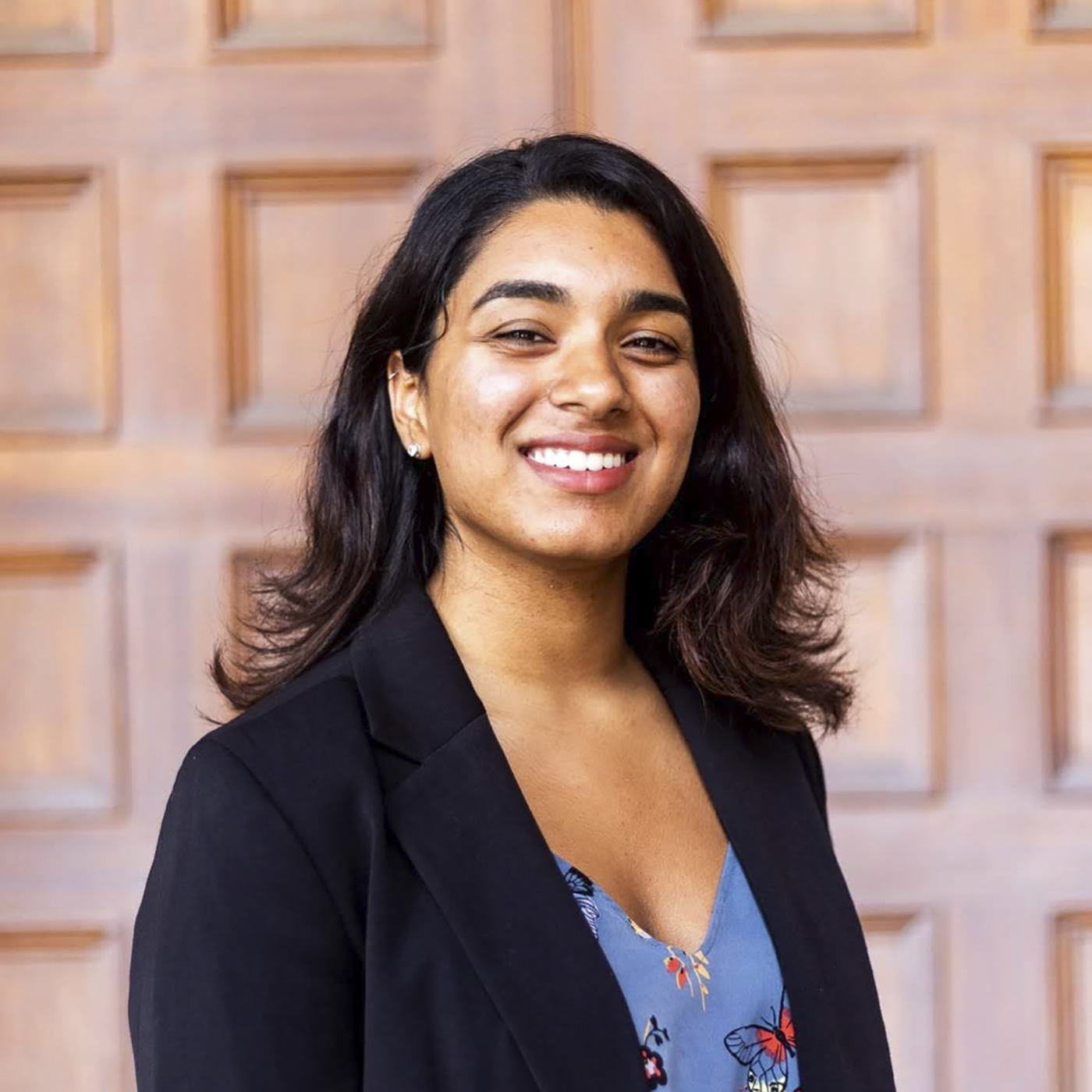 Speaking out against human rights abuses shouldn't be confined within national borders.
And as an internationally renowned institution of higher learning, the University of California has a responsibility to denounce injustice anywhere, especially when it affects its students.
Farmers in India, many of whom are members of the Sikh religious minority and from the states of Punjab, Haryana and Uttar Pradesh, have held peaceful demonstrations to demand the repeal of three agricultural laws passed in September.
Prime Minister Narendra Modi has claimed the laws will modernize India's farming. However, farmers argue that removing state protections will leave them at the mercy of large corporations.
The violent crackdown on protests has escalated since then. In late January, police used tear gas and batons against demonstrators as thousands protested at New Delhi's Red Fort. One protestor died while over a hundred are still missing. In response, the government blocked internet access in many districts.
Amnesty International, a human rights organization, stated that authorities have wrongfully detained protestors and journalists and blocked access to protest sites by using metal barricading. Furthermore, there are concerns about the spread of disease outside of the COVID-19 backdrop, as police have blocked access to portable toilets and clean-up crews at protest sites.
As many organizations and world leaders publicly condemn India's crackdown, the UC must also voice its opposition to Modi's violent treatment of protestors. The UC's name carries international weight, and it would be a shame not to use it for the better.
But words can only achieve so much. California is home to a major Punjabi agricultural community that has already staged rallies in support of farmers in India. Punjabi students within the UC have also spoken out against the unlawful detainment of protestors. Thinking the issue doesn't have a direct impact on the UC community is naive – and action from administrators is crucial, if not imperative.
This is not just an Indian issue. It's one of human rights.
To grasp the full impact of these laws, one has to examine just how important agriculture is to the Indian economy.
More than 60% of India's population relies on agriculture for their livelihood. Yet, 68% of farmers own less than one hectare of land and in some areas, the average annual income for farming families is equivalent to $271 USD.
India has one of the highest rates of farmer suicide globally, with more than 10,000 deaths reported each year. Experts fear these laws could exacerbate the suicide epidemic as they would allow large corporations to manipulate prices through crop hoarding and do away with protections for farmers, such as a guaranteed minimum support price.
Pro-government media propaganda has tried to label the farmers as terrorists and secessionists.
"They've cut off the Internet, water supplies and food supplies to the farmers who have been there for three and half months," said Vinay Lal, an Asian American studies and history professor. "What the government is doing here is basically nothing short of behaving like a completely totalitarian state."
Farmers, activists and students across the world have held rallies in solidarity. As everyday people take the initiative to support farmers' protests, it is important that the UC voice its support, as well as offer financial and mental health resources to affected students.
"I am encouraged, however, by … our generation and the historical and transnational connections that people are starting to make about, in this case particularly, how racial capitalism has really structured the way that our world works and how much it is harming people on a very basic level," said Harleen Kaur, a sociology graduate student.
Acknowledging this conflict could go a long way toward validating students' struggles. Furthermore, resources such as prayer spaces and specialized mental health services could provide important support to those who are grappling with the intensity of the situation.
One might argue that the United States – and the UC – have no role to play in this international affair. History says otherwise. In the 1960s and '70s, the Green Revolution, backed by advisers from the U.S. and other countries, destroyed the soil and plunged many farmers in India into a debt crisis that continues to this day.
"And so in a way, it's not just an internal matter – India's agricultural sector has been fundamentally shaped by U.S. imperialism and U.S. foreign policy," said Kanwalroop Singh, a UCLA Law School alumnus.
It's important for the UC to recognize that as far away as the conflict might seem, there are intricate historical ties that connect our country with what's happening in India. The UC cannot look the other way; it has an obligation to acknowledge these ties and do what it can to support its students.
There is simply no passive middle ground when people's freedom and lives are at stake.
Bal is a 2021-2022 assistant Opinion editor. She has been a columnist for four years, covering stories from UCLA student life to California politics. She is currently a fourth-year political science and sociology student.
Bal is a 2021-2022 assistant Opinion editor. She has been a columnist for four years, covering stories from UCLA student life to California politics. She is currently a fourth-year political science and sociology student.