Women's volleyball sets sights on improved serving in light of shifting lineup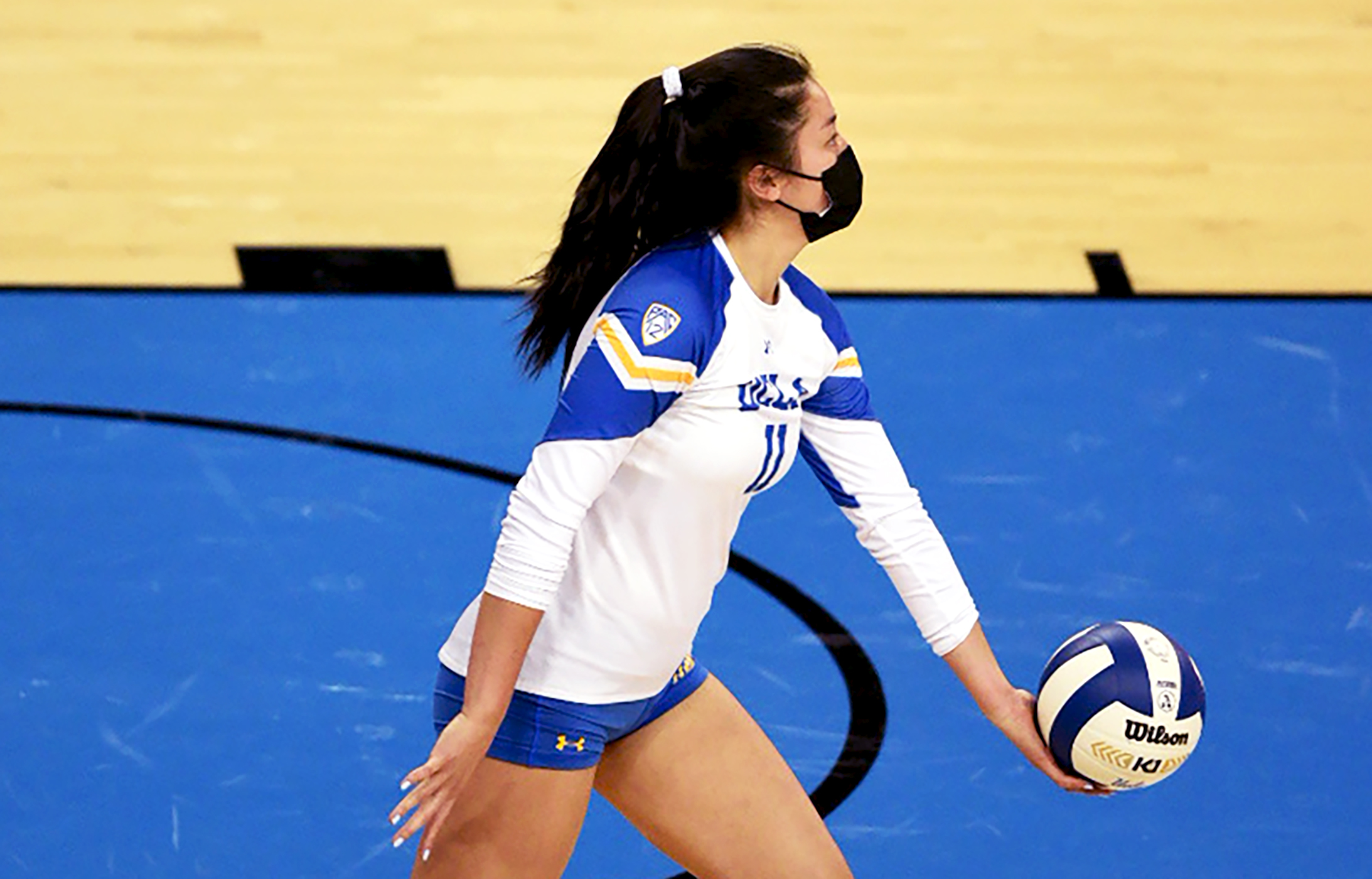 After recording 146 assists in seven games this season, junior setter Devon Chang missed the second game of No. 15 UCLA women's volleyball's doubleheader against No. 10 Washington because of an injury. (Ella Barnes/Daily Bruin)
The Bruins will need strong serving in the absence of their starting setter, according to their head coach.
After losing starting junior setter Devon Chang to an apparent leg injury Friday, No. 15 UCLA women's volleyball (5-3) was forced to slide freshman setters Kate Lane and Audrey Pak up the depth chart in its Sunday loss to No. 10 Washington (6-2). Despite this, coach Michael Sealy said it was the Bruins' serving that set up UCLA for the loss.
"We're not as effective as we were on Friday with our serving," Sealy said. "We weren't keeping them on their heels. They had more of a chance to learn our offense. That was a struggle."
Redshirt junior middle blocker Emily Ryan stayed positive in light of Chang's absence and reiterated the importance of winning the service game as the Bruins continue their season. Despite the inexperience of the rookies, Ryan said the team knows any of its setters have the potential to still make a difference.
"We have three other great setters that have been working super hard and have been following in (Chang's) footsteps which is really nice to see," Ryan said. "I would say definitely working on our serving to serve tougher like we did on Friday."
This year, UCLA is ranked 11th in the Pac-12 in service aces per set with 1.16. Below them at 12th is California, the only school the Bruins have been able to sweep in their doubleheader against this season. Consequently, UCLA also lost to Washington in the side-out battle Sunday – a stat measuring the number of times the serving team fails to score and forfeits their possession.
Junior transfer and defensive specialist/libero Zoe Fleck echoed Sealy and Ryan's comments about the Bruins' serving Sunday. Fleck herself ended the game with zero service aces, despite being second on the team in the stat on the season.
"We didn't serve as tough and so they were kind of able to do whatever they wanted with their offense," Fleck said.
Without Chang for an unspecified amount of time, UCLA will have to address its status at the setting position as well.
As the Bruins continue to shift around their lineups, Sealy said there will be a learning curve for his team.
"Obviously with (Chang) being out … (Lane and Pak) did everything they could," Sealy said. "It's just going to take some time for people to get used to the different rhythm of having a new quarterback out there."
Palmero is currently a Sports contributor on the beach volleyball and women's volleyball beats.
Palmero is currently a Sports contributor on the beach volleyball and women's volleyball beats.