Nicolas Saveljic makes a splash in men's water polo record books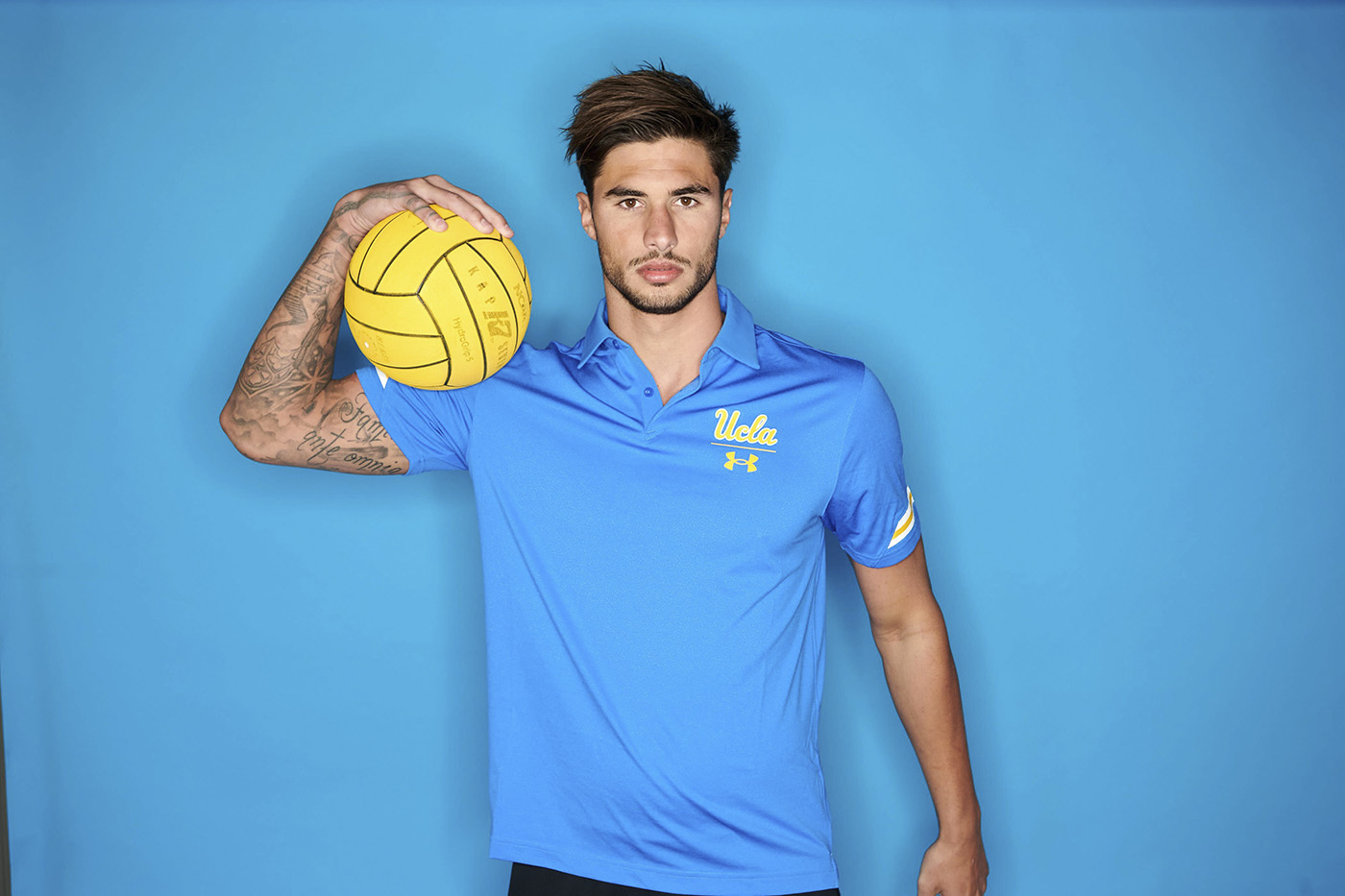 (Courtesy of UCLA Athletics)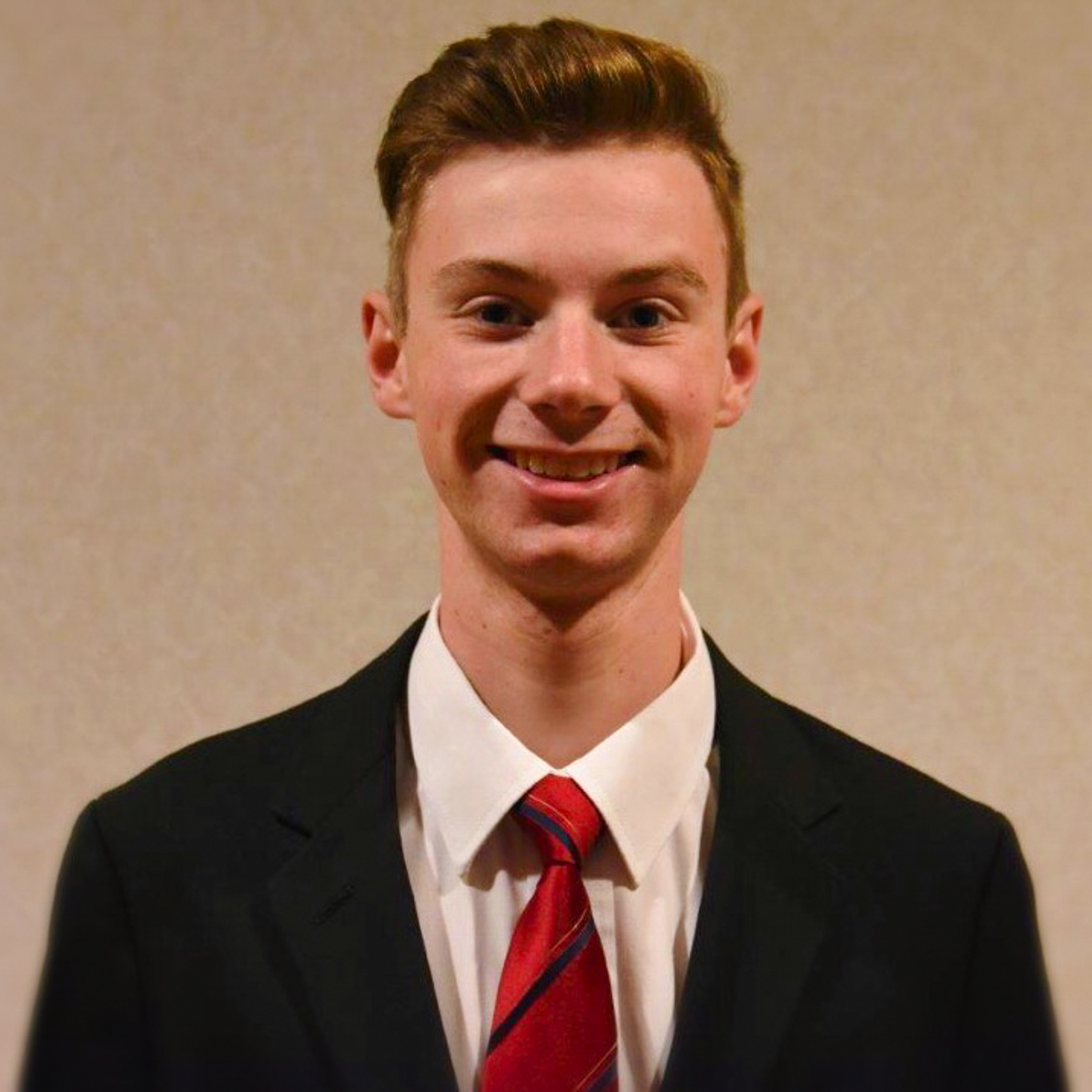 Nicolas Saveljic started as just a kid from Kotor, Montenegro, but will end cemented in Bruin history.
The UCLA men's water polo senior attacker inked his name into the record books by becoming No. 10 of all time in goals as a Bruin after a career performance at the USC Round Robin tournament took his goal tally to 146.
The seven-time Athletic Director's Honor Roll awardee netted a career-high eight goals Feb. 7 against Stanford – the most ever against the Cardinal by an individual player – and tied for the most ever by a player in a Mountain Pacific Sports Federation conference matchup. Saveljic was subsequently named UCLA Student-Athlete of the Week as well as MPSF/KAP7 Player of the Week – the second and third times he has earned those accolades in his career, respectively.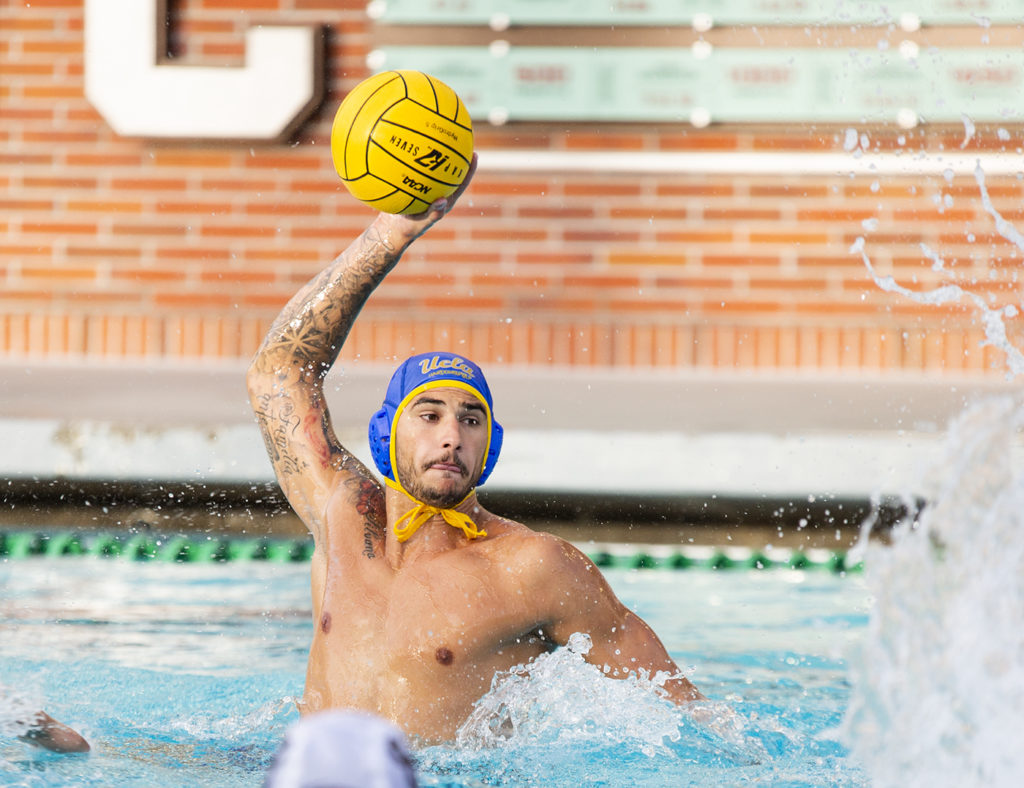 But things haven't always come so easy both in and out of the pool for Saveljic. Getting Saveljic to Westwood happened on pure chance, according to coach Adam Wright.
"I don't think he had really looked super hard into coming, and we really didn't know much about him – it all kind of quickly happened," Wright said. "I was watching a game in Belgrade, Serbia … and I jumped on the phone and started asking people about him. I followed through with people I know and got in contact with him (by email). I think for both of us, it was something that wasn't in our vision, but it ended up working out."
Born in France, Saveljic arrived at UCLA hardly speaking English, with no recruiting trip and the 2017 men's water polo season set to start in under a week.
Senior attacker Chasen Travisano – Saveljic's roommate for multiple years – said Saveljic was eager to immerse himself in the culture from the moment he arrived.
"He really wanted to learn English – he didn't come here just to play water polo, he came here to be a UCLA student. He came to be in the United States, and I think when you have the passion like that, such as he does, things come easy to you," Travisano said. "Come two years later, he's fluent in English and now he really has the bearings on American culture."
After leading the team in scoring both his freshman and sophomore years with 45 and 51 goals, respectively, Saveljic's goal total of 31 was good for third on the team in his junior year.
Saveljic said he is thankful for his coach for believing in him four years ago, and emphasized the team-first culture the Bruins value.
"I have to thank coach Adam Wright for bringing me here to the U.S. all the way from Montenegro … it's just, he always believed," Saveljic said. "He always believed in me. The eight goals (against Stanford) – it transpired from everything in practice, and just proved that we all got to believe and trust Adam because he really puts his life into this. We're just going to train hard and this, this is what happens. And if today was me, tomorrow is going to be someone else. It's everything about the team. We move forward as a unit."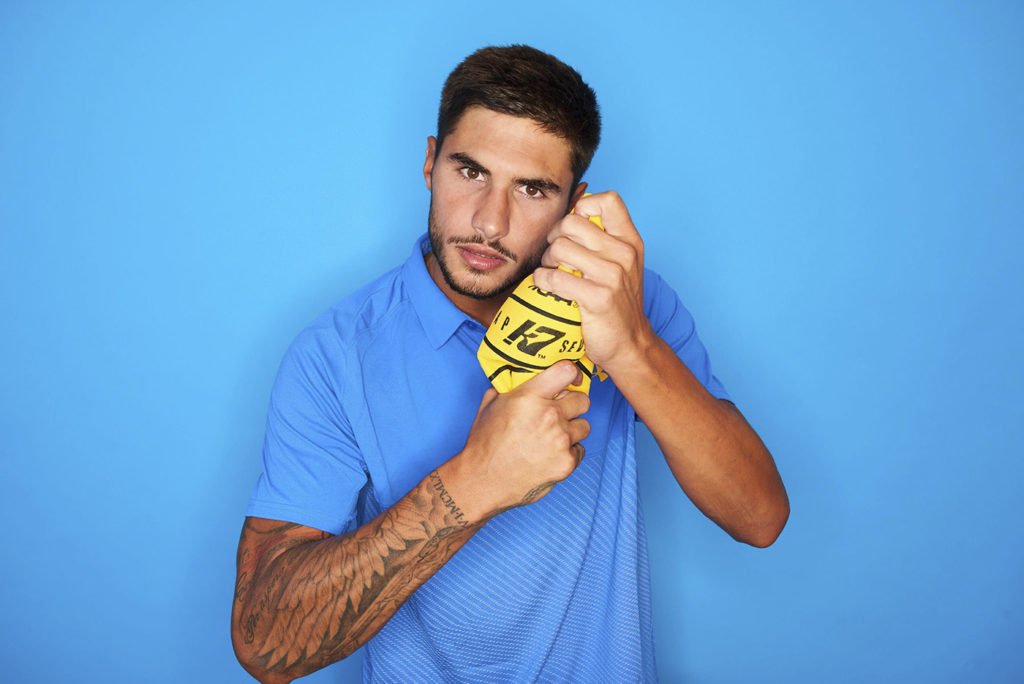 While the two-time All-American just cracked the bottom of the goals list, Saveljic already ranks No. 6 all-time for the Bruins in steals with 95 in his career. Finishing second on the team in steals last season, the senior had led the team in the two seasons prior.
Wright commended Saveljic's growth as a player and person over the years, hinting the 6-foot-6, 212-pound European has the potential to one day play on one of the world's biggest stages.
"This year, we're seeing really the evolution of his true abilities come out – I always said to him, 'If you could just train consistently at a high level, you have no clue just how far you can go,' because he is just such a unique and special talent," Wright said. "We've had plenty of other players that have gone on to be Olympians. So it has taken two, three years to see that full evolution and change as far as what we're asking from a specific individual. And we're seeing that now from Nicolas and it's paying off."
Saveljic comes from an athletic background. His dad was a former professional soccer player and is now the director of coaching at Santa Cruz Breakers FC, and his mom was a professional swimmer for more than 10 years. He said making his parents proud as a student-athlete means more to him than any individual accomplishment.
"I want to thank my family and all the people back in Montenegro, back in Europe, who really supported me this entire way and who believed in me," Saveljic said. "I get to make my family proud. It's nice to see your parents smile. It's flattering. I really enjoy making my family happy, and they really appreciate seeing the results of my hard work."
With the intention of staying in the United States after graduation, Saveljic received his permanent residency.
Currently studying to get his graduate degree in transformative coaching and leadership at UCLA's Graduate School of Education and Information Studies, Saveljic is the only graduate student on the team.
Travisano said this year Saveljic has taken his team leadership to the next level.
"Nick's taken a huge role in trying to advance the culture of the team as much as he can, and I think that just speaks to him just wanting to advance the culture and leave it in a better place, as we only have a year left of playing polo," Travisano said. "Especially for him, he's been playing since he was a kid. I mean, with everything UCLA has given you, you want to leave the culture in a better place than when you got here. I think that's kind of in his mentality, and he's for sure advanced the culture since we've been back in fall."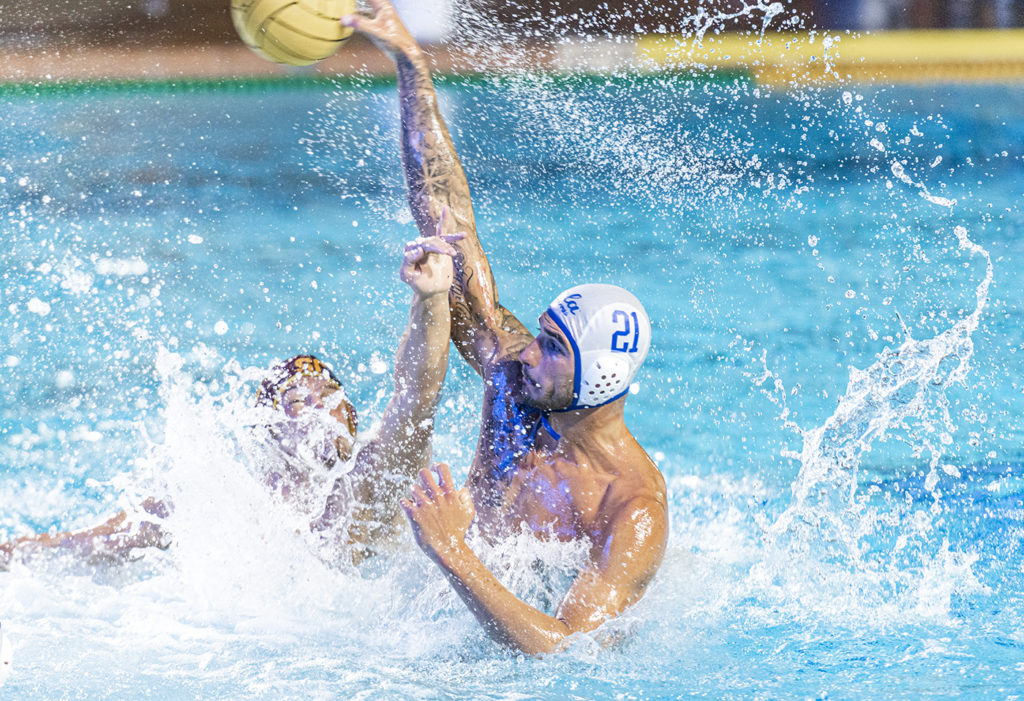 Overcoming no initial visit to the school and a language and culture barrier, Saveljic earned the Maggie Gilbert Academic Perseverance Award in 2019 – given to student-athletes who demonstrate perseverance, commitment and tremendous growth in their academic endeavors.
Redshirt sophomore attacker Ryan Sawyer – another multi-year roommate of Saveljic – said he's amazed at the way the the two-time second-team All-MPSF awardee carries himself.
"He truly cares to learn and try to grow himself in every single aspect of life in general," Sawyer said. "He's become one of the best teammates anyone could ever ask for. A strong leader. Someone very supportive of everyone, despite any differences that there may be, he will always be there to support."
While Saveljic is proud of his individual accomplishments to date, he stressed the season is not over, and the team's ultimate goal of winning a national championship this year has not yet been achieved.
He reflected on how one moment in 2017 altered his course from Montenegro to Westwood.
"I had no idea that one email from Adam Wright would change my life forever, and I can't be thankful enough for that opportunity."
Boal is currently a Sports senior staff writer on the women's water polo beat. He was an assistant Sports editor on the gymnastics, rowing, swim and dive, men's water polo and women's water polo beats. Boal was previously a contributor on the men's water polo and women's water polo beats.
Boal is currently a Sports senior staff writer on the women's water polo beat. He was an assistant Sports editor on the gymnastics, rowing, swim and dive, men's water polo and women's water polo beats. Boal was previously a contributor on the men's water polo and women's water polo beats.