Editorial: More accessible USAC election offers opportunity for more students to run, vote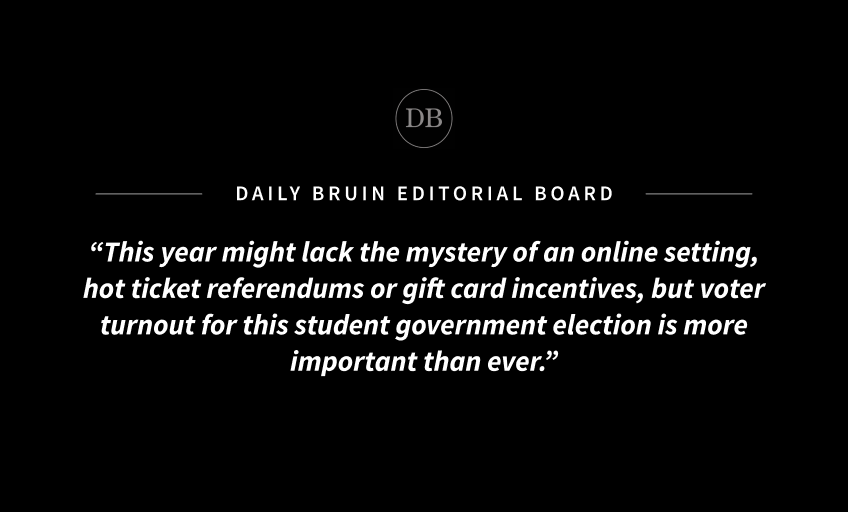 Talk is cheap.
And there's nothing new about students complaining about the Undergraduate Students Association Council.
While it isn't often that students have the chance to take action on their criticisms, the upcoming spring USAC election offers just that. This once-a-year opportunity allows students to bring their concerns to the table, whether that be by running for office or simply turning out to vote.
The good news is it has never been easier to do so, and students should take advantage of that.
Among a number of changes to the undergraduate elections code, USAC took several measures to make elections more fair and accessible. Some changes include new fundraising limits for campaigns and reducing the number of signatures needed to qualify for candidacy from 100 to 50.
Campaigning for signatures, which, in a normal year, consists of harassing students on Bruin Walk, can now be done electronically through MyUCLA.
It can even be as simple as soliciting all 50 signatures through a Reddit post.
Because of the COVID-19 pandemic, election proceedings will take place online for the second time. 2020's voter turnout nearly doubled 2019's in large part as a result of the accessibility of online events, the presence of controversial referendums on the ballot and $15,000 worth of gift card lottery incentives initiated by the USA Elections Board.
This year might lack the mystery of an online setting, hot ticket referendums or gift card incentives, but voter turnout for this student government election is more important than ever.
While this past year's council members took on an abrupt and unprecedented shift to online classes, incoming council members face the equal, if not more difficult, task of returning to campus.
If there were ever a time for a productive election, it's now. However, there are some consequences to these new changes for accessibility.
While a lower signature count is convenient for potential candidates, it's bad news for voter turnout. Student signatures function as a form of student endorsement of a candidate, but they also serve as grassroots marketing for the election campaign as a whole. Essentially, 50 fewer signatures per candidate could translate to a loss of hundreds or thousands of potential voters.
Students are unusually disconnected from campus and its events, so candidate outreach is at its peak importance, even without the 100 signature requirement. If anything, this should push candidates to work harder once they make it on the ballot.
So, candidates, get out there. Fight to make your voice and your platform heard. Work to connect with students even though we might be as disconnected as ever.
And students, vote. That's the obvious one. While you're at it, read up on candidates' platforms as they're released, and maybe even swing by the debates. They'll be on Zoom, and, if you're keeping safe, you're probably stuck at home anyway.
As Gandhi said, the least you can do is be the change you want to see.