University officials, health experts discuss COVID-19 vaccination plans at panel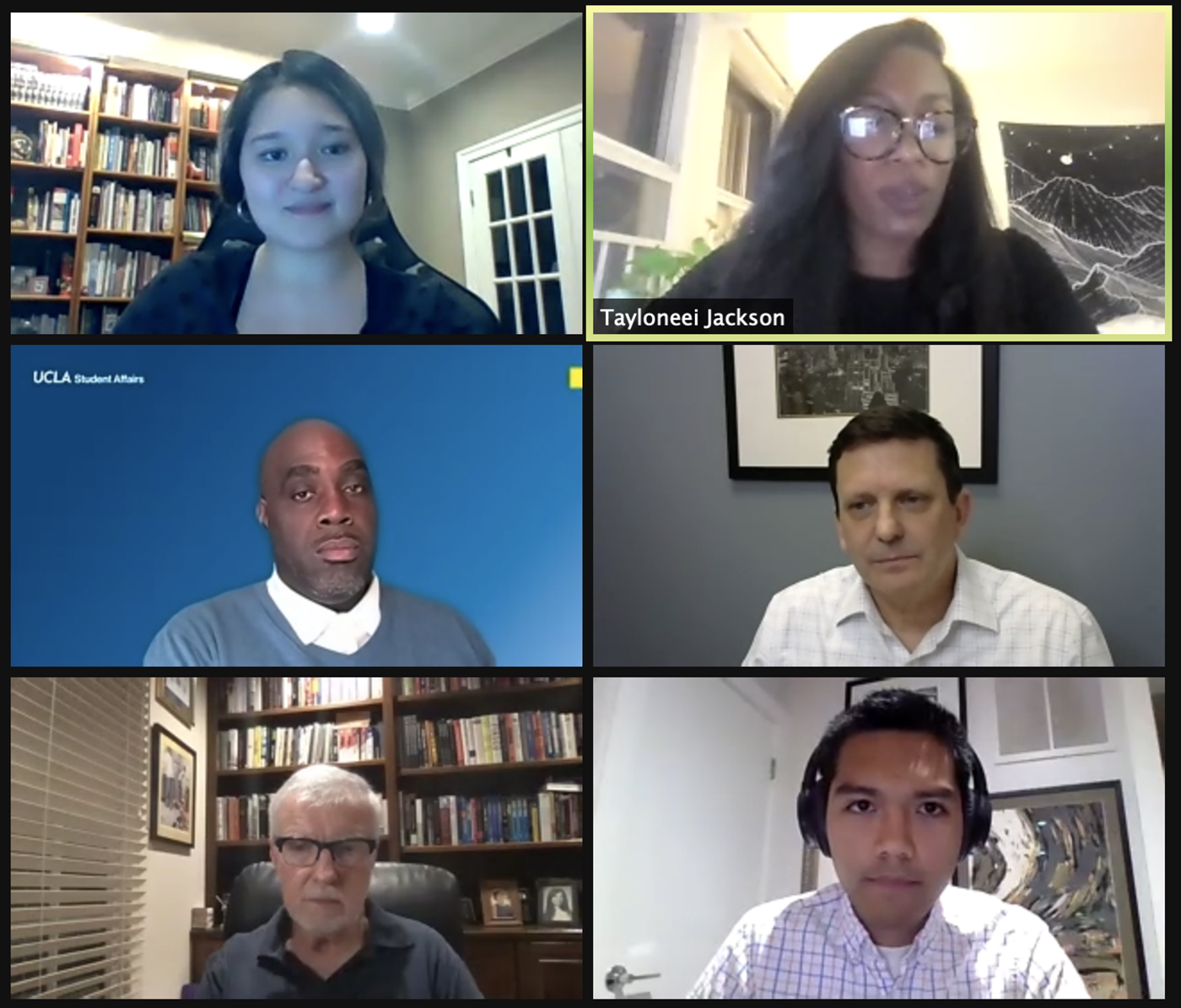 The Undergraduate Students Association Council held a COVID-19 vaccine panel Thursday to answer students' questions about vaccinations. (Courtesy of Sandra Ocampo)
The slow vaccine rollout in the state and country has made it difficult to carry out vaccination phases, a student health official said at a COVID-19 vaccine panel Thursday.
The vaccination rollout depends on the availability of the vaccine and it is not up to UCLA when to vaccinate, but the university is ready to administer vaccinations when availability permits, said John Bollard, the co-executive director of the Arthur Ashe Student Health and Wellness Center, at a COVID-19 vaccine panel held by the Undergraduate Students Association Council.
Bollard added that the timeline to vaccinate students remains uncertain.
The Ashe Center plans to set up a vaccination clinic, similar to the immunization clinic, to vaccinate the remaining UCLA employees and students in the future, Bollard said.
The Ashe Center Patient Portal will track which students receive the vaccine and track the percentage of the UCLA population that has received vaccinations if the vaccine becomes a requirement to return to campus in the fall, Bollard said.
The vaccination will be free of cost and students who will graduate in June 2021 will also be eligible to receive the vaccine, Bollard said.
The questions as to whether students are required to obtain the vaccine and if the certain vaccinations obtained in foreign countries by international students will be considered valid are still being discussed and are ultimately subject to Food and Drug Administration approval, said Carlos Oronce, an internal medicine resident at the University of Rochester Medical Center, at the event.
If vaccine rollout continues to be slow, the university may use a social vulnerability index, a mechanism that identifies communities with less access to health care to prioritize for the vaccine, Bollard said.
UCLA Health is currently at Phase 1B of the Los Angeles County Department of Public Health's vaccination plan, meaning the university health care system has vaccinated health care workers and is now vaccinating patients, faculty, staff and students who are 65 or older, Bollard said.
Bollard added that UCLA plans to prioritize vaccinating education workers, including faculty, staff and student workers, who frequently interact with others in their workspace.
Undergraduate students conducting research in person may not be eligible to receive the vaccine yet because they are classified as volunteers instead of student workers, Bollard said.
"I've elevated that (matter) to the health system and I'm waiting on an answer," Bollard said. "We hope that they will fall into a category that's already approved for vaccination. If not, they fall into the general student population."
During Phase 1C, students with health conditions will be prioritized and the Ashe Center will use medical records to identify those students, Bollard said. The Ashe Center will also solicit input about health conditions from students, he added.
Vice Chancellor of Student Affairs Monroe Gorden said at the event that he is working on plans for a potential in-person 2021 commencement ceremony. He added that the possibility of an in-person ceremony will depend on instructions from the LACDPH.
"If, however, things have not improved sufficiently, and they say we cannot do it, we would be ready to have as great of a virtual ceremony as we possibly can," Gorden said.
While the community waits for the vaccine rollout, Bollard added that it is important to continue current protective practices against COVID-19.
"The most important thing is in the meantime: Keep testing, keep wearing the masks," Bollard said. "The vaccine is a big part of the solution, but so is vigilance as we wait for that herd immunity and wait for the vaccines to roll out."