Men's soccer tallies 1st loss of season in road opener against LMU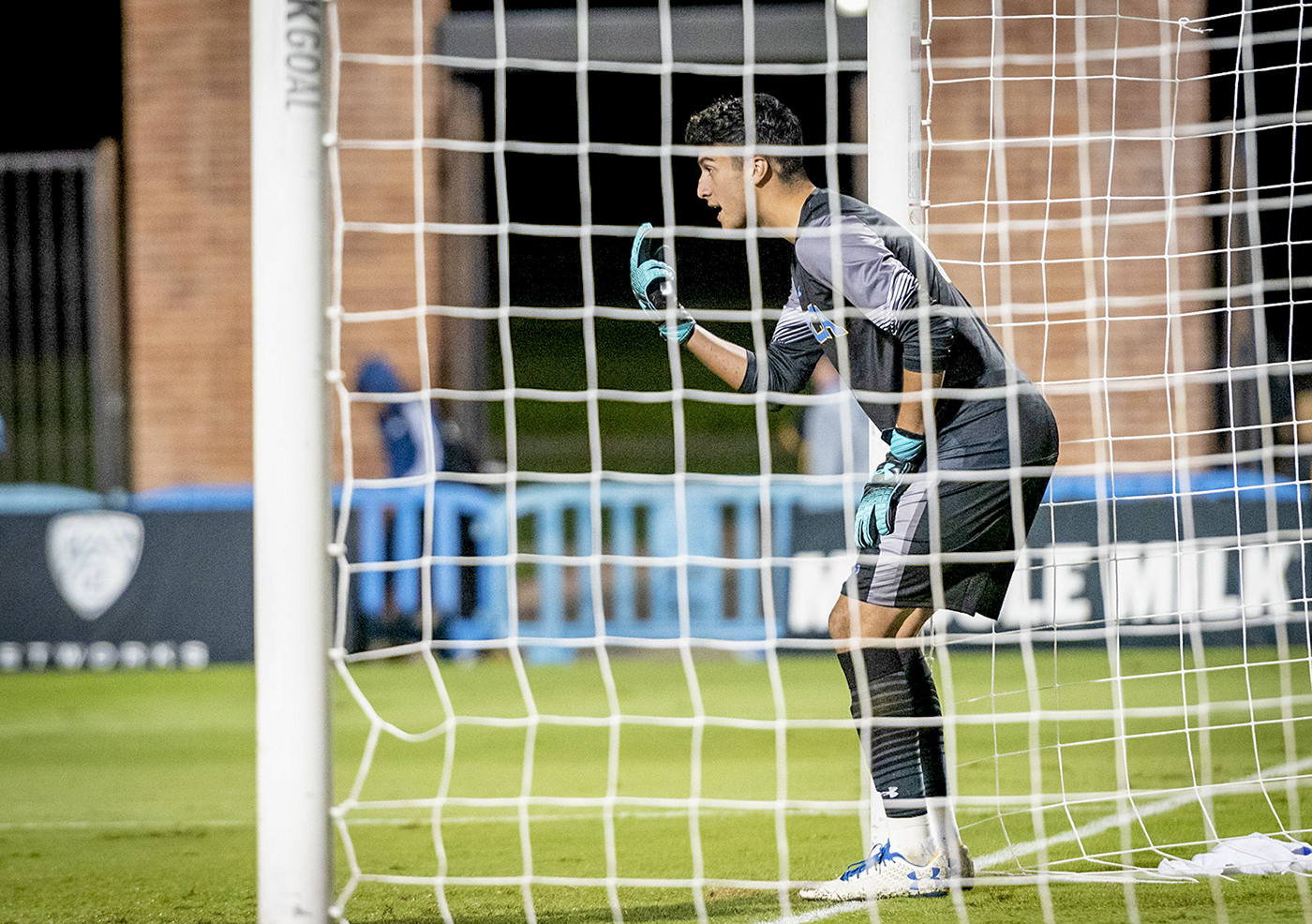 Junior goalkeeper Justin Garces left Sullivan Field on Friday with five saves, but LMU's only goal proved to be all the Lions needed in the Bruins' loss. (Liz Ketcham/Daily Bruin senior staff)
Only one Los Angeles team could emerge victorious Friday on Sullivan Field.
UCLA men's soccer (1-1) was defeated by No. 15 Loyola Marymount (1-0) Friday night in its first road game and loss of the 2021 campaign.
The Bruins not only fell to .500 on the season but also to 8-3-2 against the Lions since August 2000. UCLA last lost 2-0 to LMU in September 2002, but had since won seven of its last nine matchups – averaging over two goals per game against the crosstown team – prior to Friday's defeat.
"From our guys, we have to understand that it was a different type of game than we saw against San Francisco in our home opener," said junior goalkeeper Justin Garces. "Different style of play coming from LMU – a little more direct, trying to get us from behind, trying to turn us around – so it was a different look."
The Bruins recorded only two shot attempts, taken by forwards sophomore Ollie de Visser and junior Kevin Diaz in the last 10 minutes of the match. During Monday's game against San Francisco, the team attempted 13 shots with three converted goals.
Diaz's attempt came during the 87th minute of action with a 35-yard free kick, which LMU keeper Jacob Jackson would deny.
The forward said a different approach to passing could help the team improve on the offensive end.
"We tried playing side to side, which didn't really work out," Diaz said. "I think we need to incorporate a lot more one-two (passes) through the middle of the field and get in behind that way. I also think we should get more direct with our approach. That way, we open up the field and open up the space in the middle. As long as we learn from this, I think we'll be fine moving forward."
While they did not attempt a shot in the first half, the Bruins limited the Lions to a single goal with help from their keeper. Garces recorded four saves – including two consecutive shot attempts in the 22nd minute – to keep the contest to within a single goal.
"Making saves is what brings success to goalkeepers and for the team as a whole," Garces said. "Yesterday, being able to make five saves and trying to keep the game as tight as it was is my job."
On its seventh shot attempt, LMU scored at the 30-minute mark with a goal by forward Ronaldo Brown to give the Lions the lead at halftime and for the rest of the match.
UCLA saw LMU attempt three shots in the last 45 minutes, capping the Lions' shot attempts at 11 for the night.
Coach Ryan Jorden said the noticeable shift in effort to decrease the opponent's shot attempts, coupled with mental lapses, were the difference makers in the game.
"We didn't show much urgency in the first half, and we just weren't tough enough at the end of the day," Jorden said. "And when I say tough enough, we didn't hold balls well enough, we didn't make decisions on attacking quality well enough, and those are mental toughness things that I just think we weren't able to get to."
Despite the loss, Jorden said the team can be in a position to learn and improve.
"It was a performance that has a lot to grow from, but we were still hanging around enough to give ourselves an opportunity," Jorden said. "It's not the position we want ourselves to be in, but I think hopefully there are some things that we can do that don't take significant change to be significantly better."
The Bruins will have a chance to bounce back at Wallis Annenberg Stadium, facing the Westmont Warriors at 6 p.m. on Tuesday evening.
Siddiqui is currently a Sports contributor on the men's soccer beat.
Siddiqui is currently a Sports contributor on the men's soccer beat.