In her global career, gymnast Pauline Tratz's passion never gets lost in translation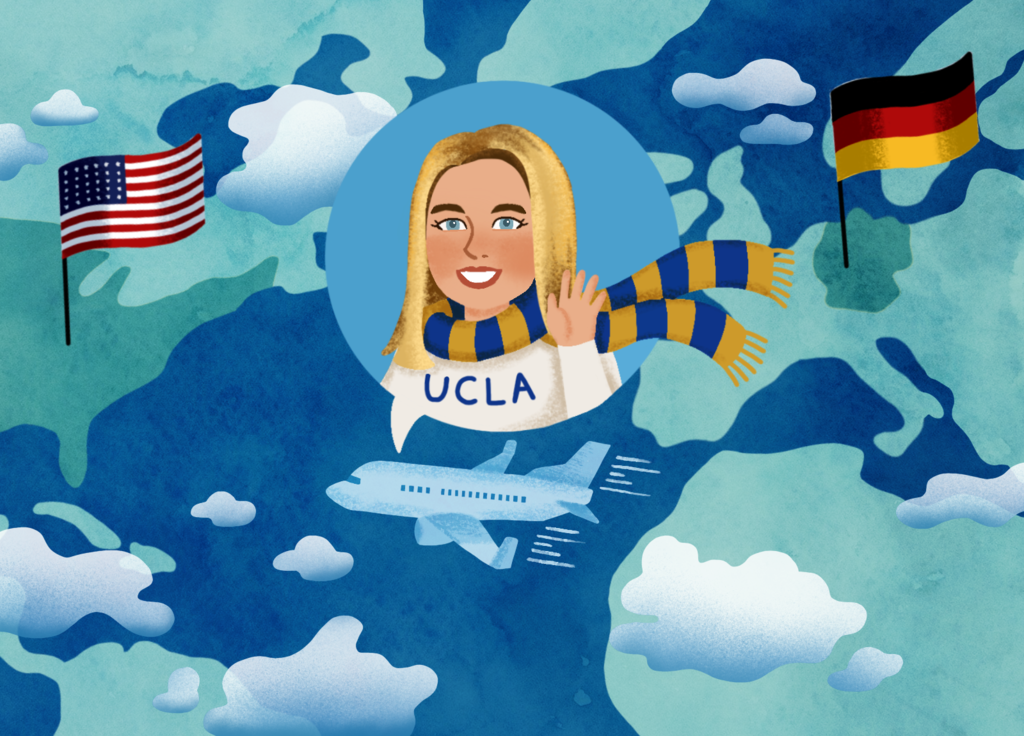 (Isabella Lee/Daily Bruin)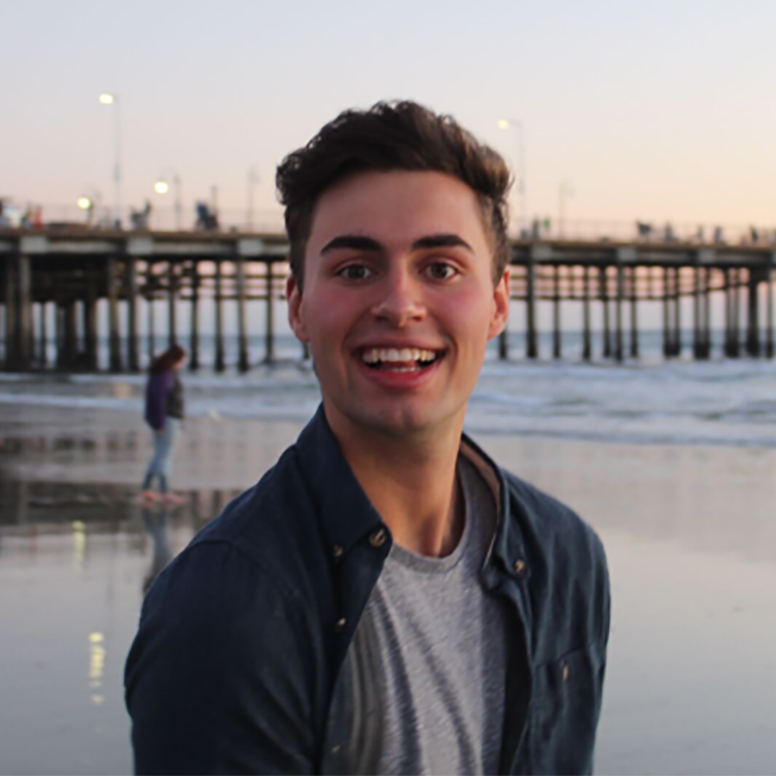 This post was updated Feb. 15 at 5:53 p.m.
The Bruins can thank YouTube for recruiting their latest trash bag fashion show queen.
Prior to a meet against Arizona State in 2020, UCLA gymnastics coach Chris Waller came up with an unorthodox team challenge. Given colored tape and trash bags, he split his team in half, with each choosing a model and tasked with creating a dress, a la "Project Runway."
Pauline Tratz was the chosen model for one team, and the senior gymnast's black-and-yellow dress – garnished with a train and yellow choker – gave rise to a confident strut down the runway, eventually carrying her team to a narrow victory.
Not too long ago, however, Tratz wouldn't have imagined still doing gymnastics into her early 20s, let alone being showcased in a team-bonding fashion show.
After joining Germany's Olympic team as an alternate in 2016, she was unsure of where her gymnastics journey would lead her. To her chagrin, she said, she didn't compete in Rio de Janeiro but took pride in helping Germany qualify with a second-place team finish at the Olympic Test Event.
That's when two friends from Germany who moved to the United States to compete started telling her about their experiences. With uncertainty surrounding the continuation of her career in her native country, Tratz turned to YouTube and jumped into the world of collegiate gymnastics.
"One of my friends competed at the University of Alaska, Anchorage, for four years and another started doing gymnastics in Chicago," Tratz said. "So I kind of got insights from them. But me personally, I just watched YouTube videos. Especially of UCLA because they're just cool."
The two-time German National vault champion decided that an opportunity to continue competing while simultaneously earning a degree was too good to pass up, so she took matters into her own hands.
"I didn't know how the process worked," Tratz said. "So I looked online for the coaches' email addresses and just emailed people saying, 'Hey I'm Pauline. I do gymnastics. Can I join your team?'"
Following tours of Stanford, UC Berkeley and UCLA, Tratz concluded that she would leave her home in Karlsruhe for the hills of Westwood, where she has been scootering to the beach on her Vespa for the past four years.
Tratz had just secured a fifth place finish on floor at the World University Games for Germany in Taipei when she was set to move to California, so the then-freshman flew directly from Taiwan to LA with no time for a last visit to Germany before her freshman season.
Now, 3 1/2 years later, the senior is ending her college career just as it started – unconventionally.
UCLA gymnastics has completed three meets in front of empty stands in the midst of a pandemic that has claimed more than 470,000 lives in the U.S.
Tratz debated whether to return to UCLA for the fall, noting the discrepancy between COVID-19 cases in the U.S. compared to Germany and possible unrest following the presidential election.
"At the same time, I knew I would be taken care of," Tratz said. "I knew that I would regret not trying to go back because I did miss the people. My mindset was: 'I'm going to come back to make memories and have stories to tell.'"
She returned and has competed in all three meets as a full-time starter, hitting a bar routine for the first time in her Bruin career while mentoring younger athletes.
When she looks back, Tratz realizes how much has changed since she first stepped into Pauley Pavilion.
"I only had my high school English," Tratz said. "When the conservations are fast and 20 girls are just blabbing, it was hard for me to structure the sentence quickly enough because as soon as I was ready to say something, the conversation would have shifted to a new topic."
Her roommate since freshman year, senior gymnast Savannah Kooyman, said although there was initial awkwardness between her and Tratz – or "P" as she calls her – sharing a dorm with her "crazy" roommate has been worthwhile.
"It's funny because freshman year, we weren't even close," Kooyman said. "The beginning of freshman year, it was kind of awkward. All we'd say was, 'Oh, hey, how was your day?' But now we're so close, and we're like sisters."
As a freshman, Tratz competed exclusively on floor and vault for UCLA and contributed in all but one of the Bruins' meets, notching five 9.925s.
That season, she scored a 9.875 on floor at the NCAA Championships en route to UCLA's title win.
"Those were emotions I've never felt before," Tratz said. "It was something really, really unique."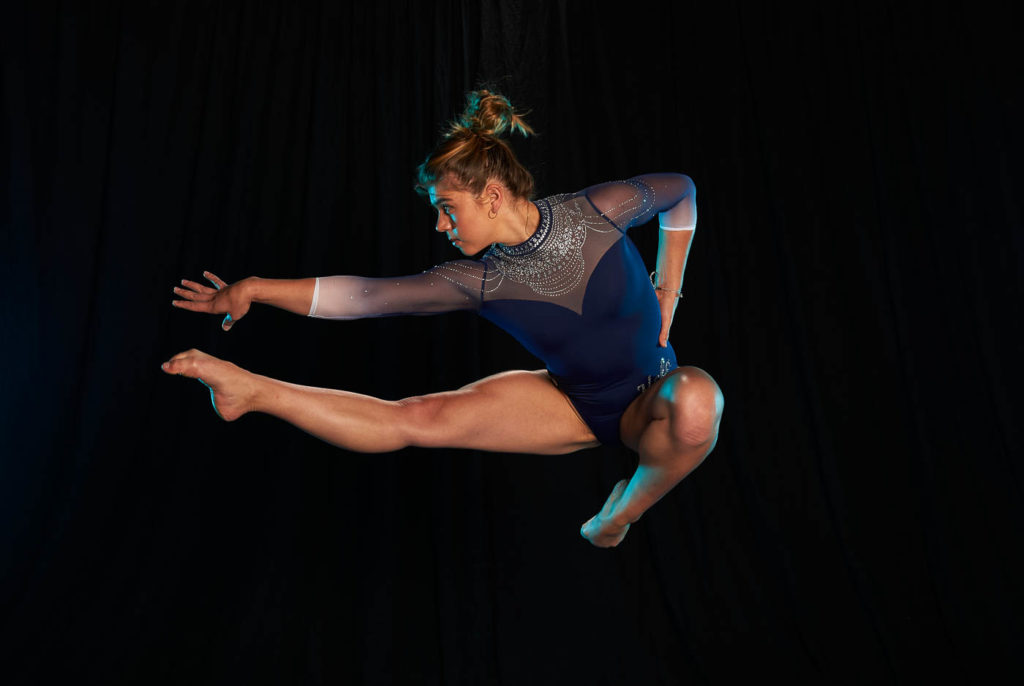 Even with her initial success, Tratz's mindset has changed considerably inside the gym, according to Waller.
"When she first got here, she was this strange dichotomy," Waller said. "Outside the gym, she loved to explore everything new, every day. In the gym, she was very cookie-cutter. She thought things had to be done a certain way."
Her attitude changed, and Waller says that throughout the past four seasons, Tratz has integrated her external curiosity, energy and playfulness into the gym.
The team went back to the basics this season – in part because of the six-month COVID-19-related hiatus – and had gymnasts rotate from event to event no matter their specializations. When Tratz got to bars, nobody knew what to expect.
"She would rotate to bars and just play around," Waller said. "The play turned into stuntwoman play. You didn't know what she was going to do. She was flinging about – legs all over – you didn't know if she was going to do a single flip, double flip or no flip at all. That playfulness that she had outside of the gym came into the gym."
Tratz's lively attitude translated to her becoming this season's host of UCLA gymnastics' series Bruin Banter. All the while, she has acted as an inspiration to her teammates.
"When you see her doing gymnastics, she's very in the zone," said junior Margzetta Frazier. "You would have no idea how goofy she is, how much she loves life. She always sees the positives in life. She's always trying to do something new. She's always asking: 'Marz, let's go on a walk. Marz, do you want to try some of these protein balls I made?'"
Despite her explorative nature, which led to her developing a love for Korean barbeque, Tratz said adapting to life in the U.S. was still a culture shock, adding that she misses the German "go with the flow" mentality when in a new country where everyone seems success-driven.
"The lifestyle, what people enjoy and how they enjoy things was different," Tratz said. "My goal coming (to UCLA) was to learn how to enjoy things more and to be fine with things not going perfectly. I realized that wasn't going to work here."
And, after four seasons of competing for UCLA, 18 scores of 9.900 or higher, trips to more than 25 meets, 11 quarters on the Director's Honor Roll and a national championship, the language remains Tratz's Achilles heel, just for a different reason.
"It's way easier to spontaneously speak," Tratz said. "But I think since I got better at speaking English, I'm more sensitive to mistakes I make, and I'm aware of them, and it pisses me off."
With graduation on the horizon and Tratz being reunited with her team for one last hurrah, the three-time Scholastic All-American has made it a priority to soak up everything she can during her senior year.
She recalled the joy she felt stepping into UCLA's gym for the first time at her official visit, the overwhelming emotions when her teammates storm at her after a floor routine, and hearing the applause after an event, and said she cannot wait to add more moments to her memories.
"This feeling is something so unique that I don't think I will get out of anything else in my life because gymnastics is something I have given my all," Tratz said. "I'm looking forward to having more of those moments because I know they're tied to gymnastics and being here on this team."
Edgar is currently a Sports reporter on the gymnastics beat. He was previously a contributor on the men's tennis beat.
Edgar is currently a Sports reporter on the gymnastics beat. He was previously a contributor on the men's tennis beat.