UCLA men's soccer hopes for win in first away game against LMU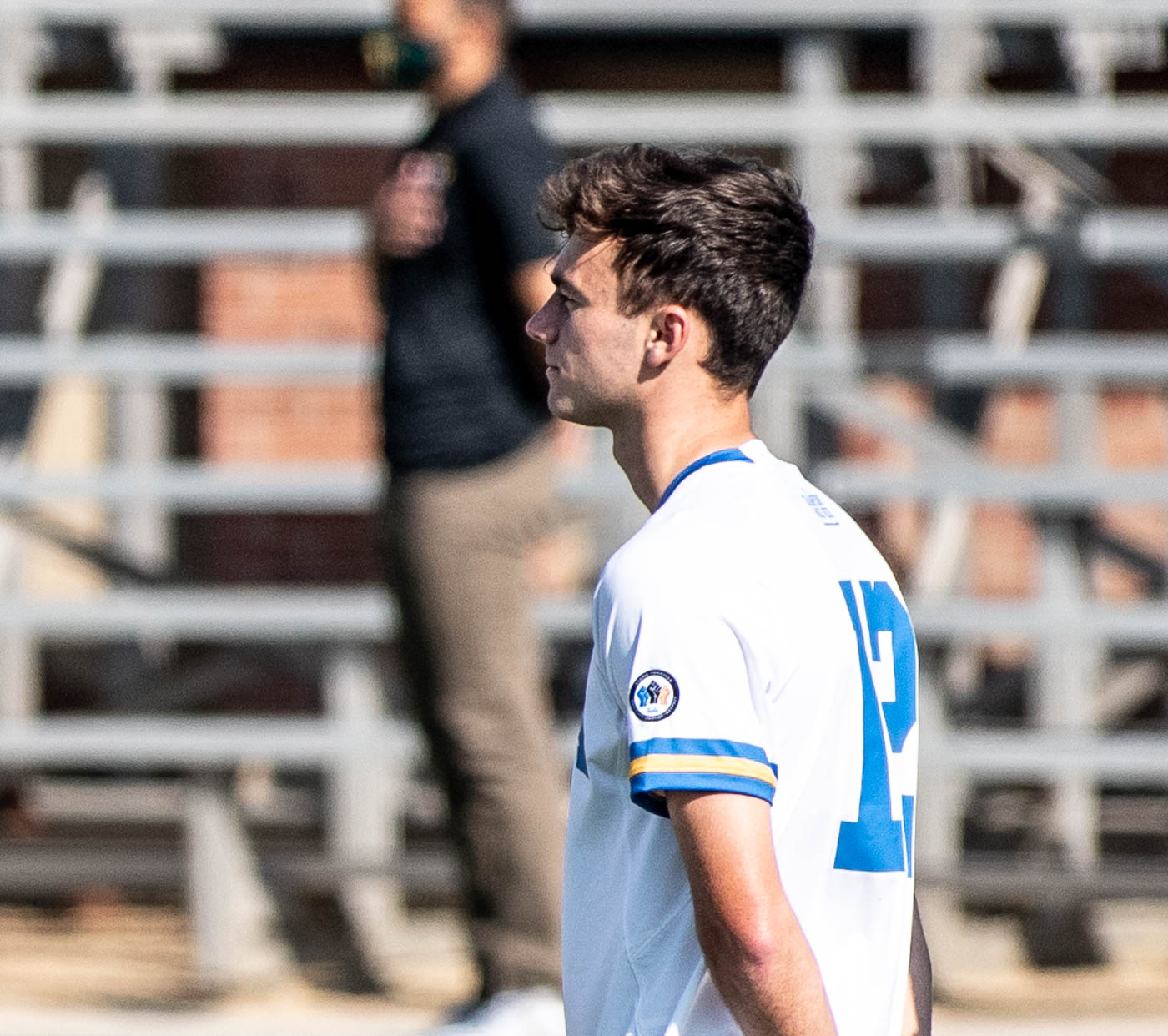 Freshman forward Grayson Doody, who attended Loyola High School in the Los Angeles area, will take the pitch for the Bruins as they head to LMU after he recorded an assist in his first collegiate game. (Alex Driscoll/Daily Bruin staff)
Men's Soccer
---
LMU
Friday, 6 p.m.
Sullivan Field
leanStream Digital Audio
---
Westmont
Tuesday, 6 p.m.
Wallis Annenberg Stadium
leanStream Digital Audio
The Bruins need not travel far for their first road game of the season.
After defeating San Francisco 3-0, UCLA men's soccer can improve to 2-0 in its upcoming match against Loyola Marymount at Sullivan Field.
Friday's game will also be the Bruins' first against the Lions since Oct. 2018 when UCLA won 4-1.
In their first road game during the COVID-19 pandemic, the Bruins will have the chance to improve away from home this season. In 2019, the team went 2-4-1 against opponents away from Westwood on the road –winning only one of their last five away games en route to an overall 6-9-3 record.
With seven wins so far in his time in Westwood, coach Ryan Jorden said the team has room for improvement – whether at home or on the road.
"I don't know about the road as being all that different, especially when you know (the game is) just across the 405," Jorden said. "(Our goal) right now is to continue to build on you know our first performance against (San Francisco), which was good but has a lot of room for improvement."
Meanwhile, several newcomers have already contributed to the team's 2021 season, among them being Grayson Doody, a freshman forward from Loyola High School in Los Angeles. Named the Elite Clubs National League Player of the Year in 2019, Doody combined for 26 goals and 31 assists in his junior and senior high school seasons – earning him First-Team All-CIF honors and Mission League MVP.
In his first game for the Bruins, Doody recorded his first assist to senior defender Ben Reveno at the nine-minute mark. The freshman forward said his ability to facilitate has been important to his overall game – even if it doesn't directly translate to the box score.
"I think that's a big aspect in my game that I value," Doody said. "I think anyway I can help the team I try my best to, and if it's taking an assist or helping someone else, even if I don't get on the stat sheet. And I was happy enough that I could do it on my debut, and I was lucky enough that (Reveno) was in the right place at the right time and tapped it in."
The forward also said his passing can contribute to the team's success.
"I think I can hopefully find the spots where I'm comfortable in dangerous positions on the field, in places just like home games against USF and away at LMU where games might get tougher, and there will be a bigger test," Doody said.
UCLA is also set to play Westmont on Feb. 16 at Wallis Annenberg Stadium. The Bruins previously defeated the Warriors 3-0 prior to the 2019 season in an exhibition matchup, which marked the first interscholastic competition coached by Jorden with the Bruins.
Originally scheduled for Feb. 3, COVID-19 protocols within the Westmont program prompted a postponement of the matchup between the Bruins and Warriors.
Consequently, the team will face four teams in two weeks because of shifts in scheduling. Senior midfielder Andrew Paoli said Jorden has reminded his personnel to remain flexible for possible scheduling changes.
"Our coach always says we have to do a good job being flexible and being prepared for anything," Paoli said. "We're physically in a good spot, and we have a lot of depth where a lot of guys can help with minutes and really contribute so that we can manage the load of everyone during this time where we have a lot of games in a short amount of time."
Beyond flexibility, the senior also said the team is actively engaged in keeping the team safe and motivated in the days to come.
"We just try to keep each other motivated and accountable to stay safe and just protect each other," Paoli said. "You know sometimes, it's not easy, but when you have everyone around you motivating you and helping each other out, that's what makes it better."
Siddiqui was a Sports contributor on the men's soccer beat.
Siddiqui was a Sports contributor on the men's soccer beat.