Letter to the Editor: Despite criticism, TFT screenwriting program gives students valuable opportunities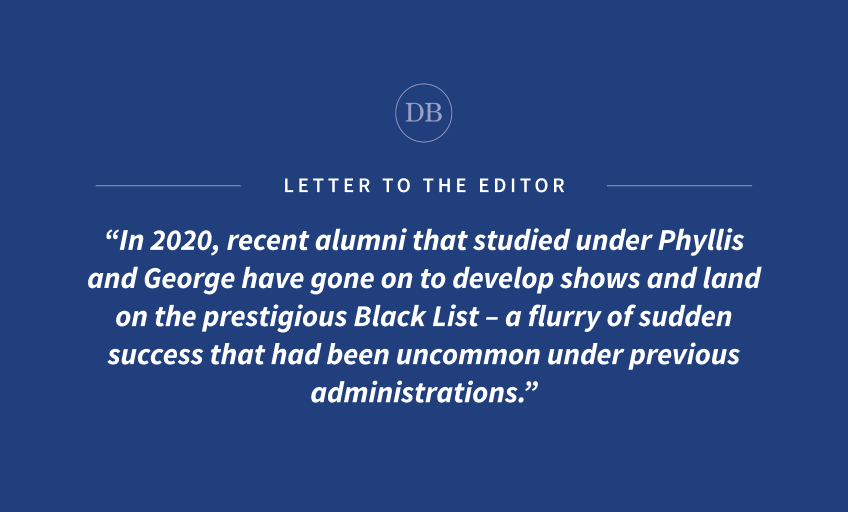 To the editor and readers of the Daily Bruin:
My name is Aaron Dalton. I am a recent graduate of the UCLA screenwriting master's program, and in the article entitled, "Lights, Camera, Inaction," I find the claims leveled against the program are not only in bad faith, but they actively undermine the positive direction I believe the program has taken since the arrival of professor Phyllis Nagy and professor George Huang.
People close to the situation know that I have enjoyed a profound scholastic relationship with professor Nagy, and thus, those who wish to discount my perspective will do just that. But I do not appeal to those cynical few. I appeal to this paper's readers and to my fellow alumni who have yet to come forward with their own personal experiences.
So forth, I present my experience, openly and without anonymity.
I arrived at UCLA in the fall of 2018, but not without my reservations. I was leaving behind a promising business career to pursue my dreams – and to take out $100,000 worth of student loans.
"Was I making the right choice?" Time would tell, I told myself.
In my two years at UCLA, I have had three classes with professor Phyllis Nagy – two screenwriting workshops and a film viewing class – and one class with professor George Huang, a rewrite workshop. When I have spoken to my fellow classmates about George, we always agree: Professor Huang is wholeheartedly accommodating. He's thoughtful – bringing pastries and hot drinks to morning lectures. He's prepared – printing out our scripts before our meetings. Simply put, he's always considering our comfort so that we may do our very best work.
There's a supreme openness to how he proceeds. In my rewrite workshop in the winter of 2020, I presented my cohort with a script that was not very Hollywood – it was an LGBTQ+ character piece. There was no plot, there were challenging formal elements, there were no fantastic stakes, but I digress. I wasn't sure this type of work would resonate with George, who appreciates a traditional storytelling paradigm. But in the weeks that followed, he impressed me with his willingness to recalibrate and meet me halfway. He wasn't interested in perverting the story for the sake of marketability, he was interested in supporting my vision in a considerate but pull no punches manner.
As a Black writer, and as a queer writer, I was moved. And I trot out my identities not to arouse your immediate pity – or cynicism – but only to remind you that there have and will be times when my sensibilities that make me who I am are dismissed.
As the area head of the screenwriting program, lots of attention has been paid to Phyllis – understandably so. And as someone who has spent several hours with Phyllis – in physical workshops, in Zoom workshops, in town halls, in office hours – I would like to put forth my take.
She speaks with a sure-footedness and a candor that, at times, has bruised my twenty-something ego. She has called my work "structurally inelegant." I have turned in first drafts of mystery-thrillers where "people will think you don't know what you're doing." And the most stunning: "This is like 'Suddenly, Last Summer.'" Now, looking back, I'm very grateful for her direct approach. Indeed, my work at the time was structurally inelegant, and I didn't know what I was doing, and my attempt at a "Summer and Smoke" was unfortunately "Suddenly, Last Summer." When I asked for an easy fix – a sly "Tell me what to do, Phyllis!" – she refused to offer a prescriptive direction. And I am very thankful for that.
When I spoke to an agent at United Talent Agency last August, she openly admitted that as a general rule, the agency often dismisses writers who just come out of master of fine arts programs, finding them often to be "formulaic" and "cookie cutter." She suggested that my work felt "different," compelling her to reach out to me. I tell this slightly gauche and braggy story not to toot my horn – darling, I still have two day jobs and a bad credit score – but to defend the pedagogy that Phyllis has put forth. And I don't believe I'm alone in feeling well-served by it. In 2020, recent alumni that studied under Phyllis and George have gone on to develop shows and land on the prestigious Black List – a flurry of sudden success that had been uncommon under previous administrations.
Like George, Phyllis has been accommodating – as she should. She is well compensated for her time at UCLA, but I would like to highlight some specifics: She has coached me on how to take a general meeting. She has suggested how I might proceed with negotiating compensation with my representatives and with various producers. She has recommended movies that would inform my creative work. She has read draft after draft after draft.
Again, I know I am not alone in feeling a tremendous benefit from my time at UCLA with Phyllis and George. And thus, I ask my alumni who have a story – any story – to stand with me and share. I welcome your response, and I welcome any dialogue.
Dalton is an alumnus of the screenwriting master's program under the School of Theater, Film and Television.