Women's basketball to face Utah and Colorado in 4-game road trip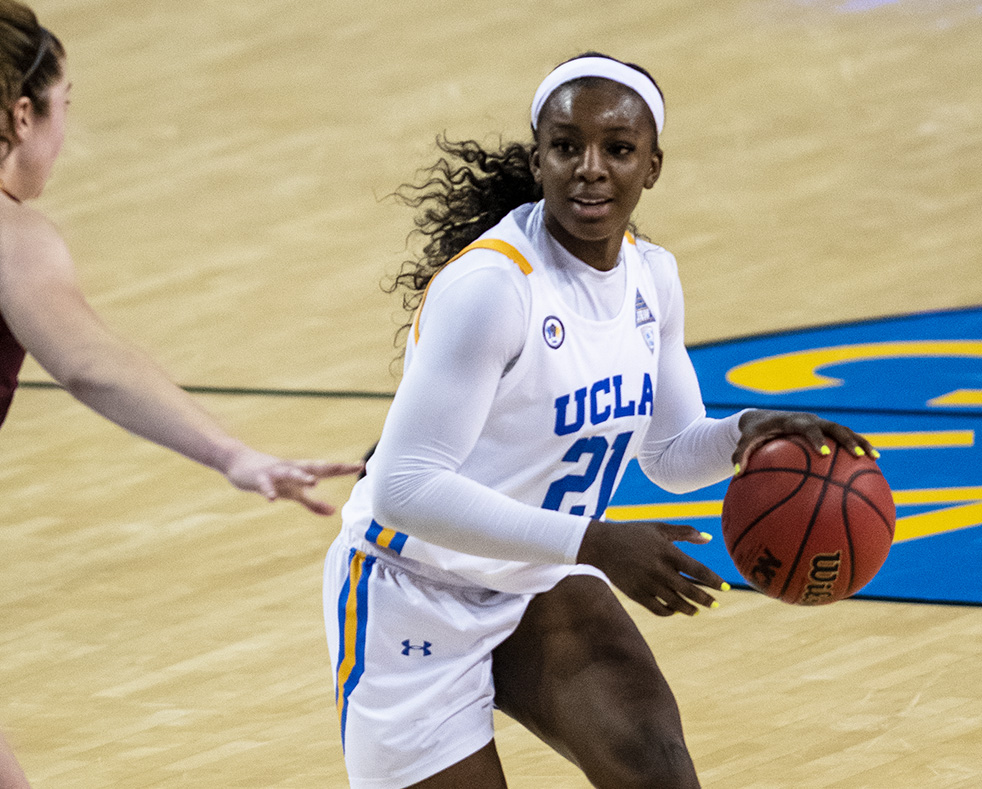 Senior forward Michaela Onyenwere is the second scorer on No. 8 UCLA women's basketball with 16.9 points per game and leads the team with 8.6 rebounds per game. (Alex Driscoll/Daily Bruin staff)
Women's Basketball
---
Utah
Friday, 10 a.m.
Jon M. Huntsman Center
Utah Live Stream
---
Colorado
Sunday, 12 p.m.
CU Events Center
Colorado Live Stream
The Bruins will complete their four-game road trip with two matchups in the mountains.
Following a close loss to Washington State (9-7, 7-7 Pac-12) and a victory against Washington (4-10, 1-10) this past weekend, No. 8 UCLA women's basketball (11-3, 9-3) will complete its away-game stretch with games against Utah (5-11, 4-11) on Friday and Colorado (7-9, 5-8) on Sunday.
The last time the two teams met, the Bruins picked up a victory over the Utes with redshirt senior guard Natalie Chou reaching a career-high 28 points. On the other hand, UCLA's previously scheduled meeting with Colorado on Jan. 8 was postponed because UCLA didn't meet the seven scholarship player minimum.
As the Bruins approach their last handful of games in the Pac-12, coach Cori Close said she is proud of her team's resilience, but there are still several advancements she is hoping the players will make.
"I have really been impressed with their willingness to play out of a spirit of gratitude, to be willing to never complain about very inconvenient circumstances – the purity of how they have embraced the challenges of this year and the purity of how much they enjoy the game," Close said. "But honestly, I don't even think we have scratched the surface about how good we can be. I think our best growth days are actually ahead of us."
In terms of what improvements she would like to see from her team as they specifically prepare for the matchups this weekend, Close said she would like to see her team create easier opportunities for each other.
So far this season, UCLA is averaging 15.4 assists per game as a team. Last year, the Bruins averaged 16 assists per game.
"This week I really want to see us be better passers, have better vision and awareness of what's happening around us," Close said. "I'd like us to really have a way higher percentage of assisted baskets."
So far on the road trip, senior forward Lauryn Miller has averaged 26 minutes per game while starting both games, putting up seven points and four assists total.
Miller is currently on pace to break her career-high in assists for a single season, sitting 13 assists behind her best output of 46 from a season ago. Miller was third on the team in assists in the 2019-2020 season, but she played more than double the number of games she has played this season.
"I think I have always favored passing probably more so than our coaches probably care for, but that is definitely one of my favorite parts of the game," Miller said. "I just like to keep my teammates involved and let my IQ get them in the places that they thrive best."
On the defensive end, Close mentioned she would like the team to play in lower stances on defense, and she challenged them to have a picture of players sitting in their stances with pride and excitement about how they play one-on-one defense.
Senior forward Michaela Onyenwere, who scored 15 points in UCLA's win over Washington, will be returning to her home state of Colorado on Sunday. The Aurora, Colorado native is currently second on the team with 16.9 points per game.
Onyenwere said she expects it to be a different atmosphere without her family present in the stands.
"It'll be really different just with not having my family there, but I know they are going to be watching the game anyways," Onyenwere said. "But I am just super excited to be able to play a team like Colorado who is always really good, and also Utah as well."
Named to the Jersey Mike's Naismith Trophy Midseason Team on Tuesday, Onyenwere said she has relied on her teammates to help her persevere through mental and physical challenges.
According to Close, Onywenwere has been battling nagging injuries all season.
"I think it helps to have teammates who I am really, really close with who just keep me level-headed and are super fun off the court," Onyenwere said. "Things are happening in my life and it's okay to have that because I have distractions from my teammates."
UCLA will tip off against Utah at 10 a.m. in Salt Lake City on Friday.
Chen is currently a Sports contributor on the beach volleyball beat. She was previously a contributor on the women's basketball and women's volleyball beats.
Chen is currently a Sports contributor on the beach volleyball beat. She was previously a contributor on the women's basketball and women's volleyball beats.