Women's golf finishes Lamkin Invitational tied for 2nd place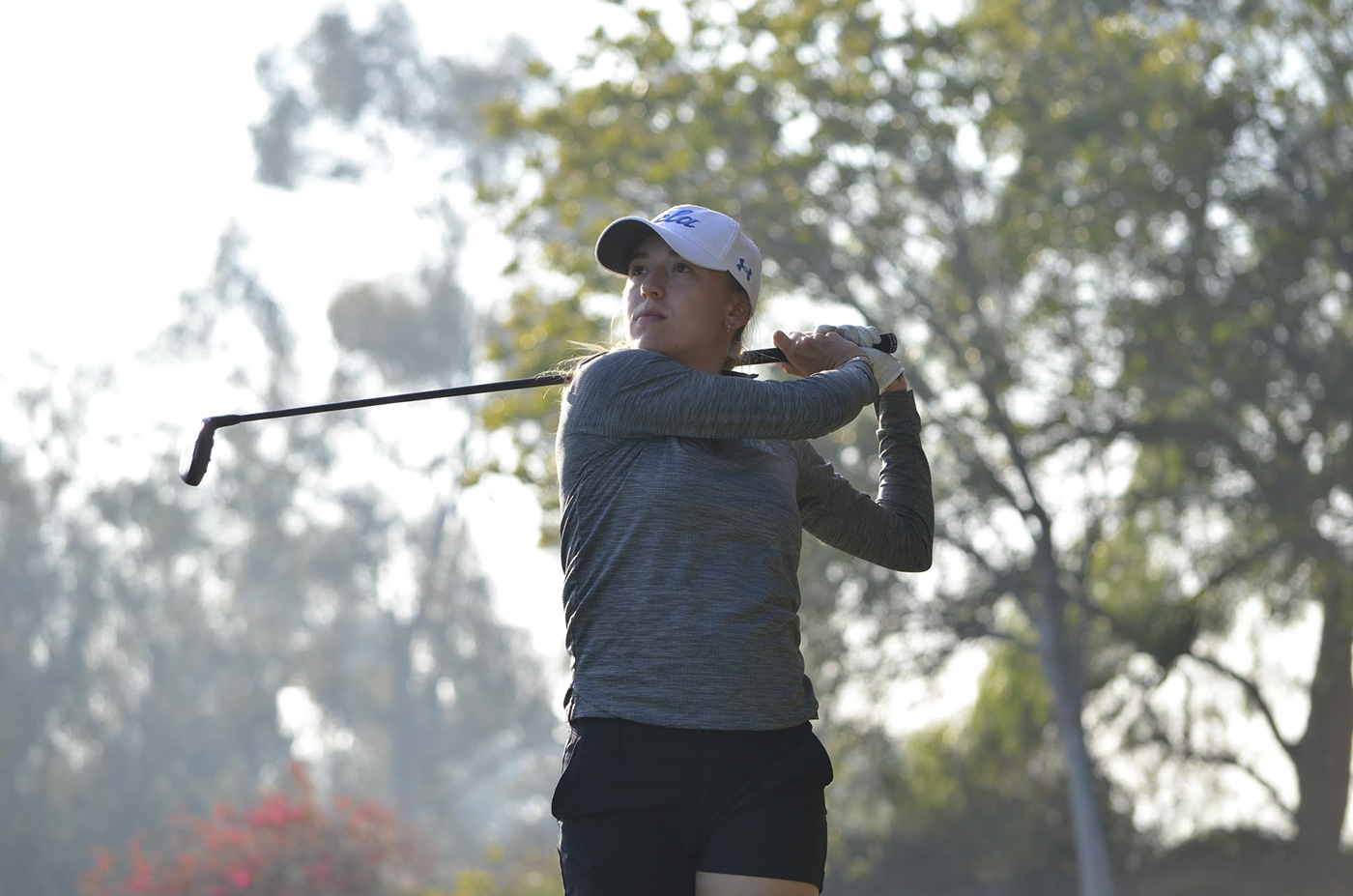 Sophomore Emma Spitz was one of three golfers to end under par as she finished in a tie for second place at the Lamkin Invitational, UCLA women's golf's second tournament of the season. (Courtesy of UCLA Athletics)
While this tournament had its differences from the Bruins' first tournament, there was one thing that remained the same.
UCLA women's golf finished in a share for second place once again at the Lamkin Invitational at The Farms Golf Club in Rancho Santa Fe, California. In its second tournament of the season, it finished 40-over par, 24 strokes back from winner USC.
The Bruins found themselves in fifth place after the morning round Monday. Then, they strung together their best performances of the tournament in the second round later in the day to move up three spots. Finishing 1-over-par, UCLA shot the lowest round of any team in the whole tournament in the afternoon round.

Going into the final day, the Bruins were in solo second, six strokes back from the Trojans at a team total 15-over par. However, despite being in striking distance for a comeback, coach Carrie Forsyth said the team had a difficult time Tuesday, finishing 25-over par on the day.
Forsyth said the course conditions were much tougher on the final day which attributed to the higher scores overall.
"The course setup was kind of tough. They had a lot of difficult pin placements," Forsyth said. "Unfortunately, we didn't manage it as well as we would have liked and that's why our scoring was a little high."
Despite a tough final day for the Bruins, sophomore Emma Spitz was able to grind out yet another top-three finish at 1-under par. She led the team with back-to-back 70s on Monday followed by a final-round 75, finishing in a tie for second overall, one stroke away from the medalist.
"My long game has been very solid. … I've been hitting lots of fairways and greens," Spitz said. "I can rely on my iron shots, and I know I can hit the greens and make some birdies."
Behind Spitz came sophomore Emilie Paltrinieri and sophomore Annabel Wilson – Paltrinieri finished 9-over for the tournament, good for 10th place overall. Wilson found herself 11-over par and in 44th place overall after round one, however, she bounced back with a combined score of 1-over par for the last two rounds, climbing all the way back to 17th place.
Wilson explained that she only had a few bad shots in the opening round and on a golf course like The Farms, it doesn't take that many mishaps to have high numbers. She said once she finished the first round, she felt like she had a fresh start.
"I was just reassuring myself that it was only four or five swings. … I wasn't playing poorly," Wilson said, "I got a better rhythm in the last few holes of my first round and took that in with me to the last two rounds."
Rounding out the lineup were juniors Simar Singh and Phoebe Yue. Singh, a transfer from Oregon, finished 20-over par overall, and Yue finished 40-over par overall. They finished 33rd and 54th, respectively.
Forsyth said she saw improvement in the team's short game around the green throughout the week and lauded the resilience it showed on day one.
"There was some better putting overall – I think like we did a better job around the greens," Forsyth stated. "I was really impressed with our afternoon round on day one because you play 36 holes, that's a long day, scores go up for a lot of teams when you play that many holes but for us, they went way down. It means we're doing something right in terms of fitness."
However, Forsyth said that there are many areas for improvement before the next week. Even though she liked what she saw with the short shots, she knows the team's short game still needs a good amount of work.
She also said that while the No. 4 and No. 5 players especially need to elevate their games, she knows that they are on the right track and that she needs to be patient.
Even Spitz, who has had back-to-back top finishes in the first two tournaments of the season, acknowledged her short game could be much better.
"I missed quite a few short putts," Spitz said, "My chipping wasn't great either. When I missed the green, I had a hard time getting up-and-down."
UCLA will have a few days until it hits the road again, this time heading back to Arizona for the Sun Devil Winter Classic starting Monday.
Tran is currently a Sports contributor on the men's and women's golf beats.
Tran is currently a Sports contributor on the men's and women's golf beats.