First-time collegiate players help drive opening win of women's soccer season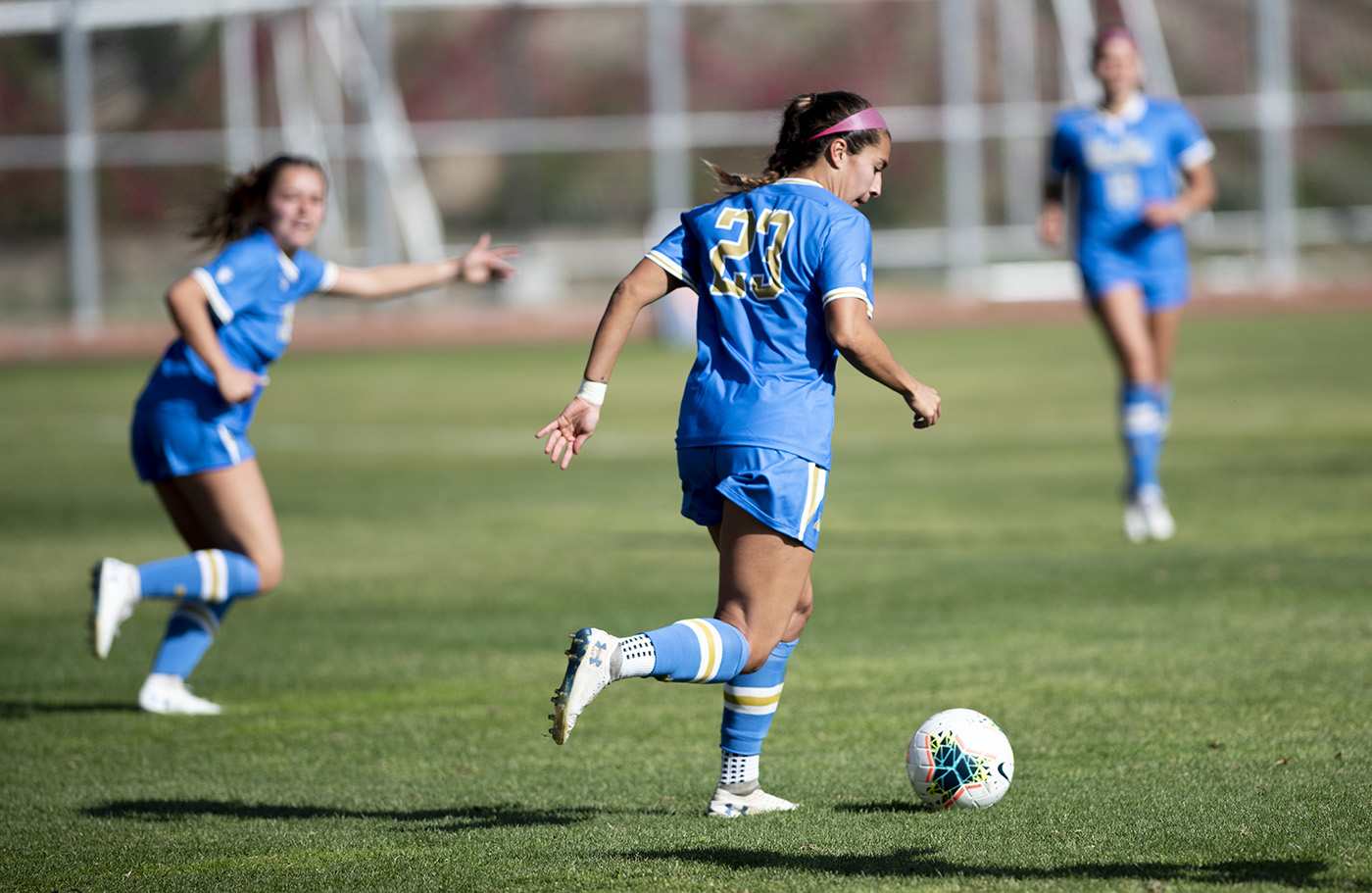 Senior midfielder Marley Canales recorded three assists in her return from injury as No. 4 UCLA women's soccer defeated No. 25 Pepperdine in its 2020-2021 season opener. (Kanishka Mehra/Photo editor)
Even though the game-winner was scored by last year's leading goal scorer, several new faces contributed to the Bruins' season-opening victory.
Sophomore forward Mia Fishel – who started 20 games last season and led the Bruins with 14 goals – scored in the eighth minute to give No. 4 UCLA women's soccer (1-0) a lead it never lost, but the rest of the field saw several changes from last year's starting 11. Freshmen forwards Reilyn Turner and Megan Edelman started in their collegiate debuts, with the former netting her first goal by way of a chip over the Pepperdine goalkeeper and the latter being recognized as the Bruin of the Match by her coaching staff.
Turner's debut goal was set up by senior midfielder Marley Canales, making her first start since Oct. 13, 2019, as a torn ACL sidelined her for the rest of the season.
"I made eye contact with (Canales)," Turner said. "She played me a beautiful ball, and I saw the keeper coming out, so I tried to chip her a little bit, and it was awesome."
In addition to Turner and Edelman, five other Bruins made their collegiate debuts. Four freshmen – midfielders Aislynn Crowder, Michaela Rosenbaum, Isabel Loza and Jillian Martinez – and redshirt freshman forward Sunshine Fontes all made appearances lasting nine to 36 minutes.
"I think for all of us coming in, especially the rookies, we're trying to play our game but also play to the team's strengths," Turner said. "The team has done really well including us and making us feel welcome and giving us confidence, knowing we're all in this together."
Crowder and Rosenbaum led the way off the bench, each playing over half an hour. The pair were part of the group of substitutes who replaced the starting midfield made up of seniors Olivia Athens, Delanie Sheehan and Canales, none of whom started more than 13 games in coach Amanda Cromwell's midfield last season.
Sheehan was a consistent part of Cromwell's back four in 2019, but Cromwell said she expects to play some of her players out of their natural positions as the season progresses.
"Getting some of the rookies in there – (Rosenbaum) going in for (redshirt senior defender Jacey Pederson) at outside back, she's naturally a center midfielder – players are going to have to play a lot of different positions for us," Cromwell said. "(Sheehan) was back in the midfield, she's been playing great there. Last fall, even last spring, we're like, 'How do we get her back in the midfield?' So getting her higher up the field – she's going to be someone that we count on to score goals."
The starting midfielders all played at least 65 minutes in what was Athens and Canales' first game back from season-ending injuries in 2019. Canales assisted on all three of UCLA's goals, with the final one resulting in Pederson's first goal since her last game in 2018.
"I was really proud of how we played," Canales said. "I know this is just the beginning, so if we're already at this point right now, I can't even wait to see what we're gonna be like in a month or just continuing on (throughout) the season."
After the Bruins' first game in over a year, Cromwell said rust was apparent in the match's opening minutes.
"I thought we started pretty rusty. I think both teams did," Cromwell said. "You could tell it was a lot of nerves."
UCLA will have the opportunity to shake off any leftover rust in the coming week in fixtures against BYU and San Diego.
Farinha is currently a Sports staffer on the softball beat. He was previously a reporter on the women's soccer beat.
Farinha is currently a Sports staffer on the softball beat. He was previously a reporter on the women's soccer beat.