The Quad: Examining the side effects of LA's vaccine rollout, from line cutting to scams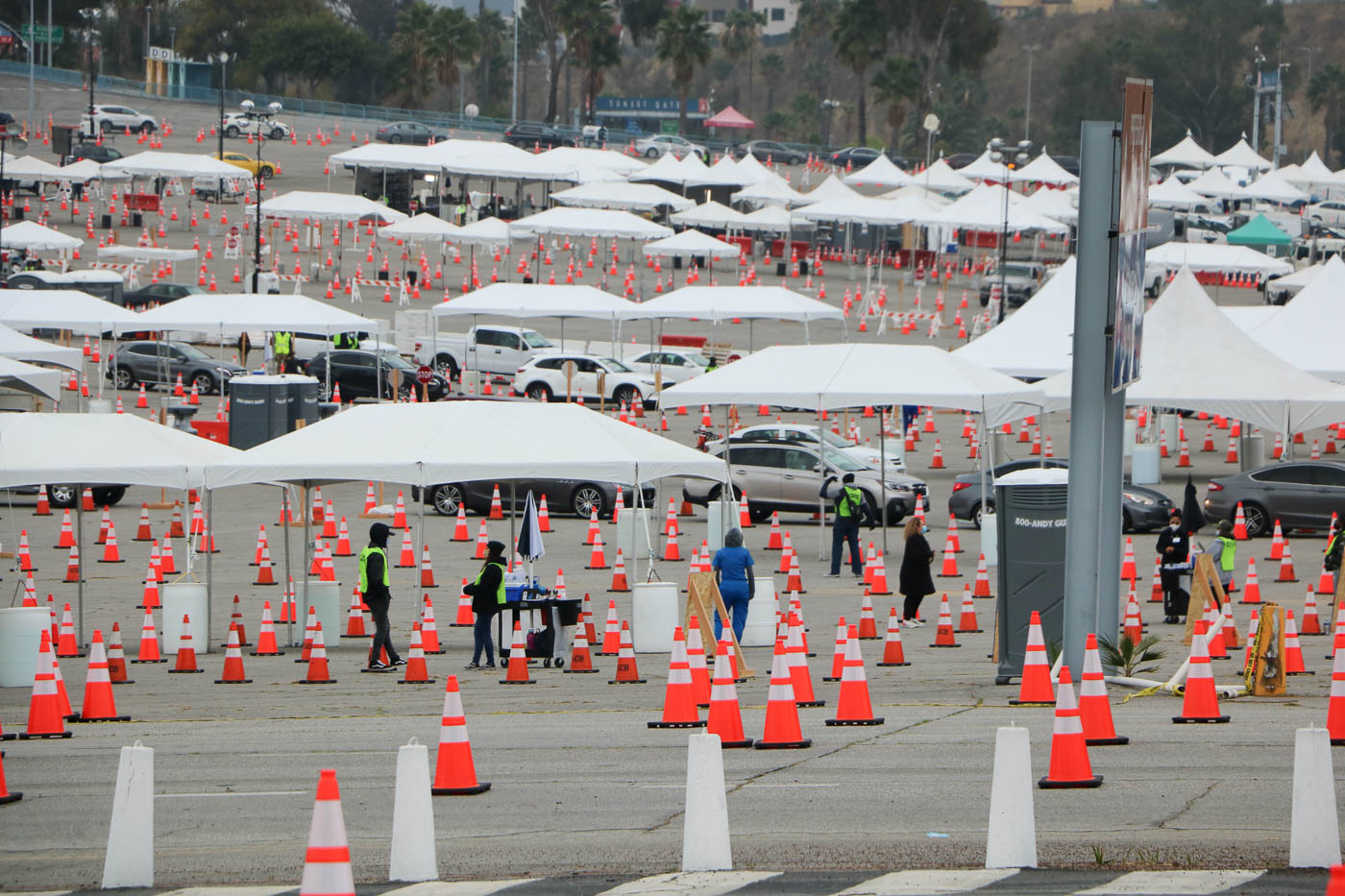 Some of those who do not fall under the current vaccination group have gone through desperate methods to acquire a dose, such as waiting outside vaccine sites. (Noah Danesh/Daily Bruin)
Move over, toilet paper – there's a new elusive product on the pandemic market: the COVID-19 vaccine.
Los Angeles County is currently vaccinating health care workers and people over the age of 65, following guidelines similar to those throughout California and the rest of the United States.
But along with increasing immunization comes increasing disorder. Some people who fall outside these priority parameters have turned to alternative ways to receive the shot, such as by claiming to be a health care worker or hanging around a vaccine site at closing times, according to the Los Angeles Times.
Vanessa Pulido, a fourth-year nursing student, witnessed the initial stages of the vaccine rollout as a volunteer administering vaccines at the Ronald Reagan UCLA Medical Center.
Pulido said the sign-ups for the hospital were low-profile in that they were directly emailed to those eligible. But now, vaccines are no longer inconspicuous with some people standing outside vaccine sites, hoping for a spare dose.
"A friend of mine knows someone who has been able to sneak in a vaccine because they were going to expire somewhere, so she was able to get it super last minute," Pulido said.
Kristen Choi, an assistant professor at the School of Nursing, has been a part of many larger vaccine operations, from Mega-PODs, or Mega Point of Dispensing Sites, to Dodger Stadium. Choi said she has witnessed many people trying to cut the line.
"There have been many cases of people coming into the site that are being turned away, who are trying to justify why they think they qualify or they should have an appointment," Choi said. "Some of those situations have really escalated and gotten pretty aggressive."
Choi said in most cases, everyone is turned away.
"It's really difficult to sort these things out," Choi said. "Generally, I would say the county is being very strict about vaccine allocation and making sure they're going to people who meet the criteria for priority."
There's a reason why the county is strict on who can receive their dose of the COVID-19 vaccine. Kirstin Chickering, an associate director at the Fielding School of Public Health, said administering vaccines is a time-sensitive process.
"The biggest concern with (COVID-19) is really the hospitalizations and deaths. By focusing on 65 and older, it may not have an immediate impact on reducing cases, but it's going to impact hospitalizations and deaths," Chickering said. "That's the number they want to get down the quickest."
Meanwhile, Choi said the current disarray in vaccine administering might make coordinating logistics for the second dose a cause for concern.
"It would not, unfortunately, surprise me if we do end up with cases where people are not able to get the second dose within the window they're supposed to," Choi said.
With the growing demand for the vaccine also comes scams. All across the country, scammers have offered fraudulent vaccine sign-ups in hopes of getting money or personal information from unsuspecting Americans, according to the AARP.
The desire to protect one's own health and the health of their family, even if it means cutting the vaccine line, can be polarizing.
"I see two sides because we're all a little bit desperate to move on to regular life, but I also think about it as if it were my grandma in line to get the vaccine but somebody that was my age got it first just because they found their way into it, like fraudulently," Pulido said. "I would be very upset."
Peter Katona, an adjunct professor at the School of Public Health and clinical professor at the David Geffen School of Medicine, said in an emailed statement why frenzy-like behavior has occurred surrounding the administration of this vaccine.
Katona said in the emailed statement that the public is anxious because they are getting many conflicting messages, in addition to scheduling problems – such as websites crashing – and witnessing inequities in the system.
Choi said these inequalities are especially concerning.
"We know that right now, white people are receiving the vaccine at very high rates in relation to people of color, and at the same time, we know that Black and Hispanic communities in LA have been hit the hardest by (COVID-19)," Choi said.
Chickering said she empathizes with those who want to protect themselves and their family.
"I understand why people want it, especially (since) a lot of people are legitimately scared," Chickering said. "But the good news is (COVID-19) is preventable. Masks, hand washing, social distancing – all of these things work."
Choi ended the interview with advice for those bunkering down for the wait.
"I would just encourage people to think about the broader communities, think about who's at risk of dying and really being in a serious situation with this virus," Choi said. "And just hang tight and know that we're going to get to everybody soon."