Opinion: Twitter's Trump ban is necessary but sets precedent that could be exploited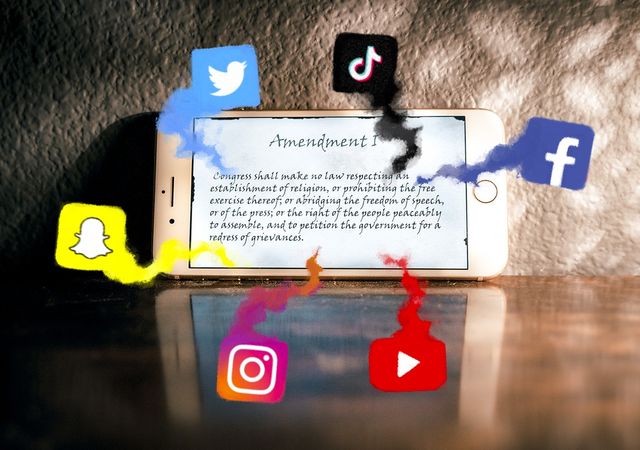 (Photo by Courtney Quirmbach/Daily Bruin. Photo illustration by Nghi Nguyen/Daily Bruin)
A few years ago, the idea that the president of the United States would be getting into Twitter fights, much less getting into one with Twitter itself, would have been laughably absurd.
Yet here we are, and unfortunately, it's not as funny as it may have been in our heads.
Twitter's decision to suspend former President Donald Trump's account after the Jan. 6 U.S. Capitol riots was the closing act in a long, tense relationship between the platform's guideline enforcers and Trump's rapid-fire incendiary remarks.
Opponents of the former president were glad to see Twitter finally de-platform his rhetoric. However, Trump's Twitter ban and the wave of crackdowns that accompanied it raise concerns about the power tech companies can potentially wield over communication.
Before that, it needs to be made clear the issue with the crackdown isn't that it infringes on free speech legislation. It's that the situation should have been defused before it had reached its boiling point. Now that the deed is done, it sets a powerful and dangerous precedent that could potentially hurt minority groups and allow tech companies to shape all public conversation.
Allies of the former president accused Twitter of holding their terms of service over the Constitution. Donald Trump Jr. compared the ban to censorship in George Orwell's dystopian novel "1984."
However, Twitter's actions don't contradict the Constitution. The First Amendment protects the public from specifically government censorship; furthermore, freedom of speech isn't freedom from consequence.
Regardless of the parties involved, safety always takes precedent. In 2017, UC Berkeley, a public university and the home of the free speech movement, called off Ann Coulter's speech after administrators discovered extremists planned to use violence at the event.
"We need to realize that … there is a reality out there," public affairs professor Zachary Steinert-Threlkeld said. "Leaders, private companies and the public need to realize that, put their foot down and set the appropriate tone. And that includes banning people who cross that line."
When it comes down to it, the companies who took action against Trump were private entities exercising their right to use their private property in ways they saw fit. If Twitter is the Christian bakery, Trump's rhetoric is the gay cake.
The comparison to "1984" is similarly unfounded. Dissent, much less social media dissent, isn't a criminal offense that gets a person jailed, tortured or killed.
"What might be happening is something more similar to the McCarthy-era blacklist of the 1950s," said law professor Eugene Volokh, who studies the First Amendment. "It wasn't the government ordering the studios not to hire suspected Communists. It was the studios themselves."
This most recent ban is far from the first time Trump has butted heads with Twitter guidelines. In the days following the November election, Twitter slapped just over a third of Trump's posts with "This claim about election fraud is disputed," according to a tally done by the New York Times.
Point is, Twitter has long known Trump's rhetoric was highly inflammatory and yet it allowed him to continue escalating the situation until after he'd already sparked a devastating attack on the Capitol two weeks from the end of his term.
Open forum or not, Twitter is responsible for enforcing its guidelines and holding itself accountable for the real-life repercussions of the speech it amplifies.
Since Trump took office, Twitter has become a massive part of political conversation. Never before has a politician commanded so much attention, so frequently, on a daily basis, UCLA political science assistant professor Georgia Kernell said.
It's possible that even if Twitter had taken action, it may not have deterred the former president from using incendiary speech. But permanently terminating Trump's account after years of no repercussions makes a much bigger splash than simply locking an account that has been suspended several times in the past for misconduct.
And now that Twitter has demonstrated it can do this, it has set a precedent for harsher regulation of political speech on both sides.
"Why wouldn't somebody who is seeing the extremists on his side suppressed demand that extremists on the other side be suppressed as well?" Volokh said.
Under this precedent, minority communities that have primarily used social media to advocate for equity, such as the Black Lives Matter movement, can potentially be purged from the platform if Twitter judges their words too inflammatory.
Additionally, the conservative forum Parler was blacklisted by Google as a precaution against further planned violence. While that may have been a necessary move, it should be slightly alarming that big-name tech companies, who hold a monopoly on public forums, are not only able to decide what is allowed to be said on their platforms but prevent others from operating if they don't do the same.
"Even if you like the way (massive aggregations of private power) are acting today, you might worry how they're going to act tomorrow," Volokh said. "You should have that worry about all powerful entities."
Twitter's decision to terminate the former president's account was a belated but correct choice for a dangerous and extraordinary situation.
But if tomorrow the tables were turned, this precedent could give tech companies justification for banning historically marginalized communities.
In the wrong hands, at the wrong time, this could be disastrous.